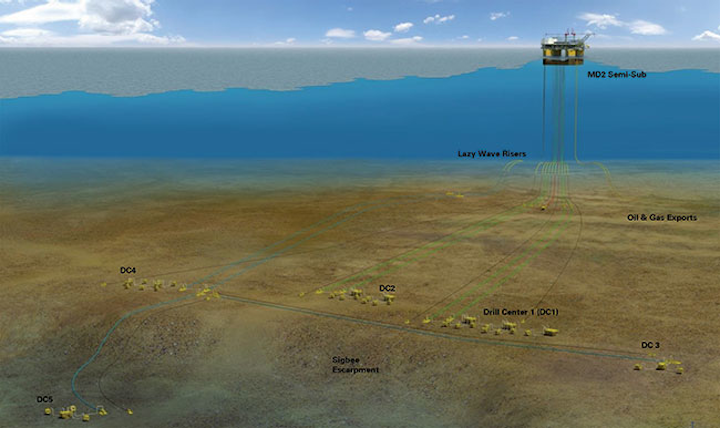 Bruce Beaubouef
Managing Editor
E&P activity in the US Gulf of Mexico continues to be plagued with uncertainty, even though oil prices seem to have stabilized around $50/bbl. Still, that is less than half of the price of oil in mid-2014, and that price environment has in turn engendered an economic climate in which operators and developers continue to be cautious.
A number of field development projects have been brought online, and a few are moving forward, but drilling activity is expected to stay low this year.
That trend may continue through the year, according to a recent report from Wood Mackenzie entitled "US Upstream: Five things to look for in 2017." The report offers a fairly pessimistic view of the exploration and drilling activity in the US Gulf for this year. "The merging of lower oil prices and the gradual end of a major investment cycle in deepwater Gulf of Mexico will finally take its toll on the region in 2017," said author Jackson Sandeen, Senior Research Analyst Lower 48 Upstream Oil and Gas for Wood Mackenzie.
According to the report, investment in 2017 is expected to drop to $10 billion, a 36% decline from the 2015 peak and the lowest since 2011. However, the heavy investment from earlier this decade will lead to a new post-Macondo production peak of 1.75 MMboe/d this year.
While E&P activity costs and pricing are expected to creep up in 2017, the "GoM is still searching for a bottom" says Sandeen. "This is largely due to the softened rig market." Although leading-edge day rates are averaging $250,000, the overall average for rigs in GoM is still $450,000 - a legacy of contracts signed during the days of $100/bbl. While smaller players have taken advantage of the softer rig market, bigger players have been left behind. "This $200,000 gap between the leading-edge and average contracted rates will be the key driver for contract cancellations or renegotiations in 2017," Sandeen said.
Lower rig rates will help bring well costs down, but operators can only squeeze service companies so much more, the report notes. "Consequently, we expect [that] operators will also focus on project design to bring costs down," Sandeen observed. "Over-engineered facilities will become a thing of the past as operators right-size projects," he continued. "Reducing well count, by high-grading development well locations and completing exploration and appraisal wells, will further help as companies prioritize lowering breakevens instead of increasing ultimate recovery." As an example, Sandeen notes that Shell's Vito project has been redesigned with a smaller facility and lower well count, "which has helped bring the breakeven down from $60s/bbl to the low $40s/bbl."
Exploration will remain low priority, the report observes. The decline in wildcat wells has been partially offset by the increase in infrastructure-led exploration by independents, albeit with a decrease in discovered reserves. Thirty-five E&A wells were drilled in 2016, compared with 39 in 2015, but discovered reserves declined from 650 MMboe to 250 MMboe. "In 2017, we reckon the independents will focus their limited budgets on development activities resulting in fewer wildcat wells," Sandeen commented. "We estimate less than 15 E&A wells will be drilled in 2017."
Still, a number of field development projects will move forward this year, despite the malaise that continues to hang over the Gulf. Perhaps most notable is BP's Mad Dog Phase 2 project, which was sanctioned last December.
Estimated to cost some $9 billion to develop, the deepwater Gulf of Mexico project calls for a new floating production platform with the capacity to produce up to 140,000 b/d of crude oil from up to 14 production wells. Oil production is expected to begin in late 2021.
The second Mad Dog platform will be moored about 6 mi (10 km) southwest of the existing Mad Dog platform, which is located in 4,500 ft (1,372 m) of water about 190 mi (306 km) south of New Orleans. The current platform has the capacity to produce up to 80,000 b/d of oil and 60 MMcf/d of natural gas.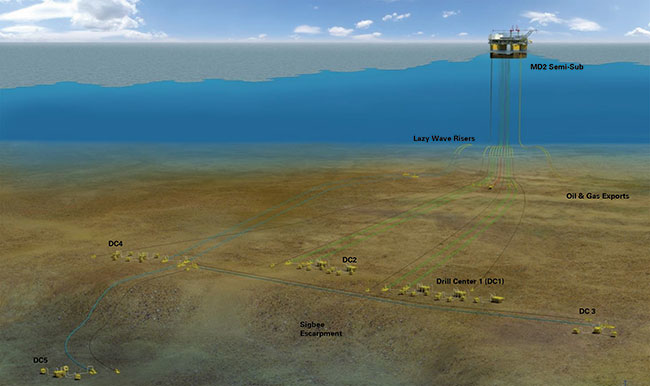 The $9-billion Mad Dog Phase 2 project calls for a new floating production platform with the capacity to produce up to 140,000 b/d of crude oil from up to 14 production wells. (Courtesy BP)
In 2013, BP (operator with 60.5% working interest) and co-owners, BHP Billiton (23.9%) and Union Oil Company of California, an affiliate of Chevron U.S.A. Inc. (15.6%), decided to re-evaluate the project after an initial design proved too complex and costly.
Since then, BP has worked with co-owners and contractors to simplify and standardize the platform's design, reducing the overall project cost by about 60%. Today, the project, which also includes capacity for water injection, is projected to be profitable at or below current oil prices. Bob Dudley, BP Group CEO, said that the revised project design "shows that big deepwater projects can still be economic in a low price environment in the US if they are designed in a smart and cost-effective way."
BP discovered the Mad Dog field in 1998 and began production there with its first platform in 2005. Continued appraisal drilling in the field during 2009 and 2011 doubled the resource estimate of the field to more than 4 Bboe, spurring the need for another platform at the field.
"Mad Dog Phase 2 has been one of the most anticipated projects in the US deepwater and underscores our continued commitment to the Gulf of Mexico," said Richard Morrison, president of BP's Gulf of Mexico business. "The project team showed tremendous discipline and arrived at a far better and more resilient concept that we expect to generate strong returns for years to come, even in a low oil price environment." At the time of the announcement, BP said it planned to add about 800,000 boe/d of new production globally from projects starting up between 2016 and 2020.
In recent months, BP has begun to award contracts for the development of the project. In March, Wood Group announced that it had won two separate contracts for Mad Dog Phase 2. Samsung Heavy Industries contracted Wood Group to provide detailed engineering and procurement services for the topsides for the project's floating production unit. The $80-million contract follows the December 2016 completion of interim agreement period early work, which was valued at $4.5 million.
Additionally, as part of the recently signed global services agreement with BP, Wood Group's specialist technical solutions business was awarded a $4.89-million contract for subsea engineering and project management services for the project. This includes gas lift system interface design, geospatial information system support, subsea controls engineering, and geotechnical engineering support.
Also in March, BP selected OneSubsea to design and build a subsea production system for the project. The scope includes subsea manifolds, trees, control system, single and multi-phase meters, water analysis sensors, intervention tooling, and test equipment for producer and water injection wells associated with the project.
In addition, Subsea 7, which collaborates with OneSubsea through the Subsea Integration Alliance, was awarded an engineering, procurement, construction, and installation contract for subsea controls, flexible risers, pipeline systems, umbilicals, and associated subsea architecture.
Offshore installation activities are scheduled for 2019 and 2020.
Project management, including engineering, fabrication, installation support and life of field activities will be managed by US-based resources and operations in Houston and Louisiana. Teams from both companies will be co-located to better support project objectives.
Elsewhere, Shell and Mitsui (MOEX North America LLC) have announced that they are moving forward with phase one of their Kaikias project in the deepwater Gulf. The companies say that Kaikias has a competitive go-forward break-even price below $40/bbl.
The project will be developed in two phases. The first phase includes three wells tied back using a single flowline to the nearby Shell-operated Ursa production hub. The wells are designed to produce up to 40,000 boe/d. Phase one is expected to start production in 2019.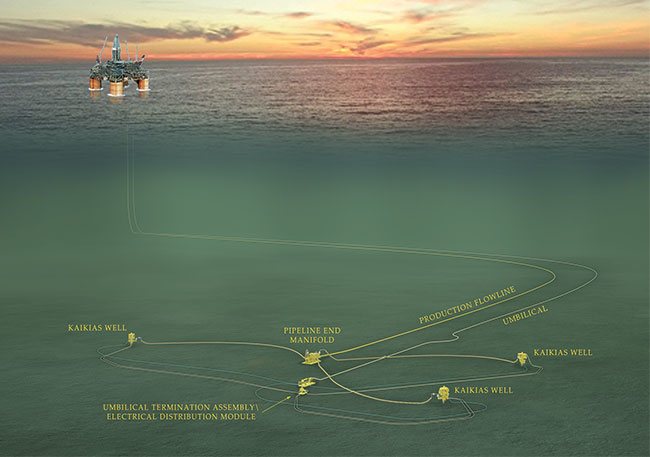 Phase one of the Kaikias project calls for three wells to be tied back using a single flowline to the nearby Shell-operated Ursa production hub. (Courtesy Shell)
Discovered in August 2014, Kaikias is located in about 4,575 ft (1,395 m) of water in the Mars-Ursa basin about 130 mi (210 km) offshore Louisiana. It is estimated to contain more than 100 MMboe recoverable resources. Shell is the operator and has an 80% working interest. MOEX NA, a wholly owned subsidiary of Mitsui Oil Exploration Co. Ltd., has the remaining 20% working interest.
Recently, TechnipFMC reported that it had been awarded a contract by Shell Offshore Inc. for the delivery, integration, and installation of the subsea production system (SPS) and subsea riser, jumper and flowline (SURF) equipment for phase one of the Kaikias project.
TechnipFMC says it collaborated with Shell during the front-end planning and design for Kaikias phase one to engineer solutions and efficient execution opportunities that were designed to improve the overall cost and pace of development. Under the terms of the contract, TechnipFMC will manufacture, install and integrate proprietary SPS and SURF equipment designed to improve project economics by optimizing field production and minimizing lead times.
This includes the first application of TechnipFMC's compact pipeline end manifold and horizontal connection system technologies with flexible jumpers in the deepwater GoM.
Andy Brown, upstream director of Royal Dutch Shell, said: "Kaikias is an example of a competitive and capital-efficient deepwater project using infrastructure already in place. The team has done a great job [of reducing] the total cost by around 50% by simplifying the design and using lessons learned from previous subsea developments."
In addition, two other Shell-operated projects in the Gulf of Mexico are currently under construction or undergoing pre-production commissioning: Coulomb Phase 2 and Appomattox.
Meanwhile, Hess is moving forward with its Penn State Deep (PSD) project, located in the Garden Banks 216 block in approximately 1,500 ft of water. In March, McDermott reported that it had been selected perform subsea tieback work for the project. Discovered in 1996, the PSD field first began production in 1999.
Indeed, in the current price environment, a number of operators are selecting tiebacks as their preferred development option. Anadarko has recently said that it expects to invest around $1.1 billion in its deepwater Gulf of Mexico, Algeria, and Ghana assets, and that subsea tiebacks will feature prominently in this campaign.
In the Gulf of Mexico, the company plans to continue leveraging its infrastructure position and drill approximately seven development tiebacks during the year. In addition, Anadarko noted that it expects to benefit from a full year of production from the recently acquired Freeport-McMoRan properties, which doubled its sales volumes to more than 160,000 boe/d at the end of last year.