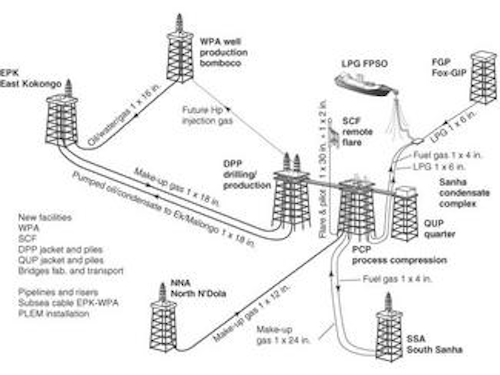 Jeremy Beckman
Editor, Europe
Fabrication yards in Angola, Spain, Korea, and Japan are providing the main hardware for the $1.4-billion Sanha condensate project offshore Cabinda. The ChevronTexaco-operated development will produce condensate for processing on the world's first LPG FPSO. It will also harness gas from nearby producing fields, much of which was previously flared, for fuel and reinjection.
The fields and facilities under development or re-development extend across shallow water areas B, C, and A of the Cabinda enclave, otherwise known as Angola block 0. Collectively, these fields generate around 450,000 b/d, half of Angola's current oil production. Area A covers the nearshore region out to 75-m water depth, while areas B and C continue out to the 200-m isobath.
Area A has been under development since 1968, with over 150 platforms installed to date, according to analysts Wood Mackenzie. The 16 developed fields are grouped into three complexes: Malongo, Kambala/Livuite, and Takula. Gas injection was introduced at Malongo in the 1980s, mainly to boost oil recovery, but also to recover NGLs from the wet gas prior to reinjection. NGLs are stripped out on the FGIP compression platform on Malongo West, which also features in the current Sanha scheme. The Malongo West reservoir has capacity to store 500-900 bcf of gas for several years, in readiness for future oil recovery projects.
Area B has been in production since 1994, with Kokongo the first field to be developed, in 100 m of water. Here there are two platforms, one of which, East Kokongo, is included in the Sanha condensate development. This is a large processing platform that has served as the transportation hub for all Areas B and C fields.
The two fields currently in production in Area C are North N'Dola and South Sanha, and both sets of facilities also have a prominent role in the new project. North N'Dola's platform is a 16 well-slot facility in 80 m of water, with a processing capacity of 20,000 b/d.
Stabilized crude (following gas separation) has been exported to East Kokongo, with excess gas piped to a flare tower on the South Sanha platform. The latter is a 16-slot installation in 68 m of water, with a 1,500-ton jacket, 5,460-ton topsides and crude processing capacity of 40,000 b/d. Oil here has also been piped to East Kokongo.
The focal point of the Sanha condensate project will be a new platform complex in the central Sanha field, comprising a process compression installation (PCP) and remote flare jacket, bridge-linked to a drilling production platform and a living quarters platform. LPG will be recovered in a cryogenic LPG plant on the PCP and sent to an LPG FPSO stationed around 5 km to the northeast. The dry residue gas will then be compressed at up to 6,600 psig and reinjected into the Sanha gas cap.
Northwest of this complex, a new wellhead platform will be installed on the Bomboco field, where a mixture of oil, gas, and water will be produced, exported in turn to East Kokongo. Bomboco operations will also be controlled remotely from East Kokongo.
Sonangol/SBM's joint venture Sonasing awarded the contract for the FPSO to Mitsui and Ishikawajima-Harima Heavy Industries in Japan. The same team built the LPG FSO for Chevron's Escravos project in Nigeria. The new vessel will be capable of processing 6,000 cu m/d of LPG, and with a liquids storage capability of 135,000 cu m, will also rank as the world's largest LPG tanker.
null
Stolt Offshore and Daewoo Shipbuilding and Marine are jointly handling the $660-million contract for the platforms and interconnecting pipelines. Daewoo's scope comprises engineering, procurement, construction, installation, hook-up, and commissioning of the PCP deck and jacket, and the drilling production platform and living quarters platform decks. Stolt is responsible for all remaining structures for the new platforms. It is also undertaking topsides modifications to the East Kokongo, North N'Dola, and South Sanha platforms, and installation of 100 km of infield flowlines and export lines.
Stolt has assigned its Houston-based subsidiary Paragon Engineering Services to manage topsides modifications to the East Kokongo platform, North N'Dola, and South Sanha.
In Paris, Paragon Litwin has designed the deck, jacket and piles for the new Bomboco wellhead platform (WPA), the jacket for the Sanha drilling production platform, and the 1,500-ton jacket and piles for the accommodation platform. It also designed the bridges linking the drilling production platform and living quarters platform to the new process compression platform, the remote flare tripod jacket, the pipelines, and a subsea electrical cable from East Kokongo to the new Bomboco wellhead platform.
For the Bomboco topsides, the big change from the front-end engineering and design, performed by Kværner in 1998, is the split deck (two levels). This will allow installation by the Seaway Polaris in two lifts, rather than the single-lift operation that had been planned.
Stolt Offshore's joint fabrication venture with Sonangol in Lobito, Sonamet, is building the 1,500-metric-ton Bomboco deck – the largest undertaken by the yard. This includes the 1,000-metric-ton accommodation platform jacket, the 400-metric-ton flare, and the two 550-ton and 320-ton gangway bridges.
Sonamet's workload on this project meant that two of the Sanha structures had to be subcontracted. Dragados in Puerto Real, southern Spain, has already completed the 2,900-metric-ton jacket for the drilling production platform platform. Stolt's CBL 103 cargo barge took the jacket to block 0. The Seaway Polaris piled and installed the eight-legged jacket in 325 ft of water. The piles, 1.5-in, thick and 72-in, diameter, penetrate the seabed to a depth of around 265 ft.
Dragados is also building Bomboco's four-legged, WPA jacket (2,500 tons). This should leave the yard end-October, for installation in December or January, also by the Seaway Polaris. All installations are due to be completed by next spring, with production onstream in 3Q 2004.