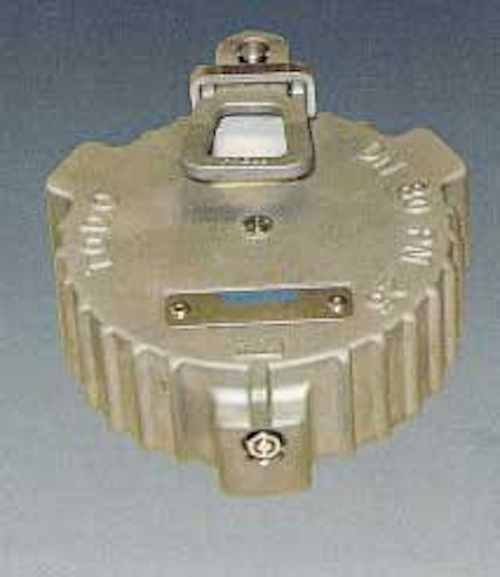 Todo has introduced a pressure-tight safety cap (PTSC) that the company says should lessen spillages or accidents caused by handling of hazardous chemicals offshore. The system has been designed in collaboration with chemical and gas transportation companies and is already in use in rail and road tanker applications.
Offshore chemicals such as corrosion inhibitors, scale removers, and other additives are typically transported in 1-cu-m containers. Todo supplies its Dry-Break couplings for transfer operations from supply vessels (see Offshore, October 2002). However, most of these containers typically do not have sealing caps, says Group Technical Director Andrew Crosby.
"So if a leak occurs, it tends to persist or remain undiscovered causing possible environmental contamination," Crosby says. "For quick connection applications, the cap must be designed to disconnect quickly, but what if the system's valves or other sealing means are not in good condition? Should the operator remove the cap under such conditions, he may end up being exposed to large amounts of chemicals."
The PTSC addresses safety and containment security in several ways. A pressure indicator lifts up to alert the operator of unusual pressure build-up behind the cap. The system is designed to hold the pressure until the problem is resolved. Alternatively, if the operator decides to disconnect straightaway, he must first press a lever on top of the cap. This action automatically reduces the pressure upstream of the cap.
null
"There will be a small controlled leakage, but at least the risk of a forceful expulsion of the transfer media will have been removed," Crosby explains. "Offshore chemicals are not normally very aggressive, but they can cause environmental damage and present a significant work hazard when spilt."
Other features of the PTSC include automatic locking – the cap locks in either direction, but a deliberate action is required to disconnect it – and compliance with IMDG, the IMO offshore code. This means the cap is certified as a reliable full first, second, or third closure method that can be applied as alternative to other closure methods, normally incorporating valves, for containers with hazardous chemicals.
Todo is also promoting its swivel coupling system, developed in the 1970s, for attachment to the ends of flexible hoses used on offshore installations for fluid or gas transfer. The swivel comprises two body halves, stainless steel bearings, and a single-spring assisted O-ring seal. Systems are produced in sizes ranging from 3/4 in. (DN19) to 6 in. (DN150).
"Most of the time, hoses hang down from the platform when not in use," says Crosby, "and in this state, they are relaxed. Should you move a hose, it will no longer be in its 'natural' position, and will therefore be liable to twist when pressurized. Many hoses are built with an inner helix. This can cause higher velocity fluids to spin, as happens in a gun, when pushed down the helix. This spinning in turn causes the hose itself to move, with a build-up of energy that may eventually twist the hose."
However, by connecting the Todo swivel to the hose assembly, the hose will relax to its natural resting position – at the same time allowing freedom of movement without applying torque stress at the point of connection. According to Todo, torque stress is the biggest single cause of premature hose failures.
For more information, contact Andrew Crosby, Todo UK. Tel: +44 1495 755 884, fax: +44 1495 752 505, andy@todo.co.uk, www.todo.se.