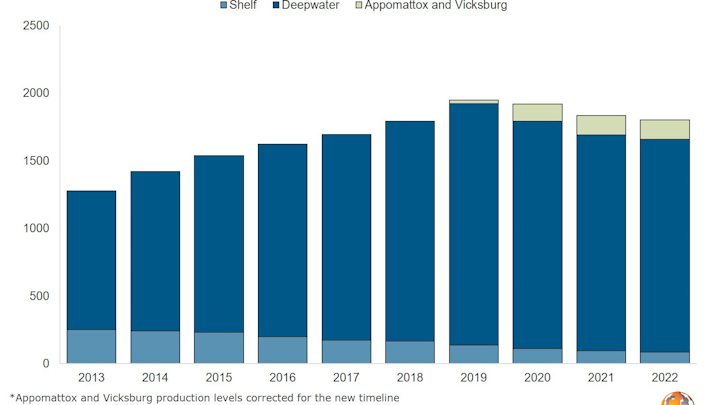 Rystad Energy UCube
Offshore staff
OSLO, Norway – Oil production in the US Gulf of Mexico (GoM) is poised to set new records in the imminent future, according to analyst Rystad Energy.
This month, Royal Dutch Shell started producing oil and gas at its Appomattox platform in the deepwater GoM several months ahead of its expected startup in 3Q 2019.
Joachim Milling Gregersen, analyst on Rystad Energy's Upstream team, said: "With earlier than planned production, Appomattox will be a key growth contributor to help push US Gulf of Mexico oil production toward a new record high before year-end."
In 2013, GoM oil production was a 1.28 MMb/d, whereas in 2018 production averaged a record high of 1.79 MMb/d. Rystad Energy forecasts that 2019 production will average 1.95 MM/d, with some months potentially reaching 2 MMb/d.
The Appomattox platform, Shell's largest floating production system in the GoM, will host the adjacent Appomattox and Vicksburg hydrocarbon accumulations. The analyst forecasts that plateau production at the Appomattox development will be around 140,000 boe/d.
"The torch has been carried by large deepwater fields, of which Appomattox is the latest contribution," Milling Gregersen added.
05/31/2019