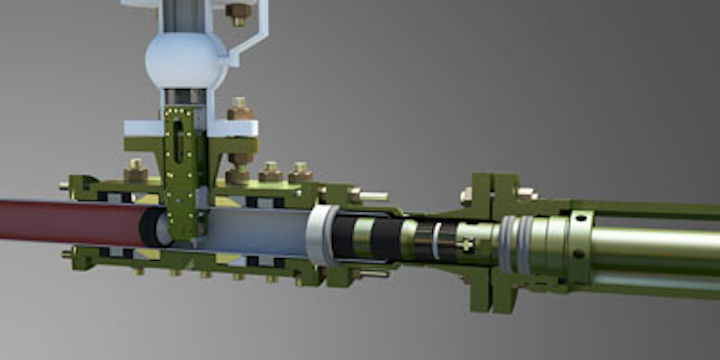 Offshore staff
ABERDEEN, UK – STATS Group has completed remedial work for TAQA Bratani's Tern Alpha platform in the UK northern North Sea.
TAQA needed isolation to allow pipework replacement for a 3-in. instrument air line, without having to shut down the platform.
STATS proposed a 3-in. BISEP and Tecno Plug assembly to provide a double block and bleed (DB&B) isolation. To allow deployment of the BISEP, the company secured full bore access by hot tapping the live line using a mechanical tie-in clamp and ball valve.
Once hot tapping was complete and the pipe coupon recovered into the hot tap machine, the ball valve was closed to allow hot tap machine removal. The BISEP was then fitted to the ball valve and housed in a pressure competent launcher.
Leak testing of the launcher confirmed pressure integrity, allowing the ball valve to be opened and the BISEP deployed into the pipework toward the flow that needed to be isolated.
According to STATS, hydraulically setting the BISEP compresses the spherical head and the resulting radial expansion pushes the seals out against the pipe bore. The twin compression seals provide a way to bleed and to monitor the intermediate annulus, while the seal annulus port proves and monitors the seal integrity before and during intervention work.
Following validation tests on the BISEP, the pipework was cut with a clamshell cutter and removed from behind the BISEP. To facilitate clamp removal and hot tap penetration from the system, STATS put in a temporary launcher with a pre-installed 3-in. Tecno Plug. This allowed the BISEP to be retracted, and the Tecno Plug to be deployed and set beyond the hot tap penetration to provide a new DB&B isolation barrier.
On verification of the Tecno Plug isolation, the tie-in clamp, ball valve, and BISEP assembly were removed from the air line, and the pipework was cut to remove the hot tap penetration.
To provide a tie-in point for the new valve and pipework, a mechanical flange was fitted to the cut pipework behind the Tecno Plug. A valve and temporary launcher were then attached and strength pressure-tested against the back of the Tecno Plug to confirm integrity of the new flange joints and mechanical flange.
The Tecno Plug could then be released, retracted into the temporary launcher, and removed, with the new valve providing isolation and allowing replacement pipework to be connected. The operation lasted five days.
7/25/2013