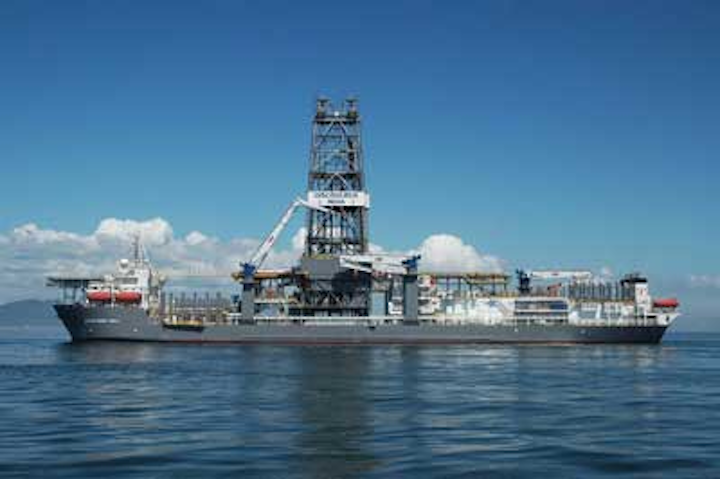 Displaying 2/3 Page 1, 2, 3Next>
View Article as Single page
Projects placed onstream
The recent commissioning of several notable projects will bolster production in the deepwater GoM. In November, Hess reported that production had begun on its Tubular Bells field in the deepwater Gulf. The company says that following a ramp-up, Tubular Bells should produce about 50,000 boe/d from three wells by year end.
The Tubular Bells field was discovered in 2003 and sanctioned in October 2011. It is in 4,300 ft (1,310 m) of water, 135 mi (217 km) southeast of New Orleans. The development uses Williams Partners spar-based Gulfstar FPS, which is the first such facility with the major components built on the US Gulf Coast. Hess holds a 57.14% interest in Tubular Bells and is the operator. Chevron U.S.A. Inc. has a 42.86% interest.
In early December, Chevron reported that the Jack/St. Malo project in the deepwater Gulf had come online. The company said that crude oil and natural gas are now flowing from this Lower Tertiary project.
With this phase coming in on time and on budget, Chevron said the facility is expected to ramp up to a total production of 94,000 b/d of oil and 21 MMcf/d of natural gas and that it has a planned production life of 30 years.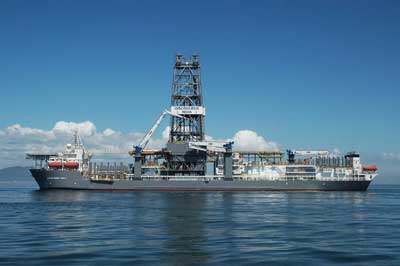 Chevron reports a new oil discovery at the Guadalupe prospect in Keathley Canyon block 10. Chevron U.S.A., Inc. began drilling the well in June 2014 using Transocean'sDiscoverer India deepwater drillship. (Photo courtesy Transocean)
The Jack and St. Malo fields are within 25 mi (40 km) of each other in approximately 7,000 ft (2,100 m) of water in the Walker Ridge area, approximately 280 mi (450 km) south of New Orleans. The fields were co-developed with subsea completions flowing back to a single host, semisubmersible floating production unit located between the fields.
Chevron U.S.A. Inc. has a working interest of 50% in the Jack field, with co-owners Statoil (25%) and Maersk Oil (25%). Chevron U.S.A. Inc. and Union Oil Co. of California hold a 51% working interest in the St. Malo field, with co-owners Petrobras (25%), Statoil (21.5%), ExxonMobil (1.25%), and Eni (1.25%); and a 40.6% ownership interest in the host facility, with co-owners Statoil (27.9%), Petrobras (15%), Maersk Oil (5%), ExxonMobil (10.75%), and Eni (0.75%).
Also in December, Stone Energy Corp. announced that production had started from the deepwater Cardona development in Mississippi Canyon block 29. Production began in late November from the Cardona #4 and #5 wells, which were expected to reach a combined gross production volume of 12,000 boe/d over a four-week period.
Cardona is a subsea tieback to the Stone owned and operated Pompano platform about 120 mi (193 km) southeast of New Orleans. First oil was produced from the Pompano field in October 1994 after being discovered by BP and Kerr-McGee in 1985.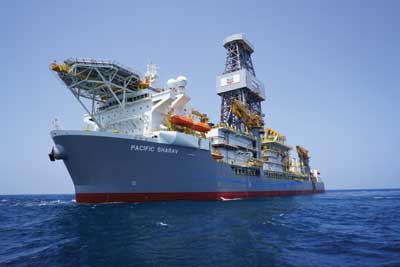 The deepwater drillshipPacific Sharav arrived in the Keathley Canyon area last fall to work for Chevron under a five-year contract. (Photo courtesy Pacific Drilling)
Deepwater production projections
A recent report by Wood Mackenzie projects that production in the deepwater GoM is expected to reach a new peak of 1.9 MMboe/d in 2016, but may face challenges thereafter. According to the report, this 2016 peak will be driven by new developments and the expansion of older oil fields, and marks the first time production will surpass the previous production peak set in 2009. Wood Mackenzie says that it expects production from 2014 to 2016 to grow 18% annually.
In 2015, Wood Mackenzie forecasts production to increase 21% from the 2014 level, and the impact will intensify in 2016 when the Heidelberg field comes online and the Jack/St. Malo project ramps up. These three fields combined will produce 115,000 boe/d in 2016, the firm says. In addition to new fields coming onstream, redevelopment and extension of older fields will also augment growth.
Last year marked the start of the next significant growth period for the area, says Wood Mac. The production increase this year and next will be driven by several new developments including Delta House, Lucius, and Big Foot, and the expansion of older fields such as Thunder Horse and Mars. In 2016, these five fields will account for 26% of output, according to the report.
After hitting the new peak in 2016, Wood Mackenzie says it anticipates production to plateau for the remainder of the decade. Due to the depletion from legacy fields and a limited number of new fields coming onstream, a lack of growth is expected. The firm estimates that only eight developments will come online from 2017 through 2020, compared to 15 developments from 2014 through 2016.
Deepwater GoM production: contributions from the top 10 fields, 2004-2021.