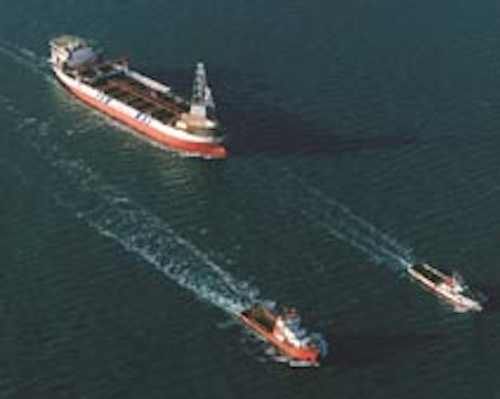 Jeremy Beckman
London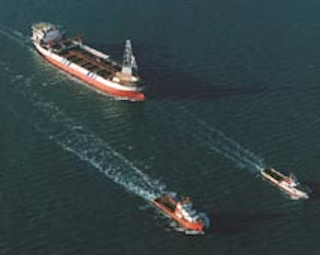 Amerada Hess' FPSO Glas Dowr under escort to the Tees Offshore Base in northern England, in readiness for service on the Durward and Dauntless fields in UK Blocks 21/11 and 21/16. Following process and utility plant installation, the converted vessel should produce first oil in April.
Pierce partners choose Statoil floater
Statoil's newbuild multipurpose shuttle tanker, the Berge Hugin, has been selected provisionally as the FPSO for the 100MM bbl Pierce Field in the UK Central North Sea. Operator BP and partners approved the development following a successful extended well test last year on the reservoir in blocks 23/27 and 23/22a.
Government sanction for the project is expected this May, allowing the 103,000dwt, 640,000 bbl storage vessel to produce first crude mid-1998. Norway's APS will supply the submerged turret production swivel. Before topsides fit-out can begin, however, the Berge Hugin is booked for another EWT on Statoil's Connemara Field off Ireland. The Pierce plan envisages seven production wells and three gas injectors, generating peak production of 45,000 b/d and 100 million cf/d during a ten-year field lifespan.
Another Norwegian-owned production ship, the Smedvig-designed Balder FPU, has had to undergo modification to meet changed specifications on Esso Norge's Balder Field. Riser numbers have increased as production processing capacity has grown from 50,000 to 75,000 b/d. To ensure extended field service without production shutdowns, parts of the hull have to be strengthened and the turret base must be modified to adapt to the extra risers. A yard outside Norway will handle these modifications, as the current outfitting site, Offshore and Marine in Sandnes, lacks a sufficiently deep drydock.
A semisubmersible floater is Norsk Hydro's choice for the northern section of the Troll West gas province, anchored in 330 meters of water. A 24,000 tonne, UMOE/GVA 8000 steel platform, to be built by Umoe Haugesund under a Nkr3.9 billion contract, will produce 125,000 b/d maximum: scheduled start-up is September 1999.
Back to the UK sector, where Clyde's acquisition of BP and BHP's equity in blocks 9/14b East and West could prolong the service of an established floater. The acreage contains a possible 20MM bbl Eocene oil discovery which Clyde is keen to develop, lying 20 km northeast of Kerr-McGee's Gryphon Field. The Gryphon FPSO would likely have spare processing capacity by the time of the anticipated production start in mid-1998.
Faroese, UK licensing under review
Twenty three companies have nominated 12 favored blocks for the first Faroese licensing round. A hydrocarbon planning commission is reviewing the proposals, as well as formulating E&P regulations, before presenting a full report to the islands' parliament this summer. Ensuing legislation should then open the way to acreage applications this December, with real exploration commencing in 1999.
The White Zone where Faroese and UK waters overlap may remain no-go, however. Boundary negotiations between the two countries have still not been resolved. However, UK energy minister Lord Fraser said in London recently that he wanted to avoid turning the matter over to the international courts in The Hague.
Lord Fraser was commenting on the latest set of UK licensing initiatives. This year timing for a new program of rounds will be announced, probably staged at yearly intervals, and hopefully starting with the 18th licensing round in November. Here new regulations will likely remove the licensee's exclusive right of access for surveying: this follows a recent study of the US licensing regime by a team of UK government/oil industry representatives.
The team found that open seismic access, mandatory under the US system, encouraged innovative analysis and transparent competition for acreage. Lord Fraser added that seismic acquisition advances were themselves changing the game-plan: "3D seismic can't just be shot over small blocks. This move opens up shared activity in adjacent UK blocks."
UK shelf operators have suggested other changes which may be implemented in future rounds. These include an earlier end to data confidentiality - after four years, perhaps, instead of the current five; and the introduction of a pre-qualification stage for potential licence applicants. This might cut paperwork associated with applications, as well as quickening transactions between pre-qualifying companies.
A US-style acreage auction was rejected - the review team saw no evidence that this approach speeded up exploration or influenced early development in the Gulf of Mexico. However, Lord Fraser did not rule out cash bids settling an award in a case where submitted work programs are identical.
The review resulted from the Fallow Blocks Initiative announced last March, relating to UK 8th Round acreage seemingly neglected by operators over the past six years. Some stern ministerial words helped to trigger nine new wells on this acreage, one of which brought a discovery.
In future, said Lord Fraser, licence holders will be discouraged from letting their acreage languish. Track records may be scrutinized closely when applications come in for new acreage. And potentially fallow block data may have to be released to allow other companies to consider farm-ins.
Galleon II swells British Gas stockpile
Shell is adding a second wellhead platform to its Galleon gas complex in the southern North Sea. The PG installation will be accompanied by 11 new development wells draining the field's northwest area: three of these wells should be ready to export gas through the Sole Pit pipeline transportation system to Bacton in October next year, with a total of 770 bcf thought recoverable. The Galleon PN platform went onstream in 1994.
Most of the new supplies are contracted to British Gas until 2010. Simultaneously, the latter is trying to escape Shell's clutches as its largest gas supplier in the UK. Recent liberalization of the UK market combined with an upsurge in new field developments caused spot gas prices to tumble. British Gas, however, as the major domestic transporter prior to the changes, was left saddled with long-term supply contracts concluded at the old, higher rates.
Some suppliers have been more accommodating in loosening the shackles. BP, for instance, has agreed to cut its prices on certain contracts and reduce British Gas' purchasing commitments in others, in return for $483 million in cash. Mobil has done a similar deal in return for British Gas stakes in the Nevis and Beryl Fields and the SAGE pipeline system - equivalent to 27MMboe.
In a separate transaction, Mobil has strengthened its position around its Beryl dominion through an acreage swap with Elf. The latter got 16.5% extra of the block containing the Elgin Field, while Mobil won shares of three blocks, one of which holds the Peik discovery in the UK/Norway median area.
Copyright 1997 Offshore. All Rights Reserved.