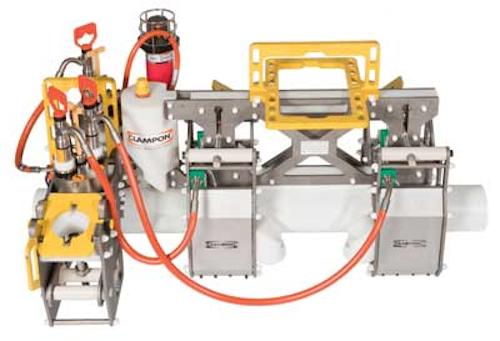 ClampOn's monitoring technology is having a growing impact on the deepwater sector.
BP should shortly install one of the company's new subsea corrosion-erosion monitors (CEMs) on a Gulf of Mexico deepwater field pipeline at a water depth of 2,300 m (7,500 ft), while Total has ordered nine similar units for another deepwater application in the UK West of Shetlands region.
A precise location for the subsea installation of Total's CEMs has still to be determined, depending on where engineers think corrosion is most likely to appear, and where it is most suitable to install, explains Tonje Dahl, ClampOn's marketing coordinator. "It could be at the pipeline, jumper, downstream chokes, or at a manifold," said Dahl.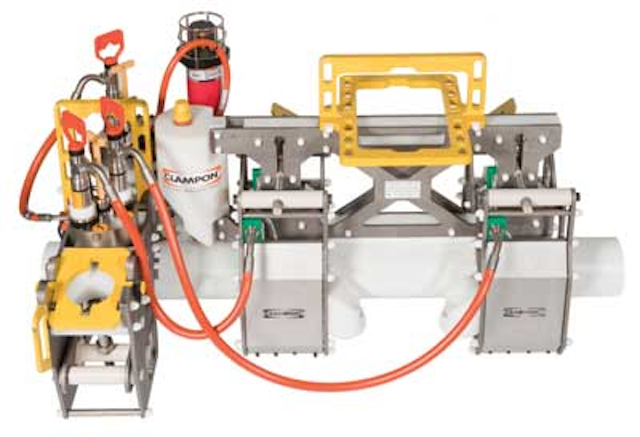 This new ROV installable version of the ClampOn Subsea corrosion-erosion monitor is soon to debut in the Gulf of Mexico and in the UK West of Shetlands region.
The subsea CEM is the result of a three-year R&D program to turn the product into a deepwater pipeline monitoring tool. "Development of the original topsides version started 10 years ago," Dahl said. "It took us a long time before we had made a technology that we could use that would work as we wanted it to. Then we started to adapt it for subsea development."
It works by using non-intrusive ultrasonic signals or waves to measure the wall thickness of pipelines and manifolds over a large surface area. The device calculates corrosion wear rates that can be expected, giving operators greater understanding of the condition of subsea hardware.
"We install transducers, which send signals back and forth to each other, and we can have several transducers in a unit," Dahl explained. "If a pipeline wall thickness changes, the shape of the signal will change – the signal then passes to an electronic control unit and this calculates the change in thickness." ClampOn claims accuracy for the instrument of better than 1%: testing by clients has demonstrated sensitivity down to a wear rate of 0.15%.
The new monitors are designed to function for up to 25 years minimum – the standard for subsea instruments – and can also operate with a 10-year battery which can be replaced by an ROV.
The technology, which was first introduced at OTC in 2011, is the result of a joint industry project between ClampOn, BP, and Innovation Norway – the Norwegian government body which supports industrial enterprise.
"We have been waiting for the final version and to make it ready and qualified, and now we are doing the first installation," Dahl noted. "We expect further orders for this instrument in the years to come because interest among operators has been great."
Dahl contended that alternatives to this instrument are few and far between. "Other options are very expensive and they only provide spot measurements that have to be performed by an ROV, so these are not permanent monitoring instruments for the condition of the pipeline," she commented. "This is the first permanent ROV-installable corrosion monitoring for a pipeline."
ClampOn's product can be installed on new and existing pipelines, and the company sees strong potential in the North Sea with its extensive network of mature infrastructure. "All the fields in the North Sea Norwegian and UK sectors, and in the Gulf of Mexico, can use this technology," Dahl observed. "We have two different versions. I believe that in light of requirements from national authorities regarding surveillance of pipelines, there is a particularly big market for existing subsea pipes." The Norwegian Petroleum Directorate, she points out, "demands that subsea pipes should have constant condition monitoring."
Operators are also seeking improved asset monitoring, she adds, in response to growing awareness of potential risks to the environment.
Clamp On was founded over 15 years ago and the company, which is privately owned by its two founders and a number of employees, reached a milestone late last year with the production of its 10,000th sensor. Its first intelligent sensor was installed on BP's Gyda field in the Norwegian North Sea in 1995.
Last June, the company relocated from its original premises in Bergen to a new industrial site at Laksevaag in the city, doubling the size of its Norway headquarters to 4,600 sq m (45,914 sq ft), a $11.72-million investment. The new complex provides greater space for producing the full range of ClampOn's ultrasonic sensors from corrosion, sand and leak detectors to pigging detectors, and vibration monitoring equipment for pipework, valves and manifolds, of which about 85% are exported, to Europe Asia, Africa, America, Australasia, and the Middle East.
Sand monitors have enjoyed particular success in the market place, where the same ultrasonic technology has been harnessed to provide precise sounds measurements in order to detect sand in a wellstream.
"Our sand monitors listen for the noise that the sand is generating: When sand races around a bend in pipework, particles will hit inner side of the bend, which generates noise and that noise is being picked up by sensors. And that way we can detect if you have sand in production. We have filtered out all the other noises like mechanical noises or sea noise," Dahl noted. "The filtering technique has been implemented in the sand sensor, so it is very sensitive." Going forward, the company anticipates continuing its high level of R&D spending.
More Offshore Issue Articles
Offshore Articles Archives
View Oil and Gas Articles on PennEnergy.com