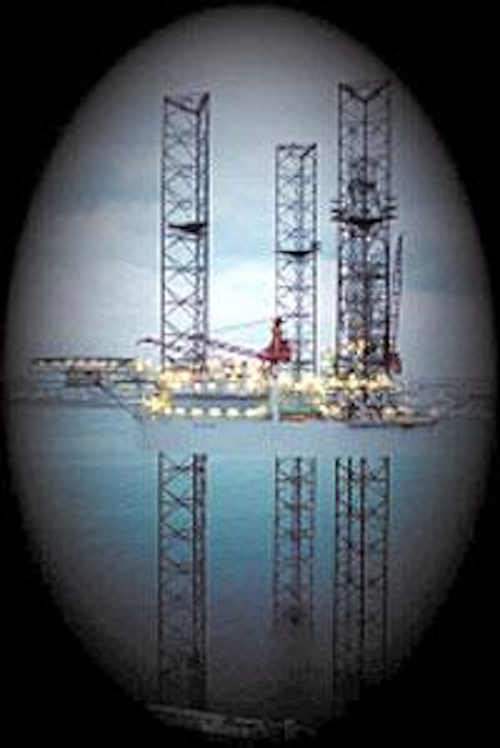 Judy Maksoud
International Editor

Gas projects will outweigh oil projects in 2002, with sizable investment in India, the Gulf of Thailand, Australia, and New Zealand. International cooperation is on the rise. State oil companies from Malaysia, Indonesia, and Vietnam have created a joint venture (JV) that will expedite exploration and development in Vietnam's offshore. Indo-nesia is reworking incentives to attract more foreign investment. And China is actively looking for foreign partners to pursue ambitious E&P projects in the China Sea, Bohai Bay, Bohai Sea, and Taiwan Strait.
Drilling in the region has been steady over the past six months. While other areas of the world wavered in the wake of the terrorist attacks on the US and the subsequent economic downturn, the Asia/Pacific region remained solid.
Pakistan
Pakistan is moving toward privatization. Early in the year, the government asked for bids for a 51% stake in Pakistan State Oil, which has 70% of the local market share. Also up for grabs is working interest in nine fields, which the government was hoping to unload in April. Occidental Petroleum Corp. announced it will invest $150 million in Pakistan's petroleum sector and expressed interest in participating in the privatization scheme as well as joint ventures to explore offshore.
India
India's Reliance Industries Ltd. began a three-year, $350 million offshore oil and gas exploration program in April, drilling one of its two deepwater blocks off the east coast. Reliance has two deepwater blocks and four shallow water blocks on India's east coast. The company also holds three deepwater blocks and six shallow water blocks on the west coast. Reliance plans to drill 10-15 wells in 2002-03.
Reliance has outlined a huge, 31-well, exploration program through 2004-05 in the 12 oil and gas blocks awarded under the first round of the New Exploration Licensing Policy (NELP).
While Reliance is exploring, Cairn Energy is moving into production. Cairn began a drilling campaign on offshore block KG-DWN-98/2 early last year. Ten exploration wells yielded seven sizable discoveries by 3Q 2001, establishing a net reserve potential of at least 200 MMBOE. The high return on investment from exploration dollars will bring strong investment in the next year.
India's state-owned Oil & Natural Gas Corp. (ONGC) will be investing approximately $9.5 billion over the next five years in efforts to increase domestic oil production. Part of this money goes to redevelopment of the Bombay High oil and gas field in the Arabian Sea. Bombay High is India's largest field and is estimated to contain 1.6 billion tons of crude oil. The 19 wells drilled so far will help to add 60 MM metric tons of oil to the field over the next three decades. ONGC started the program in 4Q 2001.
Indonesia
In February, Indonesia opened 17 new exploration areas for bid. Foreign oil companies have appealed to Indonesia to provide more incentives in the oil and gas sector and to clarify complex laws in order to encourage investment. Indonesia has solicited input from oil companies to frame government regulations now being drafted into oil and gas law.
Investment in Indonesia will be enormous this year. Unocal will put money into its Ranggas deepwater discovery, where the gross unrisked resource potential is estimated at 190-650 MMBOE. Unocal Rapak plans to drill 4-8 wells by early this year to further delineate the Ranggas discovery and test at least two adjacent prospects. The company will also develop its deepwater oil project at West Seno in the Makassar Strait.
ChevronTexaco Corp., TotalFinaElf, and Gulf Indonesia Resources will invest a combined $1.6 billion this year to develop Indonesia's oil and gas resources. ChevronTexaco will spend $450 million to develop onshore acreage along with its offshore gas field in the West Natuna area of the South China Sea.
TotalFinaElf E&P Indonesia announced it will spend about $1 billion this year mainly to raise its gas output to 2.4 bcf/d from about 2.1 bcf/d. TFE is expected to spend another $1 billion next year in expansion activities.
Conoco plans to spend over $2.5 billion in Indonesia during the next nine years. The company will keep its focus on Block B in the Natuna Sea, the source of its current production. Conoco has shifted its focus to gas production and will continue to emphasize aggressive gas development over oil.
Malaysia's Petronas, Indonesia's Pertamina, and ExxonMobil signed a memorandum of understanding on the possibility of developing natural gas from the East Natuna field.
Negotiations for development are still in the early stages. The hope is that the companies can sign a final agreement by the end of this year.
New Zealand
This year promises to be a good one for exploration offshore New Zealand.
There is plenty of oil in the offshore, but the big question for operators is whether the cost of producing it generates enough profit. Certainly, if the Institute of Geological and Nuclear Research is correct in its belief that a 20 Bbbl field lies in the 60,000-sq km Taranaki Basin, there will be a lot of interest in producing oil offshore New Zealand.
New Zealand expects to see a lot of interest when licenses in the basin are offered in the second half of the year because advances in drilling operations now place these deepwater areas (4,900 ft water depth) within reach of the drill bit.
Finding more gas is also a priority for the country. With the Maui gas field predicted to begin tapering off in 2007 instead of the earlier estimate of 2009, New Zealand will need a new field to meet its needs. That field could be in Pohokura, off the North Island. Reserves there are estimated at 1 tcf of gas and 53 MMbbl of condensate.
Australia
Oil is still the mainstay offshore Australia. To date, gas development has lagged far behind oil because there is not a significant domestic market to support it. But times are changing. The North West Shelf in the Dampier Basin is presently Australia's biggest resource development, producing natural gas, liquefied natural gas, liquefied petroleum gas, crude oil, and condensate. And there are two possible gas developments now in the works.
The Cossack Pioneer FPSO and two platforms are being used on the North West Shelf project to produce gas, which is moved to the Burrup Peninsula for processing. The area contains 16 gas fields, including the giant North Rankin, Goodwyn, and Perseus fields, which contain more than 22 tcf of producible gas. In late March, operator Woodside Energy Ltd. announced that gas and condensate production had begun from the Echo-Yodel Fields three months ahead of schedule. The fields will add about 37 MMBOE to North West Shelf Venture production over the next four to five years. The Echo-Yodel development is made up of two subsea production wells tied back to Goodwyn. Production from Echo-Yodel will be commingled with existing production on Goodwyn to help compensate for the natural decline in condensate production. Production is planned to increase to a maximum of 30,000 b/d of condensate and 300 MMcf/d of gas.
Another major project for the Australian offshore is Woodside Petroleum's floating liquefied natural gas (LNG) project on the Greater Sunrise field in the Timor Sea. If the project moves forward, Shell will create the world's first floating LNG unit. The decision to pursue floating LNG is an enormous step. The Australian government could still refuse permission for the facility and opt instead for a pipeline that would be shared with the Bayu-Undan project, a potential field development project in which Phillips has a controlling interest.
East Timor
Last December, the East Timor Council of Ministers announced the country's endorsement of an understanding on a tax and fiscal package that will allow the Bayu-Undan gas development in the Timor Sea to proceed. The agreement is predicated on the Bayu-Undan participants' continuing investment in economic and social infrastructure that will improve living standards for the East Timorese. This project is contingent upon securing an Australian market for the gas to be transported.
The Bayu-Undan field contains 400 MMbbl of condensate and liquid petroleum gas and 3.4 tcf of gas. The field is 500 km northwest of Darwin, Australia, in 80 meters water depth.
The Bayu-Undan Gas Recycle Project is expected to begin full commercial production in early 2004. By 2010, the Timor Sea could be an important regional energy province.
Papua New Guinea
Papua New Guinea's biggest development is the $3.5 billion Gas to Queensland (GTQ) project that will move gas under the Gulf of Papua to Australia. In mid-February, a consortium led by ExxonMobil signed a memorandum of understanding (MOU) with the Papua New Guinea government as a first step toward moving the GTQ project forward. The MOU sets the terms and conditions for developing and producing more than 6 tcf of gas from the Southern Highlands of Papua New Guinea and delivering it via subsea pipeline 3,200 km to Queensland, Australian. The original timetable aimed for gas flow to Queensland in 2001. The present schedule places gas delivery in 2005.
Malaysia
According to the IHS Energy Group, companies plan to drill 35 exploration wells offshore Malaysia this year, nearly even with last year. Royal Dutch/Shell Group and US Murphy Oil Corp. planned 10 wells for deepwater areas. Improved terms to deepwater PSCs are encouraging activity.
Shell is expected to spud a well in Block E offshore Sarawak and four wells in Block G offshore Sabah.
Murphy Oil announced it would test up to four prospects on Block K, where 3D seismic processing has firmed up leads on this previously undrilled deepwater block. A three-well exploration and appraisal drilling program offshore Sarawak confirmed the commercial viability of Murphy's blocks SK 311 and SK 309, 25 miles northwest offshore. One of these, the West Patricia-5 is the final appraisal well to confirm the commercial viability of the West Patricia field, which was discovered by a test well in January 2001.
West Patricia-5 confirmed in excess of 30 MMbbl of recoverable oil. Murphy plans to have the West Patricia Field on production by 1Q 2003. A production center on West Patricia will facilitate development of the nearby discoveries. Two more exploration wells are planned for blocks SK 309/311 later this year as are additional 3D seismic surveys.
In mid-December, ExxonMobil Corp. ann-ounced that oil and gas production began from the first of five new satellite platforms recently installed under the Satellite Fields Development Project. This field development project is the first of its kind in Malaysia. The five platforms will produce about 90 MMbbl of oil from six fields. Peak production is expected to total 40,000 b/d of oil and 50 MMcf/d gas.
Brunei
In November of last year, the government of Brunei established state-owned Petroleum Brunei. The company will set up a trading arm and plans to invest in oil projects in Southeast Asia. The newly formed oil company is expected to play an active role in petroleum exploration and development and plans to accelerate development of a domestic industrial base in Brunei. This could pave the way for new investors in the region. Brunei is Southeast Asia's fourth largest producer, generating 163,000 b/d of oil.
In February, Brunei awarded a 5,000-sq km deepwater block off the coast of Darussalam to a JV made up of BHP Billiton Ltd., 25%; TotalFinaElf, 60%; Amerada Hess Corp, 15%. The first well on the block is planned for some time in the next 12 months.
Mitsubishi Corp., together with Royal Dutch/Shell and Conoco Inc., was awarded gas exploration rights to Brunei's offshore Block K. The Production Sharing Contract was expected to be executed by April of this year. Mitsubishi, which is aggressively expanding in the energy sector, said the block had estimated natural gas reserves of 10 tcf.
Philippines
In January, Japan Petroleum began looking into E&P opportunities offshore the Philippines, expressing interest in an exclusive geophysical survey and exploration contract. If this request is granted, it will be Japan Petroleum's first upstream venture in the country.
Malampaya, the first natural gas project offshore the Philippines, marked the country's first giant step toward soliciting more foreign investment. Part of the development's value lies in its ability to promote the capital market.
The Philippine government is revising upstream licensing terms to attract more foreign investment. If the Philippine Congress approves the new licensing terms, companies will be allowed to offset losses in an unsuccessful exploration area with profits in a producing one. The bill is to be completed and presented to Congress for review this year.
Vietnam
Vietnam has opened its doors to investment. The country has considered allowing Malaysia's state-owned Petronas to expand exploration and production operations in the country.
Last September, Petronas identified a new offshore oil field in the Topaz North Field in blocks 1 and 2, about 168 km offshore. The Topaz North Field is 13 km east of the Ruby Field, which produces about 23,000 b/d.
Thailand's PTT Exploration and Production (PTTEP) is also expanding into Vietnamese waters. The company announced it would spend up to $50 million on two exploration projects in the next two years. PTTEP has already joined the Offshore Southwest Vietnam Project.
Con Son Joint Operating Co., a recently formed JV comprising the national oil companies of Malaysia, Indonesia, and Vietnam, is preparing to explore and develop oil and gas in two offshore blocks. The JV will process seismic data and conduct studies this year in Blocks 10 and 11.1 in the Nam Con Son Basin. Plans are in place for two exploration wells to be drilled in the blocks next year.
BP is continuing to develop its holdings in Vietnam. The company expects the Lan Tay and Lan Do gas fields, 250 miles offshore southern Vietnam, to come onstream by the 1Q 2003. The company is developing the fields in Block 6-1 in hope of starting production early next year. The block has 2 tcf of proven gas reserves. A 400-km gas pipeline is under construction to move gas from Lan Tay and Lan Do to southern areas of the country.
Cambodia
ChevronTexaco Corp. is launching exploration offshore Cambodia. In late March, the company won a license together with Japan's Mitsui for Block A.
This block is added to Chevron's other exploration projects, including producing fields in the Gulf of Thailand. The company has been actively securing acreage in this region and is making plans for exploration drilling.
Thailand
Development projects are moving ahead in the Gulf of Thailand, with Unocal, the country's biggest gas producer, continuing development of its 13 gas and condensate fields.
PTTEPP could soon be moving into development of its wells as well. The company recently announced the successful completion of a 14-well drilling campaign on its Arthit Field. The field is made up of blocks B14A, B15A, and B16A. A 1998 3D seismic survey was followed by seven exploratory wells over the next two years on blocks B15A and B16A. Last year, a second drilling campaign saw 11 exploratory and appraisal wells. All but one of 21 wells in the area were successful.
This prolific area continues to attract investors. In March, ChevronTexaco won a concession for the exploration and production of oil and gas in Block A, adjacent to two producing fields and three exploration blocks in an area where Thailand and Cambodia have overlapping claims. The field covers 2,423 sq mi.
Myanmar
Myanmar, which saw little offshore activity in 2000, is back in the gas business in 2002. In February, Daewoo International announced it would begin exploration on its Block A-1 concession offshore the northwest coast, where estimates place reserves at 10 tcf of gas.
The following month, PTTEP announced that its Yetagun II gas project offshore Myanmar in the Adaman Sea's Gulf of Martaban would go onstream in October at approximately 215 MMcf/d. A subsea pipeline will carry gas production to Myanmar for processing. Yadana, a second Myanmar gas project in the Adaman Sea that is set for output to Thailand, is expected to produce 525 MMcf/d within the next five years.
China
China is picking up more foreign partners and increasing E&P investment. China National Offshore Oil Company (CNOOC) is looking to start developing gas resources in East China Sea's Xihu Trough late in the year with partner Sinopec Corp. Field development is scheduled for late this year.