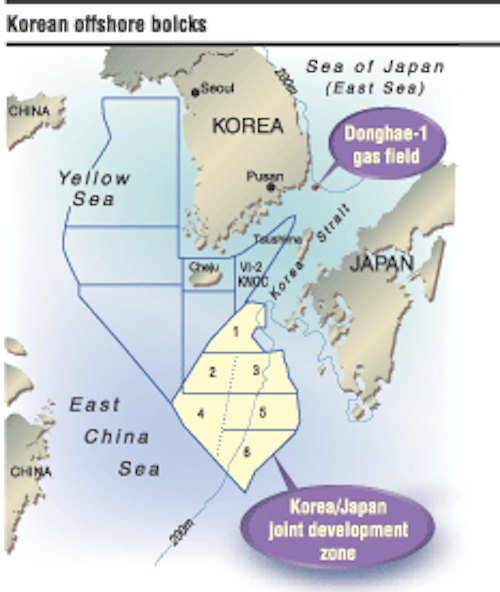 Korea adds to domestic production
Korea National Oil Co. has set a goal of reinventing itself as a world-class, internationally competitive company. Taking recent events into account, it appears that KNOC is actively working toward that objective.
The company has good reason for pursuing competitiveness in the oil and gas industry. Korea, which has limited energy reserves of its own, is the sixth largest consumer and fourth largest importer of oil. With extremely limited domestic production, Korea is dangerously dependent on foreign oil and gas. And at a time of prominent concern regarding the stability of Middle East sources, KNOC is taking its responsibility of meeting the country's energy needs seriously. Stable oil prices have been recognized as a national strategic priority. The greatest stability, of course, would be from domestic production.
In the 1970s, oil and gas exploration offshore Korea was carried out by international oil companies. In 1979, KNOC took over the exploration business in Korea and has substantially expanded its business. Since 1983, KNOC has contracted 92,160 km of seismic surveys and has drilled 22 exploratory wells.
One of KNOC's stated objectives is to generate crude oil production both at home and overseas to meet 10% of Korea's energy needs. As a first step, KNOC has sought to meet Korea's demand for oil through investment in other countries. At the close of 2001, Korea was involved in 105 oil exploration projects in 36 countries.
Though oil production has not taken off domestically, KNOC has had better results with gas, most notably in the Donghae-1 gas field. Donghae-1 was discovered in 1998 on the continental shelf 58 mi southeast of the city of Ulsan. Production from the field is to begin in December 2003.
KNOC is responsible for developing the nation's continental shelf and for developing the infrastructure to facilitate its own and other indigenous projects. With that objective in mind, KNOC is now building production facilities so that gas from the field can be used in southern Korea.
Recent news could significantly impact Korea's gas production. In late July, KNOC hit an unexpected reservoir while drilling a production well in the Donghae-1 field. The new reservoir is expected to hold about 40 bcf of gas. This new find increases the country's total gas reserves to 240 bcf. KNOC expects to see $200 million in return revenue when the newly discovered field goes into production.
While KNOC develops the reserves on Korea's continental shelf, it is also looking into partnerships. Disregarding a history of competitiveness with its eastern neighbor, Korea has approached Japan to resume joint exploration on the continental shelf off the south coast of Jeju Island. A cooperative project was undertaken in 1986, but it was put on hold. The current plan is for the two countries to collect seismic and geological data in a portion of the joint development zone. This phase of the cooperative work will conclude in October 2003.
Gas in the Gulf of Thailand
The Gulf of Thailand has seen a flurry of activity lately. In late July, the Thai-European consortium led by PTT Exploration & Production PLC awarded a $33-million contract to Japan's Nippon Steel Corp. to build and install the 13th wellhead platform at Bongkot gas field. Construction of the platform is part of the Phase 3C Bongkot development. The platform will help sustain production from the field at 550-630 MMcf/d of gas and 13,000 b/d of crude oil and condensate over the next 10 years.
About 2 tcf of proven gas reserves remains in the structure, which has already yielded 1.2 tcf since the inception of production in 1993. Bongkot is one of Thailand's largest gas fields. Pttep is continuing exploration in the area and plans to tie in satellites as new reserves are identified.
Bongkot includes 12 wellhead platforms, a production platform, and an accommodations platform.
The Arthit structure also will see development soon. Pttep has applied for a license to produce gas from the 4,000-sq km Arthit structure, one of the major gas discoveries in the Gulf of Thailand. Of the 21 exploration and appraisal wells drilled on the prospect, 20 have yielded gas. The field, with reserves estimated at 1.5 tcf, is to go onstream in 2006. Arthit is operated by Pttep with 80% interest. Unocal Thailand owns 4%. Moeco Thailand Co. holds the balance.
Arthit's structure and reservoir behavior has been compared to that of Bongkot.
While a number of fields move into produc-tion, exploration activity continues. There has been noteworthy exploration success in the Jarmjuree field.
The North Jarmjuree production area lies in the gulf, about 125 mi offshore Bangkok in a water depth of 250 ft. The production area, operated by ChevronTexaco, covers 500 sq km and was approved for production in November 2000.
The third of a six-well drilling program was proven successful in late July. The first well, Benchamas North No. 4, was drilled outside the present northern boundary of the 102,000-acre Benchamas field production license area. An extension of the permit area will have to be secured to proceed with development. A new platform will be needed to produce this well and nearby delineation wells.
The second new well, Benchamas No. 26, is located within the Benchamas production license area but west of any previous drilling. This well has extended the field by encountering 137 ft of total pay, including 62 ft of natural gas and 75 ft of crude oil section from a previously untested fault block. These new reserves will be developed from the Benchamas I platform, which is already in the water but is awaiting the start of a development drilling program within the next few days.
The third discovery of the planned six or seven exploratory wells is the Jarmjuree No. 9, located northwest of the northernmost well previously drilled on that production license. Northern Jarmjuree will be the location of one of four or more new Thailand platforms expected to be ordered shortly.
ChevronTexaco operates the prolific B8/32 concession. Pogo Producing Co. owns 46.34%, with Bangkok-based Palang Sophon holding the remaining 2%.