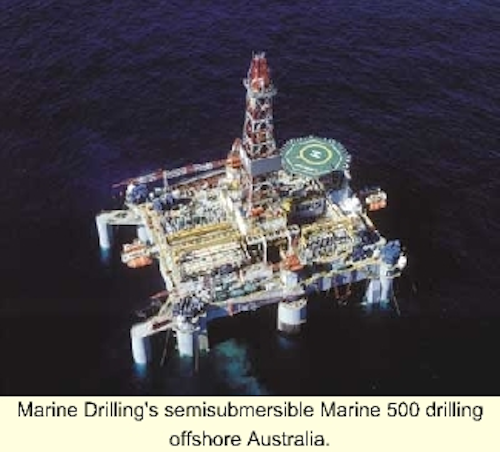 The Asia/Pacific has been slow to come back from the depths of the 1998-1999 recession, and oil and gas exploration and development have lagged in this region. Part of the problem is the slow expansion in oil and gas markets after the economic collapse.
Activity in the region peaked in the mid-1990s, and has been slow to rebound, a problem attributable equally to the political unrest in specific areas, and to the fact that investment has flowed to other areas of the world. Still, certain operators, such as Unocal, have focused heavily on the region as an opportunity to grow reserves.
India
Drilling activity was about level offshore India in 2000, but a more liberal licensing program should encourage slightly more activity in 2001. There is a great deal of unexplored area in the country's deepwater areas, and with the state-owned Oil and Natural Gas Corporation Ltd.'s (ONGC) deepwater discovery in the Krishna-Godavari basin, the area is bound to attract more investors.
The Indian government plans to hold its third round of licensing for oil and gas exploration by the end of the year, offering 25 blocks, the same number awarded in the second round.
The coming year will see the first major 3D seismic campaign to be operated by others than ONGC. In the last New Exploration Licencing Policy (NELP) licencing round, Reliance Industries was extremely successful in being awarded offshore acreage and appears to be carrying through on seismic commitments, adding up to several thousand sq km this year.
Companies such as Unocal are looking for ways to participate more in India's energy sector. The company has already invested an estimated $50 million in upstream and downstream development in the country, and company representatives have expressed an interest in finding investment partners to increase involvement.
Indonesia
With East Timor gaining independence, Indonesia lost some significant offshore assets. But, the loss continues. Nearly every island that makes up Indonesia is experiencing political unrest. The archipelago's unrest is working against its exploration and development interest, certainly in terms of attracting outside capital. The government is out of favor, and the president, who has thus far managed to keep the country together, is barely clinging to power.
In January, Pertamina was relieved of its concession-awarding tasks when the government took over awarding bids for six blocks in the Arafura Sea, six in the Makassar Straits, two in the Natuna Sea, two in the Seram Sea, two in East Kalimantan, two in South Sulawesi, and one in central Kalimantan on Borneo Island.
In February, Indonesia signed a 20-year agreement with Singapore to buy 2.27 Tcf of gas from South Sumatra for $9 billion. Now, if the country can only hold together, ongoing field projects and new exploration activity could actually increase in 2001, and certainly by 2002. There are many new plays, and a lot of investors are excited by the new incentives for marginal fields as well as incentives for deepwater testing.
Malaysia
Malaysia is Southeast Asia's second largest oil and gas producing nation, and continued offshore activity will ensure that it maintains that position in the hierarchy.
Murphy Oil Corp. subsidiary Murphy Sabah Oil Co. Ltd. has been active this year, signing a farm-in agreement in March to acquire Esso Exploration & Production Sabah Ltd.'s 80% holding in Block H off Sabah. Murphy Sabah plans to operate the deepwater block, which borders Block K, where the company has a stake.
Lundin Oil has been working on multiple projects in Malaysia in the last year and is planning significant activity for 2001. In February, Lundin Oil subsidiary Lundin Malaysia Limited, together with Petronas Carigali and PetroVietnam Exploration & Production, began a new exploration well on an extension of the Bunga Raya field.
East Bunga Raya 1 is on Block PM3 commercial arrangement offshore Malaysia/Vietnam. The well will be drilled to about 8,000 ft total depth and will target both deeper oil bearing reservoirs and shallow gas filled sand channels. The well could substantially increase the oil and gas reserves in the Bunga Raya field. Lundin is also operating Block PM305 in the Malay Basin. Plans are in place for a 3D seismic survey followed by at least three exploration wells over the next three years.
Meanwhile, an extensive production enhancement program underway on the producing Bunga Kekwa field resulted in the re-perforation of two producing wells. Sustainable production levels from the block should level out above 17,000 b/d.
Malaysia suffered a setback in pipeline development in January when objections within the Thai government put the Thai-Malay gas pipeline on hold. The pipeline was planned to move gas from the offshore Thai-Malay Joint Development Area, but Thailand's federal government encountered insurmountable regional opposition. Though pipeline activity has been suspended, oil and gas exploration and development continue to be extremely active.
Philippines
The most significant activity in the Philippines is in the Camago and Malampaya gas fields. With production estimated at 20,000-25,000 b/d of oil from the region, the volume is likely to double in the next two years.
Shell Philippines Exploration BV, Texaco Inc., and Philippine National Oil Co. plan to exploit other gas reservoirs surrounding the two fields later. Shell plans to invest $500 million to drill four wells in Malampaya gas field by 2003. These wells will help to confirm an oil accumulation on the gas field.
Non-exclusive seismic surveys of the Palawan Basin are creating more interest in the area and could generate more interest in offshore exploration. Reserves are estimated at 50 million bbl of oil and 2.6 Tcf of gas.
Thailand
Thailand has seen a lot of activity over the past twelve months, and ongoing field projects and new exploration activity will increase in the coming year.
In June of last year, the Bongkot consortium launched Phase 3B of its development program for the largest field in the Gulf of Thailand, which includes drilling 42 wells and installing two additional wellhead platforms.
The Bongkot group, led by PTT Exploration and Production (PTTEP), hired Smedvig (Norway) to handle drilling on the field, which began last August and will take 30 months to finish. Hyundai Heavy Industries was commissioned to build the two wellhead platforms, scheduled for installation in the middle of the year. The objective of the project is to sustain output from Bongkot at the current level of 550 MMcf/d of gas and 14,000 b/d of condensate.
PTTEP is moving ahead with the second phase of development on the Pailin field in the Gulf of Thailand and will invest $160 million in the field through 2002. Gas production is expected to reach 330 MMcf/d when fully developed, with 30 wellhead platforms and two central processing platforms by the end of next year.
With the restriction of gas demand in the country, Chevron, which is already the largest oil producer in Thailand, is focusing on oil field development. In March, the company reported the discovery of Chaba field in the Gulf of Thailand, which could represent a step toward fulfilling Chevron's goal of doubling oil production from this region to more than 70,000 b/d by 2004.
Unocal is also busy expanding the Pailin field and opening development on Pakarang field. The company announced plans to begin oil production from the area at initially 4,000 b/d, with plans for production to reach 15,000 b/d by next year.
Vietnam
Vietnam is now Southeast Asia's fourth largest gas producer, and exploration activity is set to expand due to a new law governing foreign oil operations. The largest gas field news is BP Amoco PLC's (BP) $1.3 billion Nam Con Son. Nam Con Son is a dedicated gas-to-power project and will be Vietnam's largest single foreign direct investment.
The project includes the development of 2 Tcf of offshore gas brought ashore by pipeline to provide three generating plants that supply electricity to the Ho Chi Minh City area. While BP is diving into this project, Statoil, which has a 13.33% stake in the project, is trying to bow out in order to strengthen its stake in other holdings where it can become operator. Reportedly, there are a number of companies interested in taking over Statoil's share of the field.
Conoco has had luck with an oil discovery in Block 15-2 (Rang Dong field), which is in the Cuu Long Basin about 180 km southeast of Ho Chi Minh City. A shallow-water stepout well that extends well beyond the producing area of the producing field tested at 8,500 b/d from one zone, signaling other excellent prospects in the area. Conoco recently increased its interest to 36% in the block and is set to move forward with the next step in development.
Exploration should begin this year on the production sharing agreement between partners OMV (Vietnam) exploration and Edison Inter-national and PetroVietnam to develop Block 111 in the Red River Basin off the central coast.
Seismic activity in the region is also noteworthy. Petroleum Geo-Services (PGS) will conduct a survey that uses a 12-streamer array for the first time ever in the region.
China
Current gas production from offshore basins is at 4.4 Bcf/year, and drilling is operating at full capacity, with little or no room for growth. Internally, Sinopec is making plans to invest RMB 24 B yuan in natural gas exploration and production in the East Sea area in the coming five years and plans to drill 20 exploratory wells in the Xihu depression before 2002.
China National Offshore Oil Corp. (CNOOC) plans to develop the DF1-1 gas field in the Beibu Gulf in the South China Sea. The gas-bearing area covers about 288 sq km and contains estimated reserves of 99.68 Bcm.
Outside investors in the country include Kerr-McGee, which was recently awarded Block 09/18 in Bohai Bay. Kerr-McGee confirmed a third oil field in the bay last August and began a seismic survey of Block 04/36, which it also holds, to determine its size and adjacent prospects.
Husky Oil China Ltd. signed a contract with CNOOC to jointly develop the Wenchang 13-1 and 13-2 oil fields in the South China Sea. Oil production is expected in the first half of 2002.
New Zealand
Recent large discoveries of gas/condensate on Pohokura and oil on Rimu suggest that significantly more oil and gas has been generated in the Taranaki Basin than previously thought. Certainly, in the last few months, a number of companies have been expanding the scope of offshore operations.
In January, Westech-Orion announced preparations to begin an offshore East Coast Basin drilling campaign that presently contracts for one firm well and one conditional well. The campaign will begin in the second quarter of this year. One well is the Tawatawa-1 well in PEP 38333 off the Wairarapa Coast. The other is the Hiwihiwi-1 well in PEP 38325, the southernmost of Westech-Orion's two Hawke Bay permits.
In February, Fletcher Challenge Energy (FCE) confirmed that its major offshore Pohokura gas-condensate field contains 964 Bcf gas and 53 million bbl condensate, a third more hydrocarbons than originally estimated. The adjustment was based on detailed analysis of core and seismic data obtained from the Pohokura-1 and Pohokura-2 wells drilled in PEP 38459 just offshore north Taranaki last year. This makes Pohokura New Zealand's second largest gas-condensate in total reserves behind Maui.
The M/V Geco Resolution began an offshore 3D seismic survey of the Pohokura prospect in December, and a transitional-zone 3D seismic survey that is to address the possible nearshore and onshore extension of the field was planned to start in March.
In mid-March, Shell-Apache out-maneuvered a Peak Petroleum Ltd. consortium in a bid for FCE. Shell, with more offshore real estate, plans to scale up exploration. Following court approval in March, Shell was to begin dismantling FCE's group.
Shell will have to sell off a number of FCE's offshore assets, including 10% of shares in the Maui field, 3.7% of shares in the Pohokura field, and all of FCE's interest in the Kupe field, which has not yet been developed. There is a lot of interest in the portion that must be sold, and whoever buys up the shares is likely to invest heavily in exploration and development.
Australia
A number of significant discoveries were made offshore Australia last year, and a survey by Australian Petroleum Production & Exploration Association Ltd. indicates 22 exploration wells will be drilled offshore in 2001. In the course of this year, exploratory drilling and development work should remain strong.
TGS-Nopec Geophysical Company ASA is in the process of gathering a new non-exclusive 3D seismic survey covering the Barrow Sub-basin in the Carnarvon Basin of Australia's Northwest Shelf. The 1,500 sq km 3D survey will be acquired and processed through a revenue-sharing agreement with Veritas DGC Inc., whose M/V Pacific Sword began acquisition in mid-January. The survey should conclude by July 1. As part of the Carnarvon Basin, the premier hydrocarbon producing region in Australia, the Barrow Sub-basin is the site of escalating exploration activity. All of the major players in Australia are active there.
Woodside Petroleum will head development work with its Legendre oil fields offshore Western Australia. Three horizontal production wells are planned in Legendre North and one in Legendre South.
Production from the A$110 million project was scheduled to begin in April. Peak production is expected at 50,000 b/d of oil. Gas produced will be used to power production facilities; the rest will be reinjected. Woodside Energy estimates the fields contain 44 million bbl of recoverable reserves.
Papua New Guinea
Exploration is primarily taking place onshore Papua New Guinea (PNG), though recent geological analysis indicates that there could be significant oil and gas fields underlying the southern Gulf of Papua.
The biggest prospective project in the country is the proposed PNG-to-Queensland gas project - called Gas to Queensland (GTQ) - that would cross the Gulf of Papua. To date, however, there is no scheduled time for the project to begin.
Brunei
In the beginning of the year, Brunei opened a new round of licensing. Some 26 international oil companies expressed interest in production-sharing contracts in its two deepwater blocks (4,994 sq km). The bidding closes in November, and award of the production-sharing contracts is planned for early 2002.
Terms include an overall contract duration of 30 years with an exploration period of eight years. The government has improved offshore gas recovery terms and has reduced from 30% to 15% its option to participate in commercial discovery.
To jump-start the new round of exploration, the sultanate signed a contract with seismic survey company Petroleum Geo-Services ASA to shoot 3D seismic data. A significant amount of multi-client data has already been acquired by PGS for this round.
Myanmar
Of the 31 wells drilled last year in Myanmar, only two were offshore. Most of the immediate future activity in Myanmar will be onshore. However, non-exclusive seismic surveys of the Adaman Sea are creating more interest in the area. Once the data is in and can be analyzed, there could be more interest in offshore exploration.
Eastern Russia
The Sea of Okhotsk-Sakhalin area is a fairly new frontier for petroleum exploration. Early estimates indicate that proven and probable gas reserves off the Sakhalin Islands could be as high as 50-65 Tcf. Sizable potential profit in the area has enticed international players who are sinking a lot of capital into exploration and development.
In September of last year, ExxonMobil Corporation subsidiary Exxon Neftegas Ltd. announced that its appraisal well, Chayvo-6, showed substantial oil accumulation on Sakhalin I. With Chayvo-6 as a foundation, the company began laying plans for development and securing government assurances to push the project forward. In addition to activity in Sakhalin I, ExxonMobil is pursuing production sharing agreements on the Sakhalin III Kirinskiy, Ayashskiy, and East Odoptinskiy license blocks.
In mid-December of last year, India's ONGC Videsh Ltd. signed a protocol agreement with Russia's national oil company, Rosneft, to formally acquire a 20% stake in the Sakhalin 1 oil and gas field. This is the country's largest oil and gas project ever approved for foreign investment.
BP PLC has also announced its intention to pursue exploration activity in Eastern Russia as a participant in the Sakhalin-4 consortium with Rosneft's Sakhalinmorneftegas. Sakhalin-4 is a project for exploration and development of an estimated 3.2 Tcf of gas off Moskalvo in the Gulf of Sakhalin.