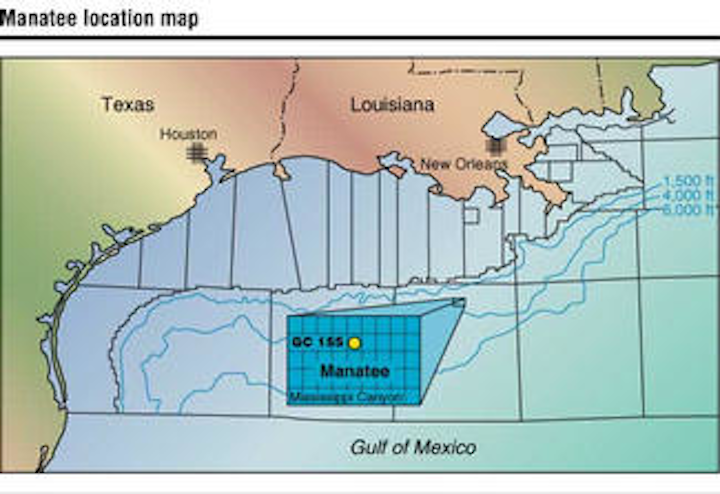 Manatee fourth subsea tieback for Shell's Bullwinkle platform
Manatee will be a two-well development, situated in 1,940 ft water depth. It will be tied back five miles to Shell's Angus subsea manifold in Green Canyon 113. Angus transports production 17 miles to Shell's Bullwinkle platform in Green Canyon 65 where it is processed.
Manatee will be SEPCo's fourth subsea production system to use the giant Bullwinkle platform as a processing hub. Previous field tiebacks to Bullwinkle include Rocky in 1996, Troika in 1997, and Angus in 1999. Manatee is expected to recover over 12 million bbl BOE. Peak production rates could reach 25,000 b/d. Production is expected to come on line during the third quarter of 2002.
Shell acquired Manatee in April of 1996 during OCS Lease Sale 157 and is the operator of the project with a 52% interest. Devon Energy holds the remaining 48% interest. With the addition of Manatee, Shell now holds an interest in 28 deepwater fields in the Gulf of Mexico, the largest number of any company.
Schlumberger, Yukos creating Moscow-based field planning hub
Schlumberger Oilfield Services and Moscow-based Yukos have signed a three-year contract to create a field development planning center in Moscow. Schlumberger said the representative reservoir models created at the center will provide a basis for determining the most economical design for field development. That means the lowest operating cost and lowest capital expenditure for the highest recovery and production rate. Yukos will use the field development plans to produce drilling and workover programs, surface facility designs, environmental impact evaluations, economic evaluations, and secondary recovery plans.
The new Yukos center will serve as a key technology hub for the accelerated development of production and provide a training ground for Yukos engineering staff. Equipped with the latest in technology and software, the center will enable virtual real-time access to Yukos fields to facilitate speedy decision-making, a key element in controlling costs and enhancing production.
"Yukos leads the industry in production optimization in Russia, and we are proud to be a part of that success by providing top-quality support, products and services," said Patrick Schorn, vice president and general manager of Schlumberger Oilfield Services in Russia. "This center is taking our cooperation to the next level, combining the skills of Schlumberger and Yukos to generate outstanding value for both companies."
CSO wins EPIC pipeline Devil's Tower contract
Coflexip Stena Offshore announced that Williams Energy Services has awarded its Gulf of Mexico-based Coflexip Stena Offshore Inc., a large EPCI (engineering, procurement, construction, and installation) contract for two 18-in. export pipelines, with a length totaling 160 miles. The lines will carry production from the Devils Tower field development, located in 5,700-ft water depth in Mississippi Canyon Block 773 of the Gulf of Mexico, to shallow water tie-in locations at the edge of the continental shelf. The work scope of this contract covers project management, engineering, procurement, and installation of two export pipe-lines consisting of 160 miles of 18-in. pipeline, 12 miles of 14-in. pipeline, and two 14-in. steel catenary risers (SCR).
Also, CSO will be responsible for hooking up SCRs to the new-built Devils Tower Spar, owned by Dominion Exploration. CSO will conduct the diving work in the shallow waters and all pre-commissioning activities on the oil and gas export lines. These activities include pigging, hydrotest, and drying of the gas export line.
The pipelines will be fabricated by CSO at its new spoolbase at Mobile, Alabama. The installation will be completed by theCSO Deep Blue, CSO's new ultra-deepwater pipelay and construction vessel, using the reel lay method. Installation is scheduled to take place in the second half of 2002 with riser hookup being completed in January 2003. The two reeled SCRs to be installed to the new Devils Tower Spar in 5,700 ft will be the deepest 14-in. SCRs installed to date.
Meanwhile, theCSO Deep Blue has commenced operations for the Williams Banjo/ Seahawk project in the Gulf of Mexico. This was after successful completion of the vessel's first mobilization at CSO's new spoolbase in Mobile, Alabama. The CSO Deep Blue is to undertake the installation contract of the export pipelines from the Boomvang and Nansen fields, located in 3,600 ft water depth in East Breaks blocks 643 and 602, to a platform located in 365 ft water depth in the Galveston Area, Block 244.
The work scope of this contract, for the vessel, includes the installation of more than 100 miles of rigid pipeline and steel catenary risers, with diameters ranging from 12-in. to 18-in., and tie-in to the fields' SPAR platforms using SCRs.
The vessel began operating from CSO's rigid pipe spoolbase in Mobile after completing deepwater pipelaying trials in the Atlantic Ocean and in the North Sea. The Mobile base is intended to support offshore pipelay and construction work. It provides a facility for assembly, storage, spooling or loading of rigid pipelines prior to installation in deepwater by the two CSO reelships,CSO Deep Blue and CSO Apache.
In 2002 and 2003, on Shell's NaKika project, theCSO Deep Blue will install the deepest ever pipe-in-pipe system using the J-Lay method. On the same field, the vessel will install the deepest ever fully reeled SCR, as well as the deepest ever pipe-in-pipe SCR.