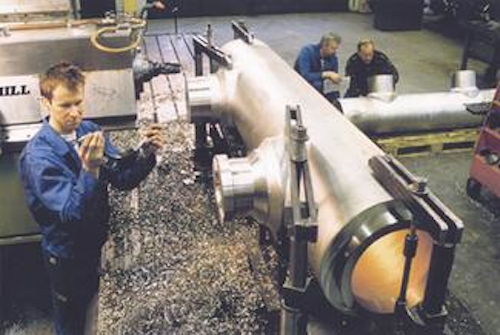 Metso Powdermet owns and operates the world's largest hot isostatic press (HIP) in Surahammar, Sweden, with an internal capacity measuring 2.8 m long and 1.3 m in diameter. The HIP process makes it possible to manufacture very complex shapes such as manifolds and valve bodies from high quality alloys that meet the highest standards of metallurgical integrity. HIP involves filling a "can" made of sheet metal with powdered metal, which is then subjected to heat and ultra-high pressure to consolidate the powder until it reaches 100% solidity and is very near its final shape and size. The three steps of powder metallurgy include manufacturing high grade metal powders, preparing a sheet metal capsule that is close to the shape of the finished piece and contains the powdered metal, and finally, HIPing.
Metso Powdermet's process produces components from composites of different metals, enabling the designer to address the problem of differing levels of erosion and corrosion resistance that may be required in the same component. Material grades are primarily high strength alloys and stainless steels: Ferritic 12%Cr, 6Mo-austenitic, 22-25%Cr duplex grades and Inconel 625.
The HIP process provides the possibility to improve corrosion resistance by applying a layer of Inconel 625 onto a forged carbon steel body.
null
Recently Metso Powdermet produced two 10-in. and two 14-in. HIPed manifolds for the Heidrun project in the Norwegian Sea. The units were delivered ready-machined and pressure tested.
In a new development, Metso Powdermet is working with cladding inside valve bodies incorporating a Metal Matrix Composite, said Göte Björman, product manager offshore.
"Through the introduction of varying ratios of carbide within the metal powder, it is possible to clad a component with a wear-resistant coating of varying thickness. MMCs can now be considered a solution for sand separators and other components exposed to erosive and corrosive media, i.e., drilling mud and cuttings. We see MMCs as an alternative to the more exotic alloys."
The MMCs are designed to give the base material improved wear resistance, Björman said, adding that they will be most competitive for sand separators, manifolds, swivels, and valves.
For more information, contact Carl-Gustaf Hjorth, Metso Powdermet. Tel: +46 220 34880, fax: +46 220 33490, carl-gustaf.hjorth@metso.com, www.powdermet.com.