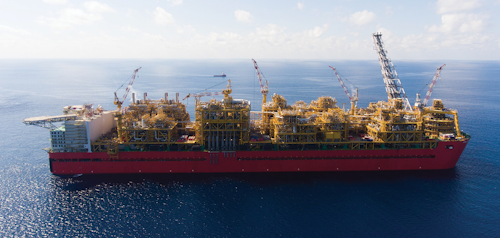 (Courtesy Shell Australia)
PTTEP makes major moves
Jessica Stump, Assistant Editor
Operators have made a final investment decision (FID) and started production from a few notable gas projects across Asia/Pacific.
Eni and its partner Pertamina made the FID to proceed with the Merakes field development in the Kutei basin offshore East Kalimantan, Indonesia. This will involve drilling and construction of subsea wells with a pipeline system in 1,500 m (4,921 ft) water depth connected to the Jangkrik FPU, 35 km (21.7 mi) to the northeast. Gas production will be shipped to the Bontang LNG plant and the East Kalimantan transportation network. Approval follows conversion to a Gross Split Scheme of the East Sepinggan production-sharing contract and clearance for the revised field development plan by the country's Minister of Energy. Production is expected to begin in 2020.
TechnipFMC is responsible for the engineering, procurement, installation, and pre-commissioning of the subsea trees, a manifold, large bore deepwater high-pressure flexible lines, umbilicals and distribution hardware, flexible risers, flowlines, and jumpers.
ExxonMobil has made the FID to develop the West Barracouta gas field in the Bass Strait off southeast Australia. The field is in the Gippsland basin in the VIC/L1 block offshore Victoria. It will be developed as a tieback to the Barracouta platform. First gas is expected in 2021. ExxonMobil subsidiary Esso Australia Pty Ltd. operates the Gippsland Basin Joint Venture on behalf of a 50-50 joint venture with BHP Billiton Petroleum (Bass Strait) Pty Ltd.
Subsea Integration Alliance, a partnership between Subsea 7 and OneSubsea, a Schlumberger company, received the EPCIC contracts. The Subsea 7 scope includes project management, engineering, procurement, construction, and installation of two production wells and a single electrohydraulic umbilical from the Barracouta platform to the West Barracouta drill center. The OneSubsea scope includes the provision of two vertical monobore on-wellhead production trees, wellheads, controls, and installation and commissioning services.
The INPEX-operated Ichthys LNG project offshore/onshore northwest Australia began production last summer. Produced gas/condensate from the Ichthys field's subsea wells, in 260 m (853 ft) water depth, heads to the central processing facility (Ichthys Explorer) for separation into gases and liquids. The separated liquids travel through a short pipeline to the nearby FPSO Ichthys Venturer for storage and subsequent offloading to tankers. At peak the offshore facilities will produce 1.6 MMcf/d of gas and 85,000 b/d of condensate. Gas is transported via the 890-km (553-mi) long gas export pipeline to the onshore gas liquefaction plant at Darwin, Northern Territory. On arrival, the gas undergoes further separation and liquefaction to produce liquefied petroleum gas (LPG) and liquefied natural gas (LNG). The two-train plant will eventually produce around 8.8 MMt/yr of LNG for the Asian market, 1.65 MMt/yr of LPG, and an additional 15,000 b/d of condensate. According to INPEX, shipment of condensate from the offshore production facilities began on Oct. 1, 2018, followed by LNG on Oct. 22, and LPG on Nov. 16.

Last December, production began through the Prelude FLNG vessel in block WA-44-L offshore Western Australia. The vessel separates and liquefies gas produced from wells on the Prelude and Concerto fields, 475 km (295 mi) north-northeast of Broome to produce LNG, LPG, and condensate.
In addition, Thailand's PTTEP has expanded its operations across Southeast Asia. In March, it signed production-sharing contracts for the G1/61 (Erawan field) and the G2/61 (Bongkot field) concessions offshore Thailand. The company said its chief priority was to ensure uninterrupted supply of gas from both fields. At Bongkot, where it was already operator, it will maintain investments in the project. Transfer of operatorship of G1/61 from Chevron is due to take place in 2022.
PTTEP plans to spend around THB1 trillion ($31 billion) on both fields to maintain respective output of at least 700 MMcf/d and 800 MMcf/d, including drilling of new exploration and production wells and the construction of additional wellhead platforms. From 2022 onward, the company will operate around 80% of gas production in the Gulf of Thailand.
PTTEP also has acquired Murphy Oil's two subsidiaries in Malaysia, Murphy Sabah Oil and Murphy Sarawak Oil, for $2.127 billion. The acquisition includes five oil and gas projects in shallow and deepwater offshore Sabah. It expects the transaction and the transfer of around 600 Murphy personnel to be completed by mid-year.
In addition to these assets, PTTEP HKO has signed production-sharing contracts with Petronas for exploration and production rights to blocks PM407 and PM415, in shallow waters off Peninsular Malaysia, under the country's 2018 Bidding Round.
These developments will make Malaysia one of PTTEP's main investment areas, alongside Thailand and Myanmar, also lifting it to third in terms of reserves and resources offshore Peninsular Malaysia, Sarawak, and Sabah.
According to Alex Siow, research analyst at Wood Mackenzie, "Like many Asian national companies, PTTEP suffers from a maturing domestic portfolio. To improve its production outlook the company has been on the hunt for license extensions and counter-cyclical M&A opportunities, with a focus on Southeast Asia…
"Murphy's Malaysian assets strengthen PTTEP's near-term production profile, and reinforces its 'Coming Home' strategy... The deal also provides exposure to important growth resource themes – deepwater and LNG – which the company has identified as core."
Siow added that the $2.1-billion transaction represented the biggest for oil and gas properties in Southeast Asia for more than five years.
Woodside has launched the front-end engineering design (FEED) phase for the proposed Scarborough gas field development offshore Western Australia. McDermott Australia will perform engineering studies for the semisubmersible floating production unit, with an option for a subsequent EPC contract. Subsea Integration Alliance will undertake engineering studies for the subsea umbilical, risers, and flowlines. This could be followed by an EPCI contract. Saipem Australia will provide export trunkline engineering support services, with an option to execute line pipe coating and installation. INTECSEA will undertake export trunkline engineering.
The company is targeting FID next year. Its preferred development concept for the 7.3-tcf Scarborough gas resource (Woodside 75%) is through new offshore facilities connected via a 430-km (267-mi) export pipeline to the Burrup Peninsula, with onshore processing at the expanded Pluto LNG complex. However, this remains subject to all necessary joint venture and regulatory approvals and completion of commercial arrangements.
ExxonMobil and its partners PetroVietnam and PetroVietnam Exploration Production Corp. have launched FEED for the Ca Voi Xanh (Blue Whale) gas/condensate field in block 118 offshore Vietnam. Pending approvals, executed gas sales agreements, and FID in 2020, the partners aim to install a single offshore platform, a subsea pipeline transporting the gas to shore, an onshore gas treatment plant, and overland pipelines feeding the gas to two dual-train power plants for electricity generation.
Saipem's XSIGHT division received the offshore-onshore FEED contract, the offshore scope including the platforms, gas/condensate sealines, and offshore fiber optic cabling. According to Saipem, Ca Voi Xanh is the country's largest offshore gas and condensate reservoir. •