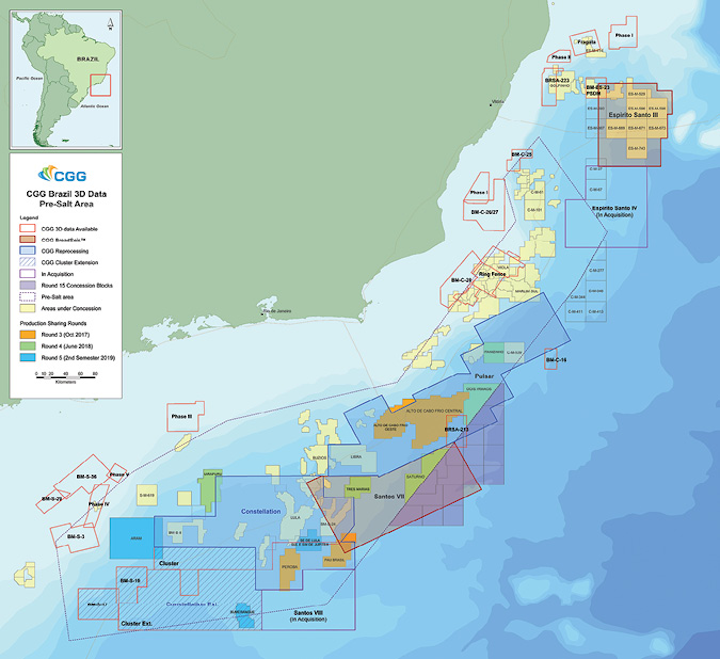 CGG increases broadband 3D coverage of the presalt Santos basin
CGG has started acquiring its latest broadband 3D multi-client survey in the presalt deepwater Santos basin offshore Brazil. Santos VIII is designed to deliver data-sets that allow bidders to better evaluate presalt opportunities for the country's upcoming presalt licensing rounds. It will cover an area of more than 8,000 sq km (3,089 sq mi) close to the Peroba, Pau Brasil, and Boumerangue fields.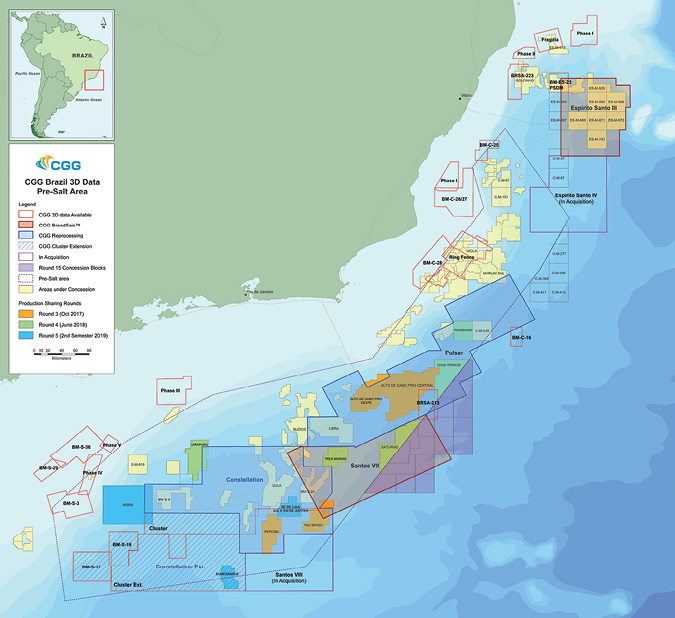 CGG's 3D data coverage in the presalt area offshore Brazil. (Map courtesy CGG)
CGG will image the BroadSeis data using its full-waveform inversion (FWI) technology at its Rio de Janeiro subsurface imaging center, with the data then merged with the Constellation reprocessing project to provide a regional broadband image of the basin.
The company expects to issue fasttrack products late this year, with final products available during 2Q 2019.
Constellation is a 44,000-sq km (16,988-sq mi) program designed to upgrade CGG's existing Cluster and Cluster Extension surveys with the company's latest subsurface imaging techniques, including 3D deghosting with bandwidth extension and TTI FWI velocity model building, to provide detailed broadband presalt images.
CEO Jean-Georges Malcor said: "It is the latest installment of our contiguous volume of over 94,000 sq km [36,293 sq mi] of seismic data and integrated geologic studies that bridge the Santos and Campos basins to cover the entire presalt area."
Rosneft steps up Arctic seismic acquisition
In 2017, Rosneft acquired more than 46,000 km (28,583 mi) of 2D seismic over its offshore license areas in the Laptev, Kara, Chukchi, East Siberian, and Japanese seas off northern Russia. In addition, the company acquired 5,800 sq km (2,239 sq mi) of 3D seismic over its licenses in the Pechora and Okhotsk seas. These totals represented an increase of 40% and 44% respectively over the company's 2016 programs in the Arctic offshore regions.
The company also conducted engineering and geological surveys in the Barents, Kara and Black seas.
ION reimaging 3D multi-client data offshore Australia
ION Geophysical Corp. has started a new 3D multi-client broadband reimaging program offshore Australia. The North Vulcan 3D multi-client reimaging program covers the northern part of the Vulcan sub-basin offshore northwest Australia.
The ~17,000-sq km (6,564-sq mi) program integrates and reimages data from 15 vintage surveys using modern depth imaging, and builds on knowledge gained from the company's regional 2D WestraliaSPAN survey.
ION said that its broadband processing and GMO tomography can overcome subsurface imaging challenges stemming from a complicated velocity structure due to both shallow carbonates and salt.
Joe Gagliardi, senior vice president of ION's E&P Business Development group, said: "Based on our recent proof of concept, we expect to reveal new subsurface insights and hope to breathe new life into this relatively underdeveloped area.
"The North Vulcan 3D reimaging program will be available to re-evaluate this complex province and inform investment decisions ahead of upcoming license rounds."
Pearl River Mouth basin under review as CO
2

store

Scottish and Chinese scientists are examining whether storage of carbon dioxide (CO2) in deep subsurface rocks is feasible in China's Pearl River Mouth basin. This could substantially reduce CO2 emissions and improve air quality in one of the country's most industrialized regions.

A team from the University of Edinburgh has been studying the geology below the river mouth basin, which has potential for storing CO2 but a limited ability to provide a long-term sealing mechanism.

They are analyzing three depleted oil fields in the Huizhou area: their aim is to identify potential for decades of secure CO2 storage offshore for full-chain carbon capture, utilization, and storage (CCUS) projects in the region, including the Haifeng CCUS project at a coal-fired power plant.

The research, supported by the Scottish Funding Council, EPSRC and NERC, suggests that 'dispersion trapping' could be feasible, dispersing the injected carbon dioxide as microscopic droplets throughout the deeply buried geology. This would unlock large volumes of pore space in storage sites, which lack a single-seal cap rock.

China is one of the world's largest emitters of CO2 due to its dependence on coal for energy.

Dr. Niklas Heinemann, from the University of Edinburgh's School of GeoSciences, said: "The Pearl River Mouth basin reservoirs have excellent storage potential but we need to ensure that they provide long-term containment of CO2."

Prof Stuart Haszeldine, also from the university, described dispersion trapping as "like having a damp sponge of CO2 spread throughout the rock. None of the CO2 can escape, even though there is no single seal.

"All the pore space can be used if injection is planned differently to disperse CO2 widely at many levels within the geology. This is like creating direct entrances into several floors of a residential tower block, rather than just using one floor."