Record-setting spread gives Shell data from difficult metocean conditions offshore South Africa
Phil Suter
Gareth Williams
Dolphin Geophysical
When it comes to surveying large areas of frontier exploration acreage in limited windows of opportunity, seismic operators are required to think big and move fast. Dolphin Geophysical took this approach to fresh extremes in the Atlantic Ocean offshore South Africa, mobilizing the "world's largest floating object" on behalf of client Shell.
Dolphin was contracted to survey untouched acreage in an area renowned for difficult weather conditions. The window of opportunity was slim and required a radical solution to meet the survey requirements.
Going to the extremes
The acreage in question is 150 to 360 km (93 to 224 mi) off the western coastline of South Africa, in a region known as the Orange basin. Shell won the licence to a 37,000- sq km (14,286-sq mi) exploration parcel from the nation's Minister of Mineral Resources early in 2012, initially focusing in on an 8,000-sq km (3,089-sq mi) tranche. Dolphin's task was to perform a 3D marine seismic survey on this prospect.
The potential in the basin, with evidence of source rocks suggesting possibilities of significant oil and gas deposits, was clear. The conditions, however, were anything but.
The southern Atlantic is notorious for its treacherous waters, with huge swells and unpredictable weather potentially combining to create a "perfect storm" for seismic surveyors – threatening safe vessel operations and the integrity of the acquired data with unwanted noise.
To ensure the best possible results, Dolphin was required to stick to a limited shooting season during the most dependable conditions. This entailed capturing data for the entire 8,000-sq km area in four months.
On Oct. 25, 2012, Dolphin mobilized one of its flagship vessels, thePolar Duchess, off the South African coast on behalf of Shell. The 2011 built, 107 m (557 ft) long, 7,689-ton vessel was outfitted with a configuration of seismic equipment never before witnessed.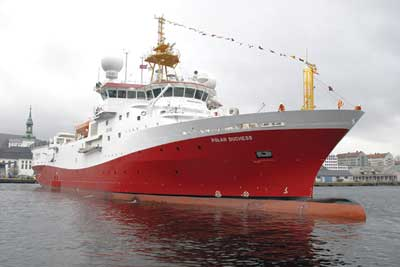 Seismic vesselPolar Duchess conducted the survey offshore South Africa.
This "wide-tow" array boasted eight seismic streamers, each measuring 8 km (5 mi) long. Each streamer was separated by a distance of 200 m (656 ft), constituting a moving width of 1.4 km (0.87 mi) of equipment through the water. This means that the total area of the seismic receivers towed by theDuchess was 11.2 sq km (4.3 sq mi). This is an area equivalent to the combined surface area of three Vatican Cities, two Principalities of Monaco, and two Cities of London. Dolphin had created the world's largest floating object.
Exploring the limits
Bigger was better for this particular assignment, as it for many of the market's current frontier tasks. Oil companies are now contending with increasingly short exploration licenses for larger and larger swaths of the seafloor, and so must act quickly when dealing with frontier acreage opportunities. Governments are eager to exploit hydrocarbon resource potential, and everyone throughout the chain is keen to maximize the net present values of reserves.
Wide-tow 3D surveys are the best solution for quick regional snapshots of frontier areas. The data is not as well sampled as it is with more conventional streamer separation distances – 75 to 100 m (246 to 328 ft) – and this needs to be taken into consideration. However, the wide-tow approach allows oil companies to screen, evaluate, and zoom in on areas with prospective opportunities. Once these are identified, one option is for the 3D vessel to return to the areas of interest to interleave another survey on the original one. If the vessel has on-board processing and can produce a fast-track product, it may not have to leave the area before the second survey.
This could be done with a boat carrying the same configuration of equipment, but surveying the prospect area 100 m either side of the initial crosslines. This gives a fully upgraded 3D picture and provides an understanding of potential reservoir details at a fraction of the cost of undertaking a full 3D survey of the entire block.
Traditionally, this job may have fallen to a 2D vessel before a 3D survey was ordered in over specific features. A wide-tow 3D acquisition provides a clearer indication of hydrocarbon evidence than a 2D survey, and also gives the option of speedy interleaving for a full-resolution 3D image. In frontier acreage with marginal conditions, conducting an initial 2D survey would also eat up one shooting season, meaning an oil company would have to wait another year to obtain 3D results.
Putting wide tow to the test
The principal challenge to a wide tow is the weight of the array and the strain of navigating it through the water. A vessel needs sufficient bollard pull to safely tow such a load. In the case of the Shell task, the total drag of the towed array on theDuchess was around 90 metric tons (99 tons). Many vessels have the requisite bollard pull to handle this, but in frontier territories, with marginal or difficult weather conditions, it can be dangerous to push too close to a vessel's operating limits.
A vessel must have the flexibility needed to tackle unforeseen circumstances, with plenty of power in reserve to handle difficult currents or swells, as was experienced in the northern section of the Orange basin. ThePolar Duchess was chosen based on this safety first approach. She has total propulsion of two 7,100 kW (shaft power) engines and a bollard pull capacity of 210 metric tons (213.5 tons). This means that despite the size and weight of the wide-tow array, she was operating at just less than 50% total engine capacity.
The challenge of processing
A major processing task awaits the data acquired in a wide-tow configuration.
Having the streamers spaced 200 m apart is ideal to cover large areas, but produces a different data density compared to streamers positioned more tightly. This can create issues.
When a survey is not as well sampled it can lead to lost resolution. Steeper depths and complex features can be aliased and hence badly imaged. There is a real need for advanced interpolation algorithms to combat this and get the best possible imaging results – real processing power is a must.
It is important to know the limitations of wide tow. It provides a fantastic regional snapshot, significantly more so than 2D, and is very quick and cost effective, but cutting edge processing capacity is required to make the most of it, before interleaving surveys over key features to build the complete picture.
In the case of the Orange basin, Dolphin produced a fasttrack cube on the vessel that was delivered within 28 days of completion of the acquisition, and now Shell is in the driver's seat for the final data processing.
Shell has entrusted the assignment to its processing experts in Houston, where the very latest interpretation technology is being exploited.
Increasing demand
Dolphin and Shell completed the acquisition in late February 2013.
Stuart McGeoch, Shell's Regional Ventures Exploration manager, Sub-Saharan Africa, said that despite the remote nature of the area and the challenging metocean conditions, the survey was executed safely, efficiently, and with low downtime, and provided quality data. The teamwork between the two parties helped facilitate this accomplishment.
More and more oil companies will be interested in the use of wide-tow surveys now that Shell has set a precedent with wide tows in both Greenland and South Africa.
The potential of "sparse 3D" to provide rapid and cost-effective appraisals of areas previously untouched by any kind of exploratory data acquisition are demonstrated. As more and more deepwater acreage is released, demand will intensify.
The Orange basin wide tow may have been a first of its kind, but it definitely will not be the last.
About the authors
Phil Suter is VP of Marketing and Sales for Dolphin Geophysical. Gareth Williams, Ph.D., is Dolphin's chief geophysicist.
Shell on the Orange basin deepwater license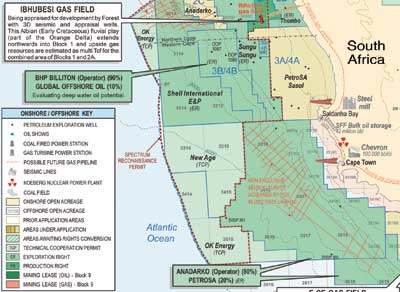 Shell has been awarded an exploration right in the Orange basin deepwater area, off South Africa's western coast.
The exploration area covers just over 37,000 sq km (14,286 sq mi) and is approximately 150 to 350 km (93 to 218 mi) offshore in water depths between 500 and 3,500 m (1,640 and 11,480 ft). The block's southern edge is approximately in line with the town of Saldahna and the northern edge just south of Kleinzee. It borders Namibian waters to the north.
There has been limited exploration activity in the area.
Shell's exploration work program is committed to conducting seismic work in the block allocated within the first three years of the license.
The large, under-explored basin has evidence of source rocks with the potential for significant oil and gas discoveries. The deepwater portion, including the block awarded to Shell, is as yet largely unexplored and it may be some years before the real potential is established.