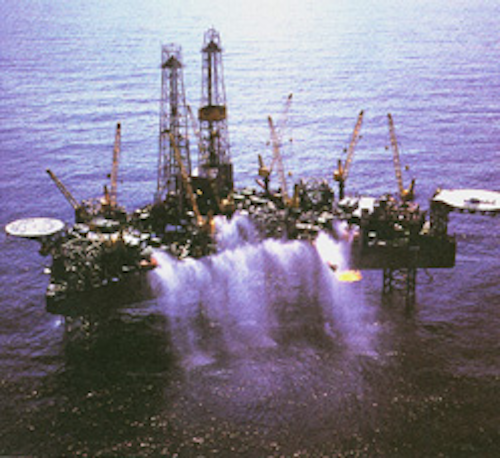 Operator involved in 25% of subsalt prospects
William Furlow
Technology Editor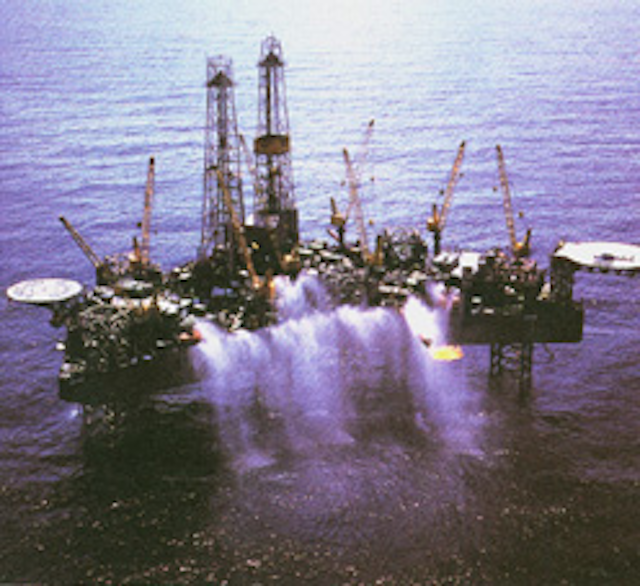 The Rowan jackup rigs Odessa and Gilbert Rowe worked side by side during the testing of the Tanzanite subsalt well in the US Gulf of Mexico.
While everyone in the industry seems in a rush to make a play in deepwater, Anadarko is bucking the trend by focusing on shallow water plays in a subsalt zone. The Tanzanite and Hickory fields prove there is plenty of oil and gas left on the shelf for those who know where to look. Such a niche specialty can give an independent operator the edge needed to compete with the majors.
Anadarko did not come into the 1994 Gulf of Mexico lease sale with a chip on its shoulder. The independent was aggressive in buying up on-shelf offshore leases, but it was also looking for partners. The company based the majority of its purchases on the success of the Mahogany Prospect in Ship Shoal 349/459.
Mahogany was the first subsalt play in the Gulf of Mexico and a watershed for Anadarko. From this beginning, the company has participated in six subsalt discoveries in the Gulf: Mahogany, Teak, Agate, Monazite, Tanzanite, and Hickory. In fact, the company has been involved in 11 of the 44 subsalt projects drilled in the Gulf of Mexico.
Drawing on this experience, the company has developed confidence not only in drilling subsalt, but in reading the sometimes nebulous seismic data these zones provide. Vague seismic and difficult drilling are the two major challenges of a subsalt play and the reason many companies would rather steer clear.
Anadarko initially had a partner on the Tanzanite prospect, but the partner pulled out. Anadarko tried to attract interest elsewhere, but decided to go it alone after re-evaluating the data. This kind of confidence going into a subsalt prospect shows the advantage the company gains from specialized experience.
Anadarko had a clearer idea than most of the hazards that lay below the salt formation. It was able to estimate more accurately how much the project would cost because it had been involved in several similar prospects in the same area.
By the same token, because the company had evaluated so much subsalt seismic data and calculated how its analysis stood up to reality, Anadarko is well positioned to predict what the exploration wells found.
Competitive bidding
This experience can mean a lot in terms of cost savings once a well has begun. One serious mishap while drilling a subsalt well can easily cost an operation a month of downtime. That translates to a significant unknown expense that inexperienced, or more cautious, operators would have to factor into lease bids. This gives a niche operator like Anadarko an advantage at the lease auction as well as in the field.
Once these challenges can be accounted for, the plays Anadarko is looking at are not as mechanically complex. The subsalt play at this time does not require long reach horizontal wells, multilaterals, complicated subsea production systems or expensive deepwater drilling rigs.
Their wells are being drilled by extended leg jackup rigs in 314-324 ft of water. The development is conveniently located 75 miles offshore Louisiana and can make use of the substantial infrastructure already in place via a conventional platform and pipelines. All of these advantages translate to cheaper recovery and production costs.
Slow drilling
One mystery of subsalt drilling in the Gulf of Mexico is the rate of penetration through the salt itself. While drilling salt is very straightforward, it is slow going in the Gulf of Mexico. According to Bob Meize, Offshore Drilling Manager for the Houston Division of Anadarko, mechanical limitations keep drilling rates in Gulf of Mexico salt bodies at 300-400 ft per day, while wells drilling in similar conditions in other theaters, such as the North Sea, report much higher rates of penetration (ROP).
The Hickory prospect was drilled through an interval of salt 8,000 ft thick. It was steady but arduous drilling. Meize said that downhole drilling vibrations caused by the density of the salt formation are hard on the bottom hole assembly. To compensate, Anadarko is looking to use some different assembly designs and incorporate high-torque/low-RPM Mud motors with PDC bits. Additionally, synthetic muds will be utilized.
Despite the slow progress through the salt formation, the subsalt zone on Hickory was much cleaner than that of Tanzanite.
Circulation loss problems
Hickory is typical of a subsalt drilling program, according to Steve Pearson, operations manager for Anadarko in Houston. He said drilling through the salt sheet is smooth, but slow going. He likened it to drilling in concrete. It is only on the bottom side of this formation that things get interesting.
Below the salt is a rubble zone of salt-affected shale that is created as the salt formation moves across the more stationary surrounding rock. The salt is less dense than the surrounding formation and has extremely low porosity. This makes the salt sheet very mobile.
Anadarko Drilling Manager Meize said the salt formation is more or less floating in the surrounding rock. This means the over-burden pressure directly below the salt is lower than the over-burden pressure away from the salt. Meize describes this rubble zone or disturbed interval as a sticky clay, with low rock strength.Soil in this zone disperses easily and tends to ball around the drilling bit, a phenomenon known as "bit balling."
This rubble zone is a prime area for lost circulation problems. There is a very small pressure margin between the fracture gradient of these clay intervals and the mud weight needed to balance formation pressure and drill ahead. Meize estimates the differential between mud weight and fracture gradient in some of these zones to be less than 2/10 of a pound per gallon. The trapped fluids have nowhere to go and thus mix with the soil, keeping it loose and unstable.
There is also an increase in pressure through this zone due to dipping beds that promote the formation of "attic gas." Attic gas forms when gas in the formation is drawn to the lower pressure below the salt, and then becomes trapped in this disturbed zone.
It is also important to progress slowly through this zone. If an operator is inexperienced, it is easy to make 80-100 ft/hr through a subsalt zone. The problem, Meize said, is drilling at this rate loads up the hole with drill cuttings and the bottom hole hydrostatic pressue is increased. Because of the low drilling margins, it may only take a few tenths of a pound per gallon or so of extra pressure on the formation to initiate lost circulation and possible formation damage.
Big-bore option
For these reasons, the operator is forced in some cases to set shorter and bigger casing strings than preferred, to hold back the formation and keep the hole clean. This casing program also allows for larger diameter holes to be drilled in order to reach total depth. If the rubble zone can be cleared using only one casing string, then, Meize said, drilling the rest of the well is comparable to other deep Gulf of Mexico wells.
The problem zone usually extends between 1,000 and 1,500 ft below the salt. To aid in navigating this tricky interval, operators use pressure-while-drilling measurement tools. These tools give real-time measurement of downhole circulating pressures. Slow, steady progress minimizes surges of these pressures and allows drilling without excess lost circulation problems.
If the exploratory well can be completed successfully, additional wells in the same area are easier to design because they can make use of data from the first well.
Meize said drilling these subsalt wells is a gamble. An operator can spend money up front, as Anadarko did on Hickory, and start out with large diameter casing in preparation for sacrificing a casing string to isolate the rubble zone. This means the production zone hole size will be large enough to enhance the completion, despite any trouble encountered below the salt.
An operator who does not wish to expend the money up front may save on the cost of a dry hole, but if he expends too many casing strings before reaching the pay zone, he may not be able to produce the well or reach the desired total depth. Still, the cost savings may be as high as 30% over a big bore casing program.
In addition to the extra expense, these big casing programs require rigs that can handle all the big iron involved. The Tanzanite exploration well, OCS-G 14482 No. 1, was drilled to a total depth of 14,350 by the Rowan Odessa and encountered more than 400 ft of continuous pay, believed to be one of the thickest pay intervals ever found in the Gulf of Mexico. Based on seismic interpretation, the reservoir extends for more than 1,000 acres. Three additional pay zones totaling about 70 ft were also found. This translates to 140 million BOE. Because Anadarko's partner pulled out, the company owns 100% of this project.
Now Anadarko has turned to the nearby Hickory prospect in Grand Isle 116. Hickory encountered 300 ft of pay in multiple sands with a total well depth of 21,600 ft. Drilled by the Global Marine Baltic I jackup for Anadarko and its partners, Shell Oil and Ocean Energy, this well lies in 325 ft of water. While Anadarko is in the process of drilling a delineation well, it is also currently planning a production platform for this field.
With a number of successful wells in this area of the Gulf of Mexico, Anadarko said it will continue to pursue opportunities in what has come to be known as the "subsalt fairway."
Copyright 1998 Oil & Gas Journal. All Rights Reserved.