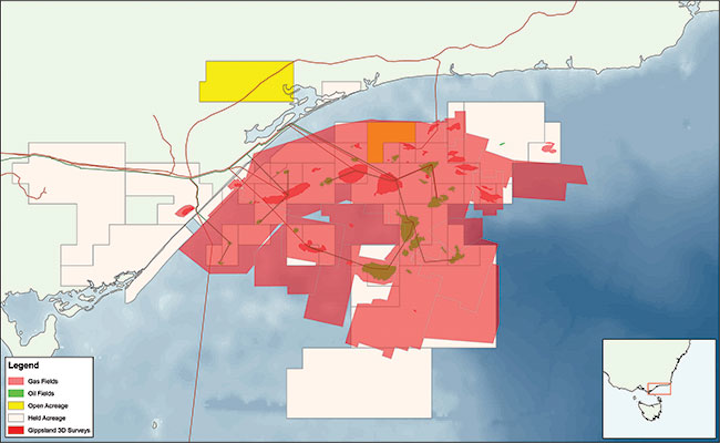 CGG has begun its Gippsland ReGeneration 3D reprocessing project covering the Gippsland basin offshore southeast Australia.
The company aims to develop the highest-resolution 3D seismic data available for this prospective area.
Historically, CGG says, imaging of the basin's shelf break and numerous submarine channels has proven difficult, but by applying modern techniques, including de-multiple and high-frequency FWI, the project should attain significant reservoir imaging improvements, revealing potential new deep reservoir targets and raising the general understanding of the basin.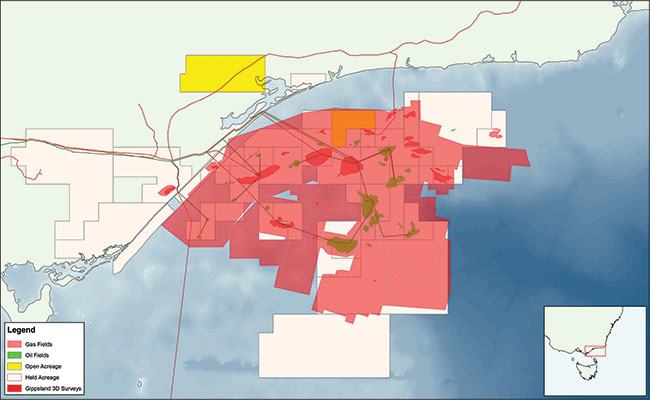 To date, the Gippsland basin has produced more than 4 Bbbl of liquid hydrocarbons and 7 tcf of gas, sourced from thick coal seams formed during the Paleocene to Eocene, and trapped in late Tertiary, inversion-formed, compressional structures.
The first major offshore discovery was over 50 years ago and CGG sees prospects for further discoveries and field developments.
Mark Richards, senior vice president, Eastern Hemisphere, Multi-Client & New Ventures, CGG, said: "With its well-established infrastructure and under-developed resources, we believe this high-end reprocessing project has the potential to regenerate the basin and offer a solution to the projected shortfall in Australia's East Coast gas supplies."
ION provides survey updates
ION Geophysical Corp. says it has started a new 2D multi-client seismic acquisition program offshore Panama.
Supported by industry funding, this is said to be the first seismic survey acquired there in about 30 years.
PanamaSPAN is designed to provide the framework to evaluate the hydrocarbon potential of this unexplored area ahead of the anticipated inaugural license round. It is acquiring up to 10,000 km (6,214 mi) of seismic data.
The company said that initial deliverables will be available in 4Q 2017 and complete interpretation of the data will be available by mid-2018.
ION also says that it has started a new 3D multi-client broadband reimaging program offshore the western Gulf of Mexico using the Mexican National Hydrocarbons Commission (CNH) data library.
The Mexican Ridges 3D reimaging program is fully supported by industry funding and contains eight surveys covering about 28,800 sq km (11,120 sq mi) over the Mexican Ridges fold belt.
Fasttrack data is available now for the deepwater lease round (Round 2.4) in January 2018 and final products will be available for future license rounds in the area.
Ken Williamson, executive vice president and COO of ION's E&P Technology and Services group, said: "There is strong continued client interest in Mexico and demand for higher resolution data following the historic Zama-1 discovery. With the success of our Campeche reimaging program, ION is expanding its multi-client data offshore Mexico.
"Our regional expertise in the Gulf of Mexico has enabled us to refine and test our geological understanding using the 3D data and provide cost-effective, high quality imaging to improve prospect identification and de-risk multiple exploration opportunities in the basin."
The company also announced a new 3D multi-client broadband reimaging program offshore Brazil. Supported by industry funding, the Picanha program provides a regional 3D framework into the complex Campos and Santos basins' petroleum systems ahead of upcoming license rounds.
By using the latest broadband processing and imaging technology to reprocess and reimage 100,000 sq km (38,610 sq mi) of data from more than 50 interconnecting public-domain 3D surveys, ION is creating a regionally-calibrated, high quality and consistently-imaged 3D data set.
The large program will be delivered in phases to provide relevant bid round knowledge. The first 12,500 sq km (4,827 sq mi) over Round 14 have been delivered to clients and the next 25,000 sq km (9,653 sq mi) are in progress for delivery in December.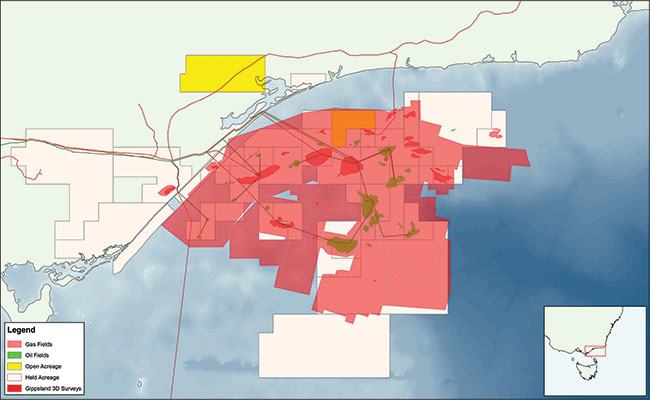 CGG says it believes that there are prospects for further discoveries and field developments in the Gippsland basin offshore southeast Australia. (Courtesy CGG)