GEOSCIENCES
New versions of petrophysical analysis tool PowerLog and geological modeler EarthModel FT were released less than one month after the velocity modeling and depth conversion application VelPro was upgraded.
Jun 8th, 2016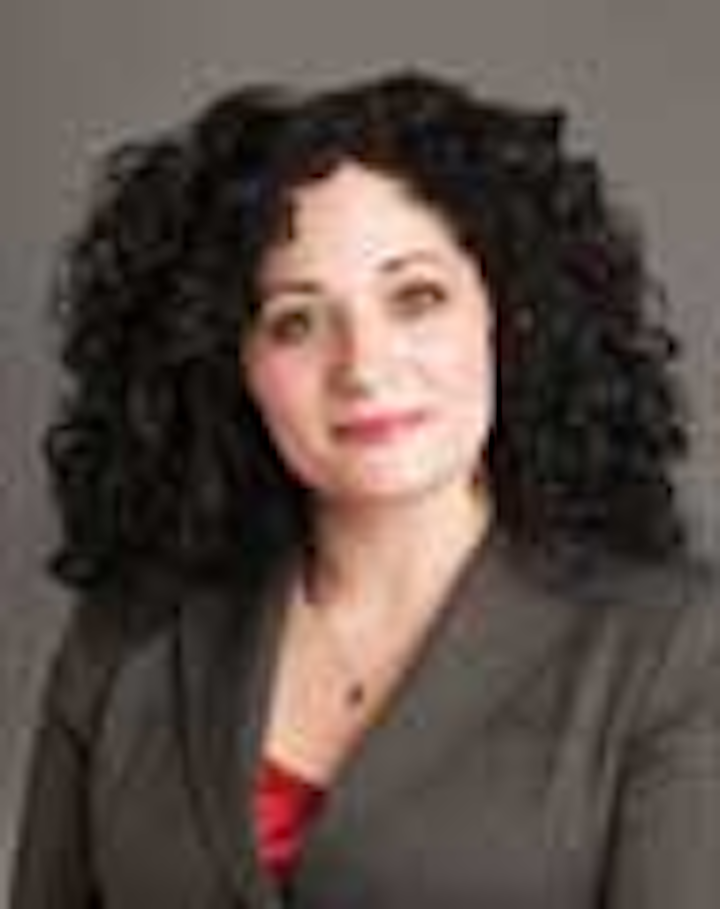 | | | |
| --- | --- | --- |
| | | Sarah Parker Musarra Houston |
CGG GeoSoftware enhances technologies
Recently, updates were issued for multiple products in CGG GeoSoftware's portfolio. In May, new versions of petrophysical analysis tool PowerLog and geological modeler EarthModel FT were released less than one month after the velocity modeling and depth conversion application VelPro was upgraded.
PowerLog 9.5, the latest in the company's flagship well log petrophysical analysis software, is designed for multi-user environments. It aims to drive collaboration between petrophysicists, geophysicists, geologists, and reservoir engineers for better reservoir understanding, the company said, offering an "extremely powerful well log interpretation environment for collaborating quickly and efficiently on important drilling and production." Greater insight into subsurface rock and fluid properties can improve completion design, helping operators reduce costs and risks while drilling more productive wells, the geophysical giant continued.
Using EarthModel FT 9.5, CGG GeoSoftware said that users can determine reservoir properties such as lithofacies, porosity, and permeability, for more accurate modeling results. It combines surface mapping, integrated structural modeling, reservoir property modeling and upscaling all in one package, with direct output to most flow simulators.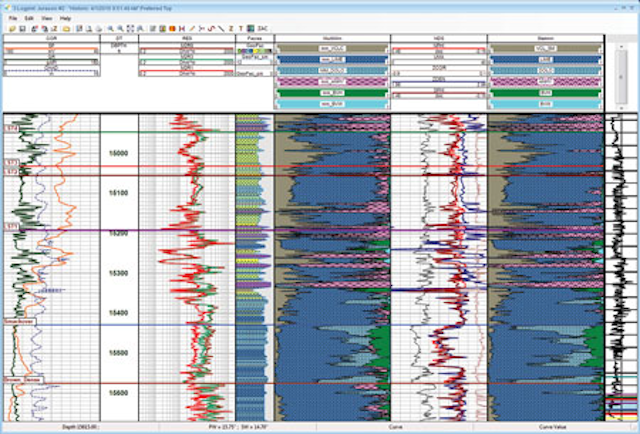 Multiple methods of determining lithology and facies are available in PowerLog, which aims to drive collaboration across users for better reservoir understanding. (Image courtesy CGG GeoSoftware)
The new version of EarthModel FT offers sandboxes where users can independently explore alternative interpretation scenarios and store them separately from the main project, the company said. Changes can be incorporated collaboratively into the central database in real-time, allowing for information sharing.
Additional enhancements for creating 3D geological grids include an updated algorithm for improved vertical layering, which the company said minimizes the number of layers needed to make a consistent grid model for use in inversion workflows, driving better model definition and faster inversion results.
These integrated technologies complement each other and; CGG said, EarthModel FT users can access velocity data with the results from VelPro 9.5, which stores data in the shared wells database.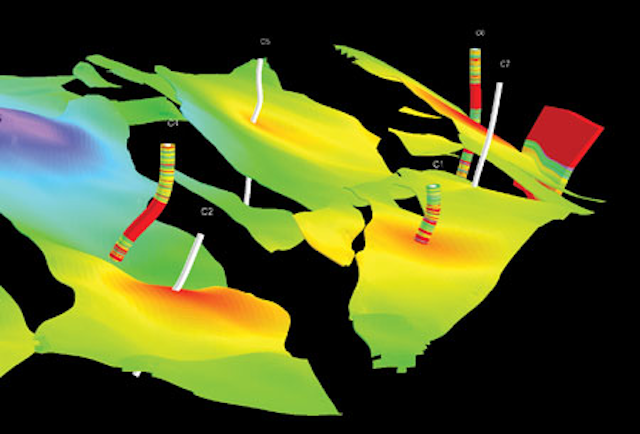 Reservoir models can be easily and quickly updated when data inputs change, making it easy and natural to evaluate 'what-if' scenarios, CGG GeoSoftware said. (Image courtesy CGG GeoSoftware)
CGG said that VelPro, the latest addition to its "GeoSoftware family" has the capability of helping interpreters and depth conversion experts build better, more accurate models faster. The velocity modeling and depth conversion technologies allows for the integration of seismic and well velocity information, horizons, faults, and well tops into robust and data-driven velocity models.
VelPro models complement the workflows of geophysical interpretation software applications, and are utilized in domain conversions to enable the creation of accurate depth representations of the subsurface. Users can also better understand and mitigate drilling risk using the VelPro Pore Pressure Prediction workflow, which employs either the Eaton or Eaton-Bowers method to compute entire volumes of pore pressure from velocity volumes. VelPro 9.5 licensing integrates with the full GeoSoftware portfolio.
OGA issues further data tenders
The Oil and Gas Authority (OGA) released a second Invitation to Tender (ITT) for the 2016-2017 UK government-funded seismic program.
This tender is for reprocessing legacy seismic data in seven different lots from seven areas around the UK Continental Shelf, including the Anglo-Paris Basin; South West Approaches; Bristol Channel and Northern Approaches; Cardigan Bay; Morecambe Bay and Irish Sea; East Shetland Platform (including Fair Isle); and the Minches (including Firth of Clyde). Successful bidders will be required to provide reprocessed legacy seismic data and the rights for the OGA to publish the data products. This tender follows a previous ITT issued for acquisition and processing of new regional 2D seismic data in southwest Britain and the East Shetland Platform.
This year's program follows the delivery of around 40,000 km new and legacy seismic data in the Rockall Trough and Mid-North Sea High areas in 2015. The results of this project were published under the Open Government Licence, OGA said.
Additionally, in line with the recently issued OGA Corporate Plan, three separate ITTs are open for regional and field support engineering services, subsurface studies and reservoir evaluation services and geoscience project services. These contracts will replace the current Oil & Gas Maximising Recovery Programme contracts and will be three years in duration.
Paradigm opens new center
Paradigm has opened a Seismic Center of Excellence in Mumbai, India. The center, staffed by domain experts, will be dedicated to dealing with the challenges associated with processing, imaging, interpreting, and modeling of multi-line 2D seismic surveys.
The Seismic Center of Excellence is part of a Geoscience Services business offered by Paradigm for global oil and gas exploration and development projects. The company says it includes full azimuth seismic imaging and characterization, diffraction imaging, seismic inversion, velocity modeling, structural modeling, facies modeling, fracture modeling, pore pressure prediction, model uncertainty, well log management and others.