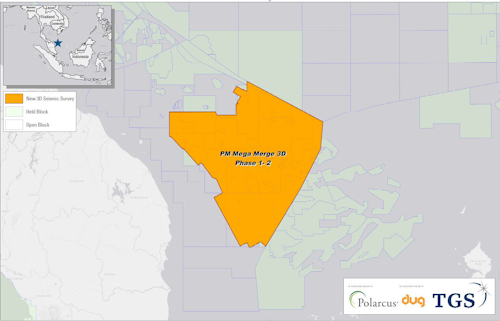 (Courtesy TGS)
Offshore staff
PERTH, Australia – Petronas has awarded TGS and two partner companies a contract to deliver a contiguous broadband 3D volume of more than 40,000 sq km (15,444 sq mi) across the offshore Malay basin.
The Peninsular Malaysia Mega-Merge data-set will involve broadband reprocessing of legacy 3D data from field tapes, and acquisition of new broadband 3D seismic.
TGS is seeking pre-funding from all acreage holders in the Malay basin and from other oil and gas companies interested in the region.
DownUnder GeoSolutions will handle all processing work for the project from Kuala Lumpur, with Polarcus responsible for all acquisition activity.
The multi-year project should start next spring. Prior to completion, TGS plans to make interim products available.
The data-set will for the first time deliver coherent regional broadband 3D seismic imaging over this prolific basin, TGS claimed, providing an exploration framework for extending viable play fairways to surrounding areas.
It should also generate drilling and development opportunities, from subtle accumulations previously overlooked to deeper targets that remain untested.
11/08/2019