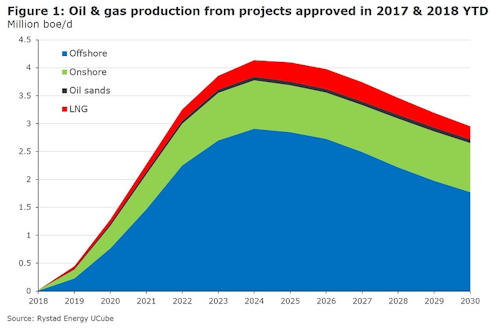 Offshore staff
OSLO, Norway – Over the past 18 months, the oil and industry has approved investments in development projects of more than $110 billion, according to analyst Rystad Energy.
During May three major projects went forward, includingTotal's Zinia deepwater development offshore Angola.
Recently Norway's parliament approvedEquinor's Johan Castberg field development in the Barents Sea, which will potentially add more than $40 billion in revenues to the Norwegian

"Deepwater projects on either side of the Atlantic Ocean – from Norway to the US and from Angola to Brazil – are leading the charge towards new approvals," said senior research analyst Readul Islam.
"Higher oil prices, an improved outlook for gas demand and lower offshore development costs are driving this rebound in the industry."
Of the 17 deepwater projects approved over the past 18 months, 16 had been previously put on hold due to the combination of low oil prices and high costs. These same projects are now profitable at prices down to $30/bbl.

These 16 projects will collectively develop around 6 Bboe, with investments totaling $43.2 billion to reach first production.
A combination of leaner and standardized designs and lower service prices halved their breakeven prices, often involving heavy downsizing.

Rystad instances BP's initial Mad Dog 2 spar development, where a cost estimate of $20 billion led the company's partners to suspend the program. When they finally took a final investment decision last year, the plan had been scaled back from 20 wells to a semisub production unit with only 14 wells, and a price tag of $9 billion.

Idle rigs have also benefited deepwater operators, some securing day rates well below the 2014 averages.
LLOG contracted Seadrill's 2014-built ultra-deepwater drillshipWest Neptune from December 2014 to December 2017 at $573,000/d.
It has since re-contracted the unit to drill development wells at itsBuckskin project in the US Gulf of Mexico at $155,000/d, a reduction of 73%.

07/02/2018