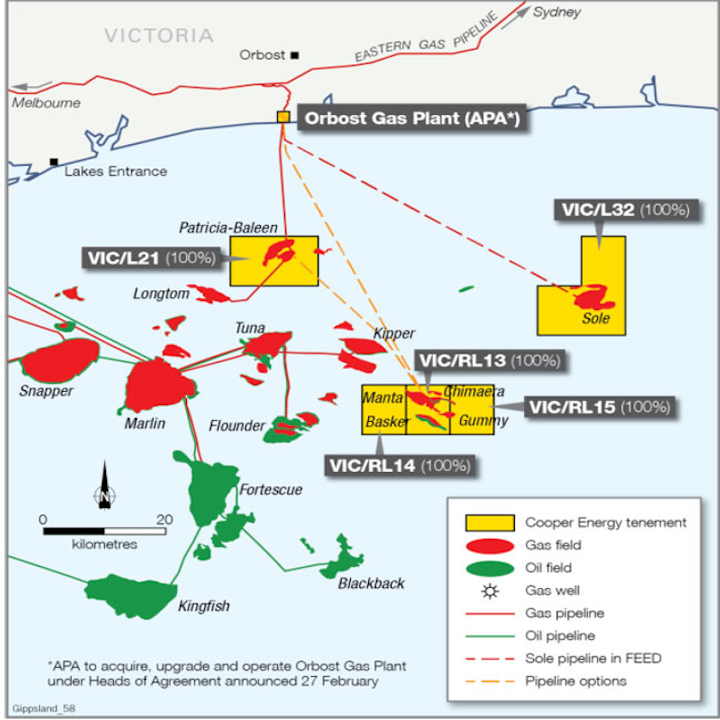 Offshore staff
ADELAIDE, Australia – The Cooper Energy board has approved the Sole gas development project in the Gippsland basin offshore Victoria.
Finalization of financing is under way with a fully underwritten equity raising of around $151 million.
The Sole gas field in the VIC/ L32 permit will supply 25 PJ/yr customers to markets in southeast Australia. Cooper Energy has a 100% interest in the field.
Produced gas will head through a pipeline to the Orbost Gas Plant (formerly known as the Patricia Baleen gas plant), and onward through Australia's Eastern Gas Pipeline.
Cooper Energy has secured long-term sales contracts with customers including AGL, EnergyAustralia,Alinta Energy, and O-I Australia to support the development.
APA Group will likely acquire and undertake all capex associated with the Orbost Gas Plant, while Cooper will be solely responsible for the upstream development, expected to cost $355 million.
Earlier this month the company contractedSubsea 7 for the subsea tieback of the Sole field to the plant, including fabrication and installation of 64 km (40 mi) of subsea pipeline, spool and manifold, and installation of a 64 km of umbilical and related commissioning.
Cooper aims to deliver first production from the field to the Orbost Gas Plant around March 2019.
03/29/2017