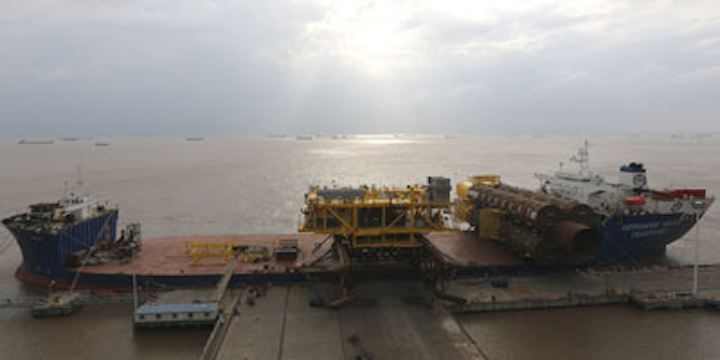 Offshore staff
HOUSTON –The world's first buoyant tower drilling and production platform is loaded and on its way to Corvina field offshore Peru, according to Wison Offshore & Marine Ltd. and BPZ Energy.
Both hull and topsides were loaded onboard a single heavy lift transport vessel, theOsprey, which is sailing to Peru for the installation operation.
"We are very pleased with the customized design of the new CX-15 platform and hull which will be installed shortly at our Corvina field in block Z-1," said Richard Spies, CEO of BPZ. "… the importance of this design is that it allows us the ability to develop other future discoveries that are located between 200 ft (61 m) and 700 ft (213 m) of water."
The CX-15 platform was completed and delivered to BPZ Energy at Wison Offshore & Marine's Nantong, China, fabrication facility. Wison's scope included engineering, procurement, and construction of the 2,500-ton tower hull and the 1,500-ton topsides.
When installed, the buoyant tower will support the three-level topsides facility designed by Audubon Engineering and GMC Ltd. and equipped to produce 12,200 b/d of oil, 12.8 MMcf/d of gas, and to inject 3,500 b/d of water. Additionally, the facility will be able to support a drilling rig with 24 well slots.
8/07/2012