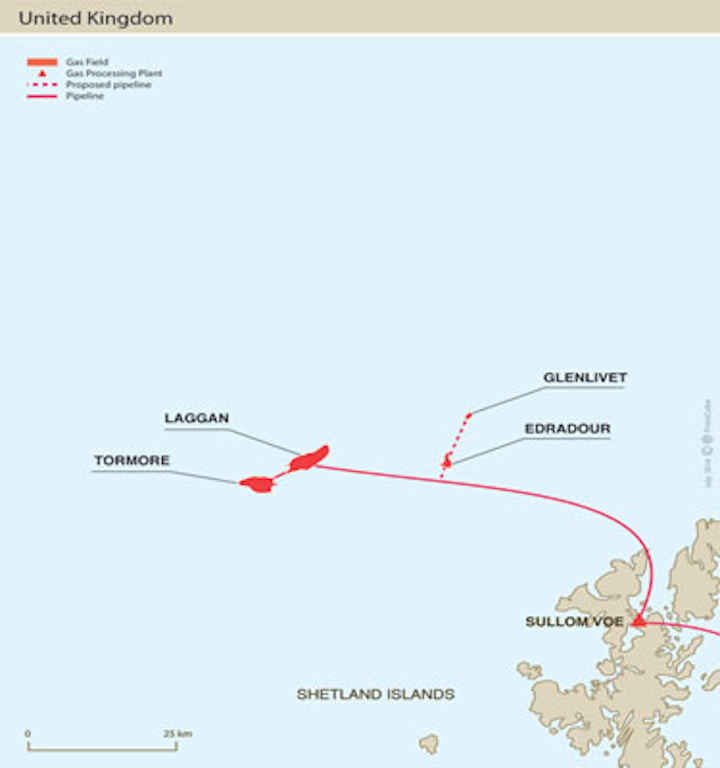 Offshore staff
PARIS– Total and partner DONG have decided to develop the Edradour gas field in the west of Shetland area. In addition, DONG has agreed to transfer a 60% interest in the Glenlivet gas discovery to the north.
According to Patrice de Vivies, Total's senior vice president Exploration & Production, Northern Europe, sanction for Edradour was put on hold last year due to cost increases following the tender process. However, subsequent negotiations with the contractors have cut prices to an acceptable level, allowing the project to go forward.
Edradour is in block 206/4a in 300 m (984 ft) of water, 75 km (47 mi) northwest of the Shetland Islands. The discovery well will be converted to a producer well and an associated 16-km (10-mi) production pipeline will be tied into the main Laggan/Tormore flowline.
Estimated cost of the development is $583 million. Total anticipates start-up in late 2017, with output reaching a peak of 17,000 boe/d.
Glenlivet is in block 214/30a, in 435 m (1,427 ft) of water, 90 km (56 mi) northwest of the Shetlands. Total and the Glenlivet partners are considering developing the reservoir with two wells and a 17-km (10.6-mi) production pipeline tied back to the Edradour development. A decision on the development is imminent.
Following Total's entry into Glenlivet with a 60% interest, DONG will retain a 20% interest along with Faroe Petroleum (UK) Ltd. and First Oil Expro Ltd., each holding a 10% interest.
07/03/2014