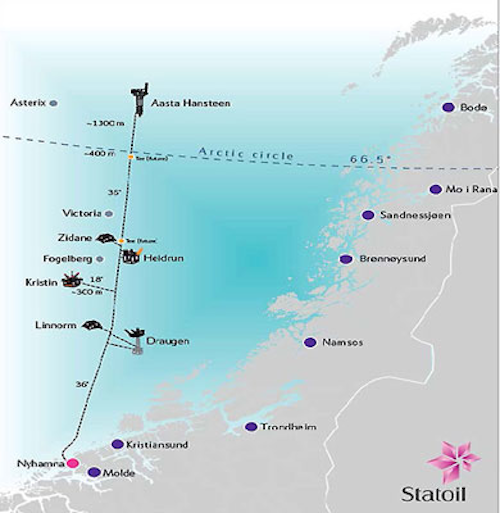 Offshore staff
STAVANGER, Norway – Statoil (OSE:STL) and partners have submitted a plan for development and operation (PDO) for the Aasta Hansteen gas/condensate field in the Norwegian Sea.
Additionally, they have sent a PDO for an associated 480-km (298-mi) deepwater pipeline to the Ministry of Petroleum and Energy. The Polarled export system was formerly known as the Norwegian Sea Gas Infrastructure (NSGI) system.
"Aasta Hansteen will be the first deepwater development in the Norwegian Sea," said Øystein Michelsen, Statoil executive vice president, development and production Norway. The location is in 1,300 m (4,265 ft) of water, remote from existing offshore infrastructure.
Field operations will be managed from the company's new Operations North facility in Harstad, with the supply base located in Sandnessjøen and the helicopter base in Brønnøysund.
Development is based around aspar platform, the first offshore Norway, supporting conventional topsides with processing facilities. The hull will be equipped with storage for condensate, which will be offloaded to shuttle tankers.
Risers transporting the gas from the seabed to the platform and on to Polarled will be made from pure steel, another first for the Norwegian continental shelf.
Polarled will take gas directly from Aasta Hansteen to Nyhamna in Møre og Romsdal county. The installation of a 36-in. diameter line in 1,300 m water depth constitutes a new world record, Statoil says.
A separate pipeline between Polarled and the Kristin semisubmersible platform will connect the new infrastructure to the existing Åsgard Transportation System. Additionally, preparations will be made to tie-in existing and future discoveries in the area.
The project includes expansion of the Shell-operated gas plant at Nyhamna, which currently serves theOrmen Lange field. Kvaerner is responsible for the modifications.
Statoil estimates total investments in Aasta Hansteen and Polarled at NOK 57 billion ($10.1 billion). This spring the company will award contracts for the topsides, subsea facilities, pipeline, pipelay, marine operations, and drilling.
1/9/2013