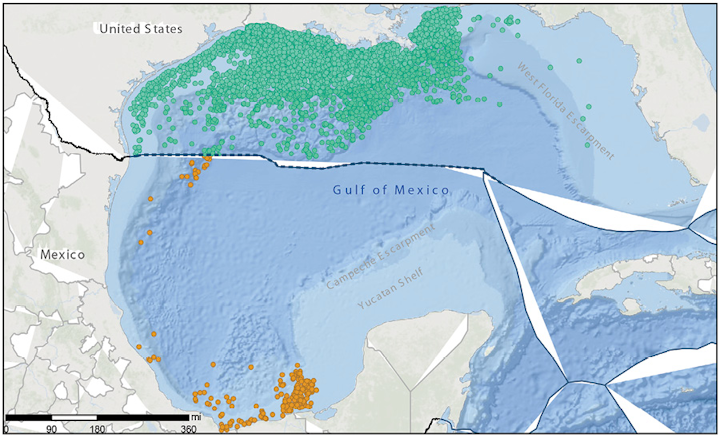 US technology, knowledge transfer to benefit Mexican sector
Tim Duncan,Talos Energy
Bjørn Inge Braathen,Equinor
Niall McCormack,BHP Billiton Petroleum
Martin Stauble,Shell
Lorna Campbell,ExxonMobil
Mark Cizek,Williams
Stein Rasmussen,SBM Offshore
Sandeep Khurana,Granherne (A KBR Company)
Julie Wilson,Wood Mackenzie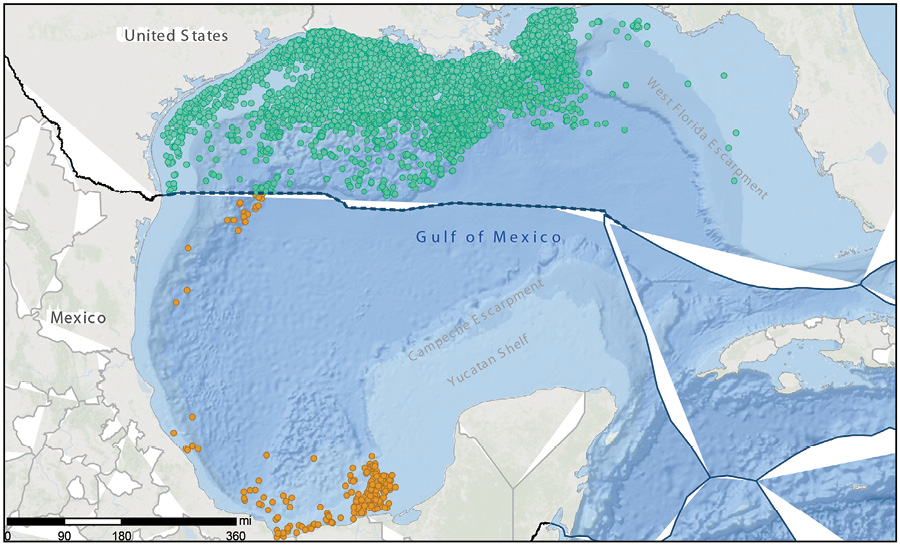 Figure 1: Exploration wells drilled in the Gulf of Mexico.
The Gulf of Mexico (GoM) has gone through many waves of exploration and development, each time reinventing and pushing the boundaries. Finally, the realization of crossing boundaries and combining United States and Mexico GoM into "One GoM" commercially and technically is within reach. New plays in the US GoM and the opening of the Mexican GoM, coupled with innovative technological and commercial models and increasing interest from the investment community, are poised to drive value and keep this resource base and production growing further.
The authors of this article discussed the challenges and opportunities of a One GoM approach at a panel session at the Offshore Technology Conference (OTC) on May 3, 2018. This article is an abridged version of the OTC-29074-MS white paper that the authors wrote to frame the panel discussion.
Introduction
The GoM is one of the most prolific basins globally. The US sector has a long and prosperous history of technology innovation to exploit resources in multiple, often challenging, plays. The Mexico sector has large, untapped potential which is now being made available to industry after landmark constitutional amendments. Technology development has been the key enabler for driving the growth of the basin, and will continue to be important in commercializing resources. Mexico has the advantage of utilizing the learning curve from the US GoM and the potential to shorten the lead time for maturing its offshore basins.
GoM prospectivity
The GoM basin extends from Arkansas in the north, to Yucatan in the south; Florida in the east, to the foothills of the Sierra Madre Mountains in the west. It encompasses prolific onshore areas such as the Eagle Ford and Haynesville in the US and Golden Lane in Mexico. Today, this basin is the third-largest oil-producing basin in the world. Over 1 million wells have been drilled.
In the offshore regions more than 50,000 wells have been drilled and of those, over 3,500 are in the deepwater. Interestingly, the Mexican sector has only had 55 wells drilled in the deepwater (Figure 1).
The offshore shelf sectors in both the US and Mexico have delivered huge amounts of resource – over 70 Bboe of oil and gas has already been produced from shallow waters, and a further 11 Bboe from US deepwater. Historic activity levels are orders of magnitude higher in the US than in Mexico reflecting a more dynamic, open market, and have led to different levels of play maturity. This is set to change with the passing and execution of Mexico's historic 2013 energy reform. As we look forward, combined offshore discovered resources yet to produce and prospective resources reach 50 Bboe and are growing (Figure 2).
Both countries have a long production history, both onshore and offshore. Offshore production in the US predates Mexico's offshore industry by about 20 years. The shelf is now very mature in the US while production from Mexico's shallow waters continues at strong, albeit declining, rates – it was almost five times higher than the US shallow-water production in 2017. The strong decline in Mexico's shelf production and need for additional investment to expand new exploration plays has been a key driver for the re-opening of Mexico's oil and gas sector, initiated by the Energy Reform in 2013 which has led to the restructuring of the Petroleos Mexicanos (Pemex) monopoly of almost 80 years.
This research forecasts continued decline from discovered fields (both on production and yet to be developed) on the shelf in Mexico and the United States. Meanwhile, deepwater US GoM production is set to reach a new plateau of around 2 MMboe/d for the next six years, largely as a result of investments made over the last five years. Mexico's first deepwater development, Trion, located 24 mi from the Great White field on the US GoM side, is expected onstream in 2022. Of course, these production profiles will be supplemented by new fields not yet proven commercial or discovered (Figure 3).
The main offshore focus herein is oil production as the US shale revolution provides abundant gas and has lowered regional natural gas prices. In recent years, Mexico has increased imports from US onshore gas to offset the market impact of its declining gas production. The Mexican GoM offers an opportunity for additional gas supply source to Mexican markets. However, it will need to compete with abundant, cheap pipeline gas from the US.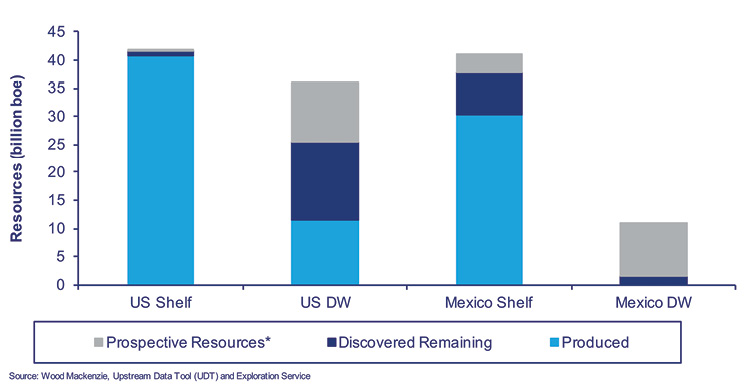 Figure 2: Offshore resources in the Gulf of Mexico. Note: Shelf = water depths below 400 m (1,300 ft); Deepwater = water depths of 400 m and above (including UDW above 1,500 m [4,921 ft]). *Prospective resources are resources expected to be discovered by 2035, and are derived from Wood Mackenzie assumptions of exploration drilling levels, success rates and the distribution of prospect sizes. CNH estimates 19 Bboe prospective resources in Mexico's deepwater.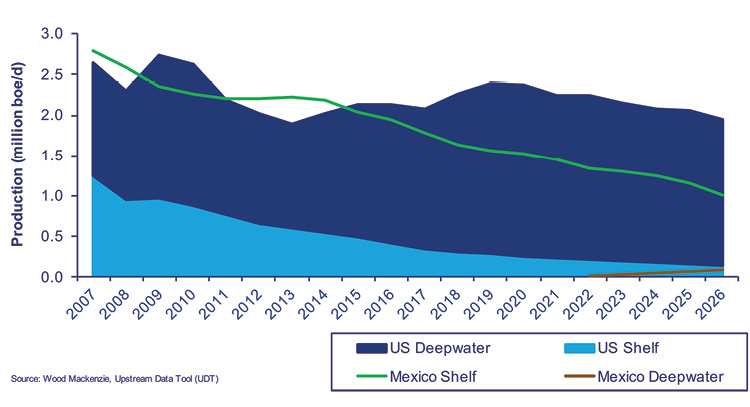 Figure 3: Oil and gas production offshore Gulf of Mexico (from current discoveries). Note: Shelf = water depths below 400 m (1,300 ft); Deepwater = water depths of 400 m and above (including UDW above 1,500 m [4,921 ft]). Excludes upside from future exploration. There is currently little visibility on Mexican JVs and redevelopment projects, and upside from these could be significant on the Mexican Shelf.
Mexico's goal is to return by 2040 to its previous peak oil production of 3.4 MMb/d, achieved in 2004. The super-giant Cantarell complex peaked at 2.1 MMb/d that year, helped by nitrogen injection into the gas cap, but decline has been very rapid. According to oil ministry SENER, total Mexican oil production was 2.15 MMb/d in 2016. Most of the 1.25 MMb/d anticipated increase will need to come from new offshore production.
Capital requirements to arrest and reverse the decline will be very large. The capex forecast associated with the above production profiles is already considerable. The deepwater US GoM required close to $80 billion of capex over six years to raise production by 600,000 boe/d to reach its new plateau of 2 MMboe/d (Figure 4). The International Energy Agency estimates that, to achieve the goal of 3.4 MMb/d of oil production by 2040, total upstream investment of some $30-45 billion a year would be required. This compares to an average of $13 billion a year spent by Pemex in the upstream sector between 2007 and 2016.
Mexico's re-opening of the oil and gas sector through the Reforma Energetica (Energy Reform – referred to herein as the Reforma) presents a unique opportunity for Pemex, Mexican and international oil companies of all sizes and the service sector to leverage knowledge and technology to catapult the Mexican sector of the basin into a new era. While the reform will allow for much-needed access to capital investment to kick start Mexico's exploration industry, it takes a lot of activity for that to translate to geologic and commercial success.
The extent of the opportunity and the challenge in Mexico's deepwater is highlighted by comparing exploration activity over 35-plus years, and the number of wells that have been drilled and are planned in the near term (Figure 5). A fast ramp-up in exploration drilling, high success rate, and rapid development investment is needed to achieve the Mexican Energy Ministry's goal of 0.5-1.0+ MMb/d of oil production from the bid round acreage by 2031. In the US GoM deepwater, 500,000 b/d of oil production was achieved in 1999, after more than 500 exploration wells had been drilled over more than two decades. It took another decade to break the 1 MMb/d mark. More than 450 additional exploration wells were drilled during that time. Mexico will benefit from knowledge and technology transfer to compress these timelines and well requirements.
The results of deepwater Round 2.4, announced in January 2018, demonstrated the industry's great appetite for exploration in Mexico. The amount of licensed deepwater acreage jumped from around 20,000 sq km (4.9 million acres) to more than 100,000 sq km(almost 25 million acres). This represents close to 2.5 times the acreage licensed on the US side, which is just over 41,000 sq km(10.1 million acres). Winning bidders in the two deepwater rounds committed to drill a minimum of 31 exploration wells by mid-2023.
US GoM: multiple plays
The early 20th century saw the start of exploration success in the Gulf of Mexico basin with onshore discoveries in Spindletop (Texas) and Golden Lane (Veracruz). These immediately established the Gulf of Mexico Basin as a world-class petroleum province. Spindletop opened a new play, not just for the Gulf but globally, as it was the first large field associated with salt, which remains a theme through to the present day.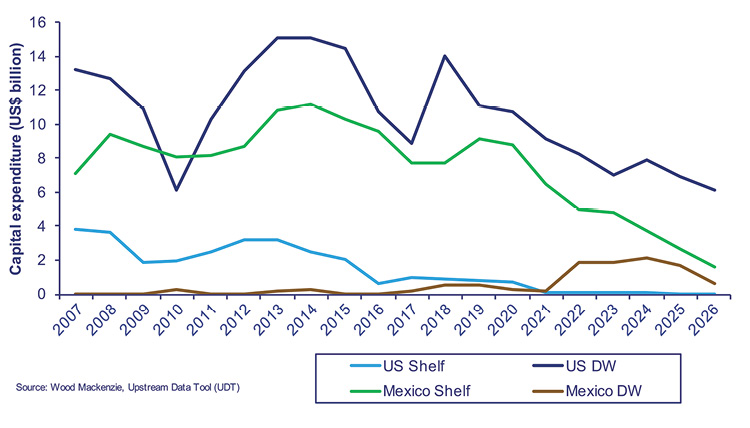 Figure 4: Capital expenditure offshore Gulf of Mexico for current discoveries. Note: Reflects capex on discovered fields only. Excludes exploration and appraisal spend, and capex on future discoveries.
The first steps into offshore exploration in the US GoM date back to the 1930s, with the first well globally drilled outside the sight of land in the 1940s. Over the past nine decades it has continuously evolved on the US side of the border. Every decade or so, a new concept, play type or technology has emerged to keep the creaming curve on an upward trajectory. A wide spectrum of companies has brought new ideas and pursued a wide range of prospect types.
In the early days of US offshore exploration, explorers targeted shallow salt dome-related traps, which they had exploited and exhausted onshore. High commodity prices in the 1970s spurred a burst of activity as operators moved out to the Flextrend, where the seafloor drops away steeply from the present-day shelf edge. Shell's Cognac discovery opened this play, but many of the finds turned out to be small with discontinuous sands. Reservoirs were mostly of Pliocene and Pleistocene age.
The 1980s brought mini-basin success. The first mini-basin discovery was made by Shell at Bullwinkle in 1983. Explorers probed the flanks of structural intra-slope basins where reservoir sands pinched out and formed combination structural/stratigraphic traps. Giant discoveries such as Mars, Ursa, and Auger were made in this play in the late 1980s. The fields produced at higher-than-expected rates and had good aquifer support, often from Miocene-age deepwater reservoirs.
The late 1980s also saw the first subsalt exploration, but commercial success remained elusive for a few years. Advances in seismic acquisition and processing allowed explorers to begin imaging below the salt, and progress continues to be made in this arena. The first commercial subsalt discovery, Mahogany, was made by Phillips Petroleum in 1993. Others quickly followed, as thick sequences of primarily Pliocene and Miocene reservoirs were shown to have high porosity and permeability. The high-pressure environment supported highly productive wells. Despite the greater reservoir depths and higher pressures, oil was the predominant hydrocarbon phase targeted; the thick salt layer kept reservoir temperatures at moderate levels, preventing reservoir degradation.
In the 1990s, exploration of the foldbelt plays began. BHP Billiton's 1995 Neptune discovery was the first in the Mississippi Fan Foldbelt, which has been a prolific source of large discoveries such as BP, BHP and Chevron's Mad Dog field, and BHP's Shenzi field. The sub-commercial BAHA 1996 find proved up oil in the Perdido Foldbelt trend in the southwest, which extends into Mexico. It is home to Shell's Great White development, discovered in 2002.
The BAHA well also showed that hydrocarbons were present in Paleogene-aged reservoirs for the first time. In the Perdido Foldbelt they are found at relatively shallow depths. Improvements in imaging and drilling technology allowed explorers to chase this play and target greater well depths, facilitating the exploration of deeply-buried Paleogene formations in the Central Gulf. BHP's Cascade discovery in the Central GoM in 2002 opened a new play with enormous resource potential, but significant development challenges: extreme burial depth, lower permeability, high pressures and structural complexity. This play could be the next engine of production growth in the US deepwater, but technology to develop and produce the HP/HT reservoirs is not yet commercially available.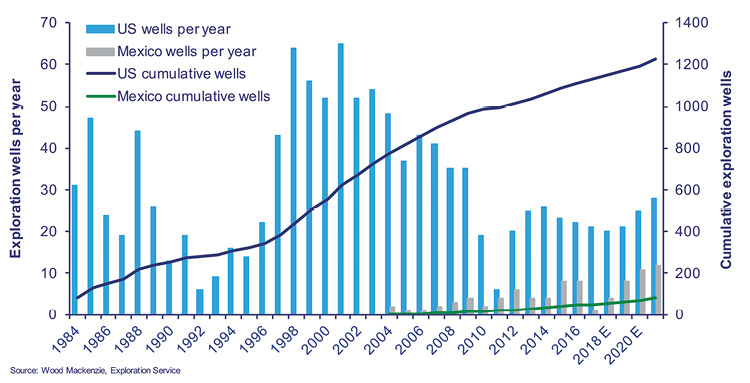 Figure 5: Deepwater exploration wells in US and Mexican GoM, 1984-2021. Note: Deepwater = water depths of 400 m (1,300 ft) and above (including UDW above 1,500 m [4,921 ft]). Includes geologic sidetrack; excludes mechanical sidetracks. Estimated wells in 2018-2021 based on known plans, extrapolations, and commitments.
The Jurassic-age Norphlet trend in ultra-deepwater eastern GoM was also opened during the 2000s, by Shell. The first discoveries beginning in 2003 were non-commercial. It took until 2009 for Shell to make the Appomattox discovery. While these reservoirs are gas-prone onshore and on the shelf, the salt canopy helped to keep source and reservoir temperatures lower in deeper waters, and large oil discoveries have now been made. The reservoirs are HP/HT but within the technology limits as of today (15 Kpsi pressure rating and equipment rated to 400°F) and as such, development is not as challenging as in the Paleogene play. Many discoveries in the Paleogene play require equipment rated to 20 Kpsi and higher temperatures. Exploration continues to define the prospectivity and limits of this play.
Interestingly, while much of the industry was focused on the deepwater of the Gulf through the 2000s the onshore Gulf of Mexico saw a rejuvenation with the shale revolution. With the highly prolific Eagle Ford and Haynesville playing a major role in the shale business, companies are taking another look at many of the conventional plays, like the Austin Chalk. Now these and other onshore shales are a major competitor to the deepwater for scarce investment.
Mexico GoM history
Mexico's offshore exploration is by comparison much less mature. Shelf exploration and production has focused on the prolific carbonate breccia of the Campeche sub-basin, which yielded the super-giant Cantarell complex in 1976. With a monopoly position and little impetus for the national oil company Petroleos Mexicanos (Pemex) to explore in more expensive, riskier and uncertain plays, there have been few deepwater exploration wells testing other play types, and even fewer subsalt exploration wells.
Mexico's offshore industry must be viewed in a historical context. Onshore production had reached prolific levels in the 1920s, second only to the US, but it declined rapidly in the 1930s. The fear of nationalization led to cutbacks in investment that in turn helped produce nationalization in 1938. After the nationalization of the oil industry and the creation of Pemex, output slowly increased. It was not until 1973 that production regained its early-1920s peak.
Offshore exploration began in the late 1950s and focused initially offshore Tampico. These fields were in Cretaceous-age carbonate traps – the extension of the huge Golden Lane and Poza Rica trends that had sustained onshore production through the 1920s and 1930s.
The first Cantarell discovery was made in the Campeche sub-basin off the Yucatan peninsula in 1976, after a fisherman reported large oil seeps, and production started from the complex in 1979. The geology is unique in the GoM: the main reservoir is a highly fractured dolomitized carbonate breccia that was deposited by the Chicxulub meteor impact which struck the Yucatan platform at the Cretaceous-Paleogene boundary (65 Ma). Exploration continued around this prolific sub-basin with further giant finds made and brought onto production, into the early 2000s.
Moves into deepwater were gradual, beginning in 2003. By the end of 2011, only 19 deepwater exploration wells had been drilled. Most were in the Salinas-Sureste basin targeting Miocene-age gas-prone sandstones, with a few drilled farther north in the Tampico and Veracruz basins.
In 2012, Pemex embarked on a drilling campaign in the deepwater Perdido Foldbelt area, on trend with the Great White discovery on the US side of the border. By the end of 2017, Pemex had drilled 22 wildcats in the Sabinas-Rio Grande basin and made eight discoveries in Paleogene-age sandstones. The first of these fields to be brought on production will be the Trion field, which BHP captured in 2016 as the first Pemex JV offered under the new Energy Reform.
Deepwater drilling remains sparse in Mexico, and subsalt plays have only recently begun to be explored, starting in the Sabinas-Rio Grande basin. While much of Pemex's focus has been on a prolific carbonate play not found in the accessible US sector of the Gulf, future exploration in Mexico will likely center on clastic play types that have been the primary target in the US for decades. As a result, Mexico will benefit from the transfer of geologic concepts and knowledge developed by explorers in the US.
Impact of technology
The technical challenges faced by operators in the US GoM have required innovations at all stages of the E&P life-cycle. The GoM has been the proving ground for new technologies in seismic acquisition and processing; drilling and completions; production facilities and processing equipment. Some of these technologies have been deployed by service contractors in Mexico, but the limited investment capacity of one operator (Pemex) has dampened the breadth and pace of application. The US GoM's unique acreage model, where most fields span multiple blocks, has led to a unique level of collaboration and creative commercial solutions relative to many other parts of the world.
US GoM: Shelf to deepwater
Moving from land to offshore Gulf of Mexico has been a progression that started well over 60 years ago. As the shallow-water prospects have been exhausted, the industry has shown the capability to establish and increase production at ever increasing water depths while keeping in line with commodity prices.
Just in the last five years, exploration activities have moved beyond water depths of 10,000 ft (3,050 m) and production has been established in water depths of around 9,500 ft (2,896 m).
Recent advances in seismic acquisition and processing techniques have improved images for successful exploration, enabling reservoir features to be imaged beneath thick, extensive or complex salt canopies. Wide-azimuth towed streamer seismic (WATS or WAZ) is one cutting edge acquisition technology that has been developed to meet this challenge. In a standard 3D seismic survey, the same point in the subsurface is sampled 40 to 60 times, whereas with the WATS approach, that same point is sampled 150 to 300 times. The development of tilted-trans-verse-isotropic (TTI) reverse time migration (RTM) and other complex processing algorithms extracts additional value from WAZ data. However, subsalt imaging quality may remain poor under complex salt structures because of illumination limitations and residual multiple contamination. To overcome imaging challenges in the deepwater, several full-azimuth (FAZ) and long-offset acquisition schemes have provided another step-change since 2009 in the US GoM.
Advances in drilling technology allowed explorers to push out into deeper waters from the 1970s, with the first ultra-deepwater (greater than 1,500 m or 4,921 ft water depth) well in 1986 drilled by Shell. Newer generation rigs led to greater well depths, reaching the 10,000 m (32,808 ft) measured depth mark for the first time in 2009. Employing dual activity drillships, multiple BOP stacks, sophisticated dynamic positioning software, refined shallow water hazard analysis, and innovations such as dual gradient drilling have led to successfully tapping into drilling deeper depths. Deep Miocene and Paleogene exploration and development would not have been possible without these technological advances. The challenges operators in US GoM have overcome while drilling in deepwater and deeper subsurface depths include:
• Loop and eddy currents cause vortex-induced vibrations and motions to drill strings
• Unpredictable high-pressure gas-charged stringers and faults near surface
• Mobile/flow-able/dissolvable 10,000-ft (3,048-m) thick salt canopy with unpredictable layers of highly variable trapped sediments
• Unpredictable base of salt – rapid pressure differentials
• "Thief zones" of significantly lower pressure which cause lost circulation – fluid loss
• Ultra-deep reservoirs with imaging challenges, high temperatures, high pressures and low natural flow-ability.
Advances in complex well completions in the US GoM have led the industry for many years. The most recent innovations borrow techniques and practices used in shale development onshore US.
Improving infrastructure solutions with new floating production systems (TLP, spar, semi) and subsea technologies has now made production from deepwater to ultra-deepwater economical. The use of disconnectable facilities and lazy wave risers have been enabling technologies for FPSOs in ultra-deepwater in the GoM, overcoming difficult metocean conditions and regulatory restrictions, including managing the annual hurricane season. The Turritella FPSO is a recent example, deployed on the Stones field in 9,577 ft (2,919 m) of water.
The US GoM is now in the realms of another step change to develop 20 Kpsi HP/HT fields, and at the same time lowering the breakeven price to thrive in these times of relatively low commodity prices.
Mexico GoM: Shelf to deepwater
Until now, Pemex has had a monopoly on Mexico GoM exploration and production, and has been the sole deployer of technology solutions, in consultation with industry service providers operating in the US GoM and elsewhere. Pemex has acquired an extensive library of 2D and 3D seismic data, with coverage over 65% of Mexico's prospective deepwater acreage. While 3D wide-azimuth seismic was acquired in the northern Perdido area in the last 10 years, many other areas are covered with a patchwork of different generation 3D narrow-azimuth surveys, or older 2D seismic.
Figure 6: Pipeline infrastructure across the Gulf of Mexico.
The last three years have seen an explosion of large scale re-processing and new acquisition of both 3D and 2D seismic data. Upstream companies not only had access to the existing library of data through the CNH data room process, but also benefited from large amounts of new multi-client data, acquired and/or reprocessed by seismic vendors during 2015 and 2016. Most of that data is focused on enhancing the regional framework, and local framework for the Tertiary clastic intervals and the imaging of complex salt geometries, enabled by side-azimuth surveys. In contrast, Pemex traditionally processed narrow-azimuth data with the Jurassic/Cretaceous sections in mind, and had little need to perform much salt modelling.
Talos Energy's 2017 Zama discovery demonstrated the value of transferring seismic processing techniques to Mexico. No new seismic was shot; instead, Talos re-processed and merged multiple datasets of Pemex 2D and 3D seismic of varying vintages, to provide an improved regional view. In this way, Talos refined the Zama prospect, further reducing the geologic and geophysical uncertainties as well as identifying other prospects on its block 7. In doing so Talos demonstrated the value of close collaboration between project geoscientists and seismic vendors while applying state-of-the-art algorithms to the existing Pemex 3D data sets.
Pemex has achieved the most exploration success in shallow water and produced heavy to light oil fields deploying the latest technology. Instead of using water-flooding solutions that are employed in the US GoM, Pemex invested in innovative nitrogen flooding in Cantarell, chosen because of the high permeability of the carbonates.
For the shallow-water areas, technical challenges facing both Pemex and new industry players in exploration, development, and production include:
• Clear visualization of target zones in subsalt plays
• Building a strong simulation model to effectively describe the fluid flow in the fracture networks
• Improvement of the reservoir characterization through downhole tools for high-temperature and/or high-pressure conditions due to extreme conditions of wells being drilled within the region
• Selecting an injection fluid capable of maintaining the reservoir pressure to improve oil recovery
• Improving drilling performance and cementing of high-angle wells in heterogeneous reservoirs
• Optimizing and building surface facilities to maximize production.
In deepwater, Pemex has drilled a relatively small number of exploration wells. They have mostly been in the Perdido area, resulting in a cluster of oil and gas discoveries. The discovery wells were drilled outside of the salt, where the conditions and risks are well understood, and Pemex has only recently begun to explore beneath the heterogeneous salt canopy.
Challenges in deepwater Mexico are very similar to those in the US sector, such as:
• Enhancing the subsurface image for deepwater sandstone reservoirs beneath salt
• Flow assurance issues such as hydrate formation, sand production, etc.
• Increasing the drilling reliability in hard formation environments with subsalt plays
• Installing subsea production control systems for ultra-deepwater and HP/HT reservoirs
• Developing subsea facilities for ultra-deep wells.
In addition to these challenges, infrastructure development should be highlighted. Access to pipelines to shore and existing facilities has been a significant enabler for deepwater US GoM and that market has yet to develop into Mexico.
Although the Mexican portion of the GoM in the Perdido Foldbelt has some common geological elements with the US side, differences exist. It is a proven oil and gas province but some of the uncertainties include reservoir deliverability, oil quality and trap style due to salt and imaging complexities.
Technology development has been a key enabler to explore and develop deepwater fields in the US GoM. Mexico has the benefit of the lessons learned in development, production and operations from the US sector. The advantage of using deepwater technologies that have taken a couple of decades to develop and are now commoditized, compresses the learning curve for the Mexican region. The technology-readiness level in most cases is considered mature and proven, which will shorten the cycle time from development to production in Mexico.
Infrastructure, open access
The US offshore benefits from a widespread network of pipelines that reaches into the deepest developed waters, and a range of terminals along the coast (Figure 6). This infrastructure is owned and run by a mix of midstream specialists and upstream operators, providing competitive alternatives for operators. Currently, all offshore and associated onshore infrastructure in Mexico is owned by Pemex. Liberalization under the Reforma allows for private participation in the midstream and downstream, which could be transformative for this part of the petroleum value chain.
The US GoM infrastructure progressed systematically from shelf to deepwater along with multiple terminals, refineries, and supporting shore bases on the US Gulf Coast. The systematic progress out from shore led to the building of pipeline networks feeding back to the US Gulf Coast. As the infrastructure evolved, midstream companies entered to own these pipeline assets and eventually hub facilities with oil companies focusing on their core strength of exploration, drilling, and production.
The debate between choosing pipelines versus FPSOs with shuttle tankers for oil export was easily resolved as transporting via pipelines historically offered the most economical solution in most cases. An FPSO solution with shuttle tankers has become an economic option only in the last decade, with the discovery of remote Paleogene fields. There are currently two units operating in the US GoM, namely BW's Pioneer on the Cascade and Chinook field and SBM's Turritella (now owned by Shell) on the Stones field. Nevertheless, FPSOs have been limited for a range of reasons: requirement of (more expensive) disconnectable FPSOs for hurricanes and associated riser systems; Jones Act shuttle tankers for oil transport; gas export, which still requires a pipeline system; and subsurface development challenges in the Paleogene. Because gas export/transportation from deepwater fields requires a gas pipeline network, oil pipelines have accompanied them to some Paleogene developments offering a continued challenge to the FPSO-based solution.
Between the US GoM and Mexico GoM deepwater, there are opportunities for infrastructure and logistical synergies. Easy movement of drilling rigs contracted with the same operator on long-term contract can improve rig utilization, lowering the cost of services for drilling wells. Furthermore, there is potential for Mexican Perdido Foldbelt developments to access both oil and gas pipelines on the US side of the border. However, an FPSO solution for oil transportation is a clear alternative for Mexico. As for shore base support, the US Gulf Coast offers capability and capacity for both Mexico and the US, while a number of shore bases have been established in Mexico for Pemex's use, which could be expanded for other industry players.
As discussed earlier, small block sizes in the US GoM and large block sizes in the Mexican GoM are one noticeable difference. In the US, small blocks have created competition and contributed to the build out of infrastructure. In the Mexican deepwater, a large resource base will be required to start the development and build-out of the infrastructure. The large size of Mexican blocks provides running room to make multiple discoveries in each block. Furthermore, in shelfal located blocks, the fiscal terms incentivize multiple developments in one block because cost recovery applies to the whole block, not each development. This will help justify infrastructure build-out to the shelf then onwards to the deepwater, particularly in the Salinas Sureste basin.
Midstream entry into any region of the Mexican GoM is an ongoing effort as the various licensing scenarios are developed and better understood by both operators, midstream providers and Mexican regulators. The resulting ownership structures clearly have an effect on midstream business strategy, as do the resulting regulations on access to midstream capacities.
Mexican shelf infrastructure
Current Mexican GoM shelf infrastructure is plentiful, although aging, around the main producing area in the Campeche sub-basin. Pemex fully owns this pipeline infrastructure and provides shore base support from Dos Bocas. Floating storage and offloading (FSO) vessels with shuttle tankers have been used for some heavy oil fields, in support of heavy oil exports.
In the Mexican GoM shelf, as new companies enter for oil production they have a choice in utilizing the current Pemex-owned midstream infrastructure and/or FPSO model. For gas production they can tieback to Pemex gas pipelines, although opportunities may also open up for midstream companies to enter to develop new infrastructure. As for shore base support, Dos Bocas has limited capacity and can only support one or two developments simultaneously with Pemex activities. Dos Bocas will therefore require investment as more companies start development in shallow water.
The oil and gas opening offers opportunity for Mexican contractors and service companies of all sizes and types. The Mexican fabrication yards can be predominately found in Tampico and the Altamira regions along the Gulf of Mexico. As for subsea expertise, US companies have expanded worldwide by creating local bases in countries such as Brazil and Angola. As activity advances in Mexico, subsea expertise and shore base support will likely be transferred from the US to Mexico.
Implications, opportunities
The US and Mexico GoM have standalone opportunities to progress and these are further amplified by synergies and, at the same time, challenges while looking at the two sides as One GoM. Several questions remain as follows:
• What lies ahead for the US side of the Gulf? Explorers are chasing the Paleogene in the west, north of the Perdido Foldbelt, and the Cretaceous age plays in the east. How will the massive resources in the central Paleogene be commercialized? Will the deepwater US deliver another major play in this decade?
• Both sides, the US and Mexico, face similar issues in deepwater developments. While US GoM operators solve these technical challenges, it only makes sense to multiply the impact and returns by applying the solutions on the Mexico GoM side. Will the Mexican regulatory and commercial framework and policies allow and incentivize this technology transfer?
• Does the wide variance in block sizes between the US and Mexico impede synergies in exploration and development of the "One GoM" basin?
• Will Mexico's local content requirement overshadow the cost competitiveness that US GoM operators can bring?
• Mexico bid rounds have more emphasis on fiscal elements than work commitment. How long will it take for Mexico GoM to see increased activity?
• Currently, Mexico is a net exporter of heavy oil (27° API or less) and exports to US refineries. On the other hand, Mexico imports light shale oil from the US. Do the synergies of One GoM lead us closer to a North America market that covers downstream aspects too?
• Will selling Mexico deepwater gas through US infrastructure gain commercial, regulatory and government approvals?
• Will midstream companies find the Mexico Shelf market commercially attractive to enter as they did in the US GoM?
• Shore base support is an important element in cost control. In the south, port facilities at Dos Bocas require investment to support exploration and development in the Salinas Sureste basin. For Perdido Foldbelt developments, existing US support bases would make a natural choice. Pemex currently operates its exploration activity out of Tampico and Altimira in Tamaulipas. How should operators and policy on both sides incentivize a collaborative development of this shore base support?
Acknowledgment
The authors of this article wish to thank peers and colleagues for reviewing and contributing: Helge Hove Haldorsen (Equinor) and Martijn Dekker (Shell).