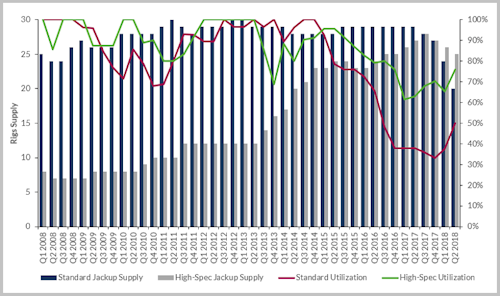 Offshore staff
ABERDEEN, UK – Supply of modern high-spec (heavy-duty) jackups for shallow-water operations offshore northwest Europe has for the first time surpassed that of traditional 1980s-built jackups, according to consultant Westwood.
Furthermore, utilization, day rates, and future demand for high-spec units is also now ahead of standard units.
During 1Q 2008, there was a pool of 25 standard jackups serving the northwest Europe region and only eight high-spec units. By the peak of late 2012, the standard fleet comprised 30 units and had 100% utilization, while over the same period, the number of high-spec jackups in the region increased by four.
Between late 2013 and early 2015, it swelled by another eight units, according to senior rig market analyst Teresa Wilkie, reaching a high of 24 and utilization of 96%. This was a result of drilling contractors upgrading their fleets with newbuilds ordered in 2012 and 2013.
In 2Q 2018, high-spec jackup supply is little changed at 25, but the number of standard units had declined to 20.
Demand for rigs with the capability to drill in deeper waters, in harsher conditions and targeting wells with more complex reservoirs (i.e. HP/HT) was inevitable in a mature region such as the North Sea, Wilkie said, with easier to drill opportunities drying up.
There has been insufficient demand too occupy the jackup fleet overall over the past two years, and as a result the standard fleet has had to compete more strongly for work that in better times the rig owners might not have pursued.
This led to the oversupply of standard jackups and utilization falling from 100% in late 2014 to only 33% by late 2017. Since then, utilization has risen to 50% thanks mainly to retirement or divestment of various older jackups, but there remain five cold-stacked and six ready-stacked jackups in this segment.
Westwood believes that some or all of these face bleak prospects due to a combination of age, lack of demand, and high reactivation costs, and this segment of the fleet will therefore likely recede further over the next 12 months.
As of mid-July 2018, supply and demand for high-spec jackups is tight, with utilization just below 80%. There are 25 units in this category, including one that is cold stacked and unlikely to drill again.
Three jackups are ready stacked, while another three are in shipyards (one undergoing major modifications ahead of a program starting in late 2019).
Sixteen of these units are currently on contract, three more will start work over the next two months and another will come off hire. This leaves only three high-spec rigs available for work in the short term with, potentially, no remaining high-spec jackup availability until at least 2Q 2019.
Drilling contractors with high-spec, North Sea-capable jackups outside of the region are taking action. Noble has already won two contracts to bring jackups into the UK sector – one for a rig currently operating in Southeast Asia and another engaged in the Middle East.
As the market gets tighter, more high-spec jackups constrict could be moved to the North Sea area.
Although there are only limited high-spec jobs scheduled to start this year, 2019 will be different. RigLogix has noted 14 separate tenders or requests for information (RFI) for jackup programs starting in 2019 in the UK, Norway, Denmark, and the Netherlands, most involving high-spec work.
Standard jackups will likely manage the few planned P&A campaigns operating at lower day rates as this work provides no financial return to offshore operators.
And as high-spec demand increases, prices too appear to be on the rise, with some of the largest high-spec jackups being bid for UK work in the $100,000-$130,000 range with rig owners able to charge a premium due to limited availability.
Standard jackups in the UK sector, however, are securing work at day rates of around $60,000, with work in the Dutch sector at even lower rates.
It seems likely that the North Sea, with growing demand, utilization and day rates, will continue to be an attractive destination for top rank jackups in the foreseeable future, Wilkie concluded.
07/24/2018