Lower cost deepwater era may be over, report suggests
Deepwater breakeven costs could rise again due to cyclical cost inflation, according to Wood Mackenzie.
Nov 27th, 2018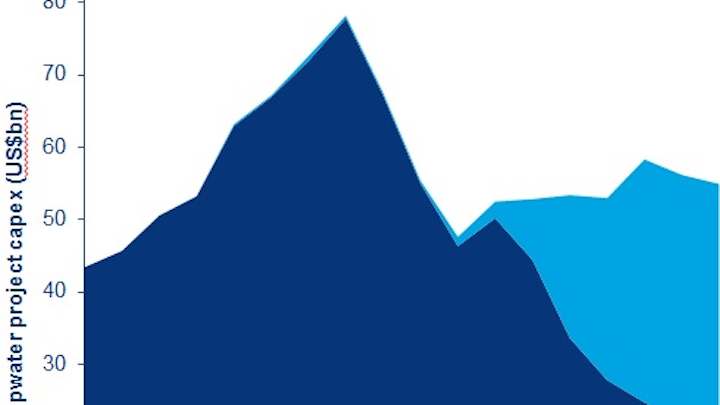 Offshore staff
LONDON – Deepwater breakeven costs could rise again due to cyclical cost inflation, according to Wood Mackenzie.
The price of developing new deepwater barrels has fallen by more than 50% since 2013, the analyst said, following various actions taken by operators to lower costs and improve returns.
Typical measures include downsizing projects; increased focus on subsea tiebacks and brownfield developments vs greenfield; reduced project lead times and improved project execution; reduced well counts; more phasing of larger developments; faster well completions, and lower rig/service sector costs.
Best results have been achieved across the Americas, in particular offBrazil, Guyana, and the Gulf of Mexico where more than 50 Bboe of pre- and post-sanction deepwater developments are now profitable at an oil price of less than $60/bbl.
Rig costs have been one of the key drivers, according to Wood Mackenzie research director Angus Rodger. "But more importantly, there have also been big structural changes, such as the faster drilling of wells.
"For example, in the US Gulf of Mexico it now takes half the time to drill a deepwater well compared to 2014."
Better project execution has also curbed overspending and improved returns, with deepwater projects sanctioned between 2014 and 2016 typically starting up around 5% under budget.
This is a major change compared to projects from 2006 to 2013, when cost overruns between 10 and 15% were standard, the analyst claimed.
Of late the industry has been upping its investment in the sector, and annual deepwater capex looks set to rise from around $50 billion currently to nearly $60 billion by 2022, led by large-scale projects offshore Guyana, Brazil, andMozambique.
But the increased activity is also set to accelerate a return to cyclical cost inflation in the offshore market. Deepwater rig capacity will likely decline over the next few years as older, less efficient rigs are scrapped, and day rates could therefore double by the early 2020s.
"The return of cyclical inflation could see this epic period of deepwater cost reduction come to a close," Rodger suggested.
"The question now is how much of the 'structural' cost savings we have seen through the downturn will prove sustainable through the investment cycle, and which are just short-term company adaptations.
"We believe that many cost savings are not as 'sticky' as industry suggests and are sceptical that many will stand the test of time during a sustained cyclical uptick."
11/27/2018