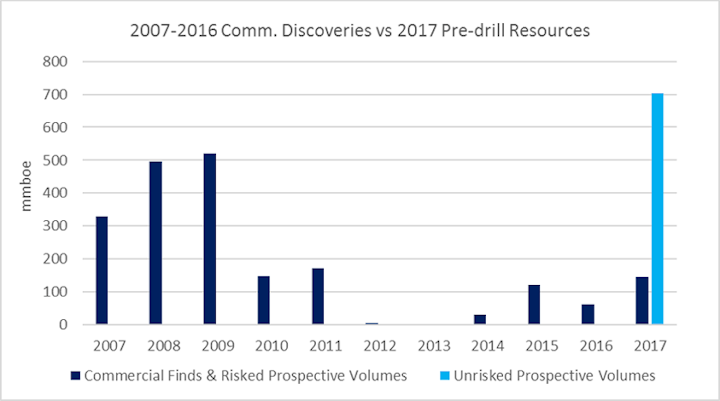 Offshore staff
FAVERSHAM, UK – Six of the offshore exploration wells lined up in UK waters this year are targeting on average more than 100 MMboe, according to analyst Westwood Energy.
This may signal a revival in the sector, where the average commercial discovery size since 2012 has been only 18 MMboe since 2012.
Although the success rates have improved in the past two years to more than 40% - the highest for over a decade - most of the targets have been generally small, near-field prospects. So is the potential of 700 MMboe from this year's wells realistic?
Westwood's analysis found that explorers typically over-estimate pre-drill discovery sizes by a factor of 1.5-2 in both the UK and offshore Norway.
The company also pointed out that in the UK, the 200-plus conventional exploration wells drilled over the past decade have resulted in only two commercial discoveries with 100 MMboe or more.
What is different this year is that five of the six wells are operated by major oil companies –BP, Statoil (two), Total, and CNOOC/Nexen, with only one small independent, Azinor Catalyst, operating the sixth.
The analyst points out that larger companies generally chase larger prospects, and to justify development at $40/bbl, the required volume threshold also rises.
There is a trade-off, however. To find big prospects, companies must target riskier plays, and all six of this year's UK wells are either high-pressure/high-temperature or into stratigraphic traps.
Westwood estimates an average chance of commercial success for the six prospects of 21% compared with the 40% commercial success rate in 2017. But even if only one of the wells delivers, discovered volumes could be the highest since 2011.
It does signal that big oil companies remain optimistic aboutNorth Sea exploration, the analyst concluded. The recent increase in M&A activity in the North Sea, driven by a combination of private equity funding, combined with reductions in costs, increased efficiency, and improved exploration success rates are all fuelling greater confidence.
This, along with the implementation of a new and more effective government regulator in theOil & Gas Authority, means the UK outlook is becoming more positive, said David Moseley, reports manager, NW Europe.
05/31/2017