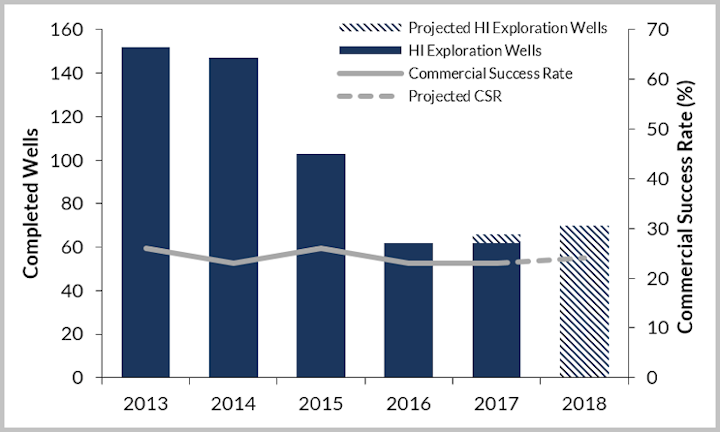 Offshore staff
LONDON – Global high-impact exploration in 2017 should match 2016 in terms of activity and success rates, according to Westwood Global Energy Group.
However, there should be a strong improvement in commercial oil volumes discovered and lower finding costs.
The consultant says success rates from high-impact drilling have stayed constant at around the 1 in 4 level over the past five years, but in 2017 resources discovered per high impact well were 104 MMboe, up from 71 MMboe in 2016.
This, coupled with lower average costs of $48 million per well, led to finding costs below $0.50/bbl, the lowest since 2011.
Most of this year's discovered volumes came from a few high-impact wells, the largest includingKosmos Energy's Yakaar gas discovery in the MSGBC basin offshore Senegal; ExxonMobil's Payara, Snoek and Turbot oil finds off Guyana; and Talos Energy's Zama-1 discovery in the Salina basin offshore Mexico.
Other notable breakthroughs included Rosneft's frontier Arctic oil discovery in the Laptev Sea.
Next year, Westwood expects more than 70 high-impact exploration wells to be drilled over more than 40 basins, with around 35% of the wells targeting frontier plays.
Hot spots for gas exploration will likely be the MSGBC and Nile Delta, and oil in the Suriname-Guyana basins.
Westwood estimates the combined unrisked pre-drill resource potential at almost 30 Bboe, comprising around 11.7 Bbbl of liquids and 107 tcf gas.
Various wells could open new plays, it adds.
12/18/2017