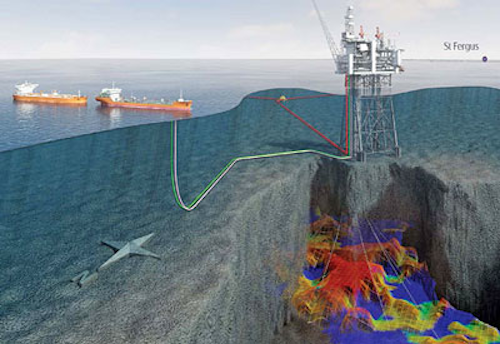 Offshore staff
LONDON – Britain's government has approved Statoil's plan for the $7 billion-plus development of the heavy oil Mariner field.
Mariner was discovered in the UK northern North Sea in 1982, 150 km (93 mi) east of the Shetland Isles. At the time, technologies did not exist at the time to produce its dense and viscous oil.
However, following advances in the1990s (i.e. horizontal drilling and improved well completion techniques), Texaco, the then-operator, kept its options open but progress remained slow.
In 2005, the government declared Mariner fallow, which facilitated a realignment of license interests, the acquisition of new seismic in 2008, and submission of the field development plan last September.
Newly introduced tax breaks for heavy oil fields offshore (Ring Fence Expenditure Supplement) helped the project go forward. Statoil expects to start production from Mariner in 2017, and the field should continue producing for 30 years. During the 2017-2020 plateau period, output should average around 55,000 b/d of oil, equivalent to 5% of the UK's daily production.
The field will be developed with a production, drilling, and quarters platform based on a steel jacket, with 50 active well slots and a floating storage unit of 850,000 bbl capacity.

In addition, a jackup rig will be used for the first four to five years. Later this year, Statoil expects to make a final investment decision on another heavy oil giant in the region, theBressay field.
2/15/2013