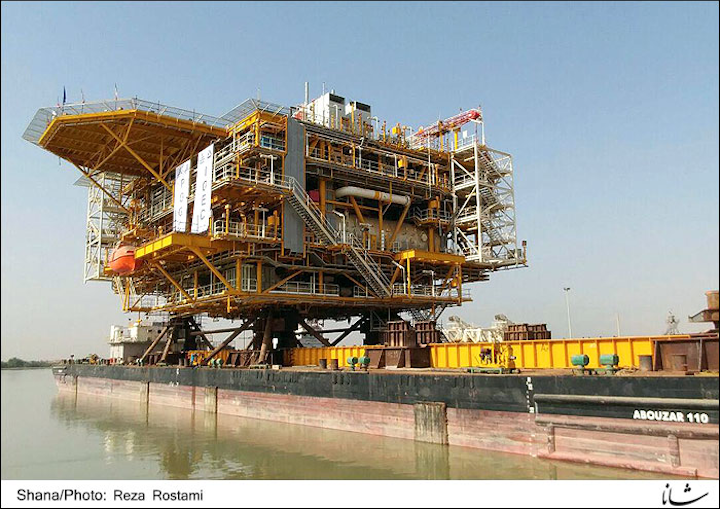 Offshore staff
TEHRAN, Iran – Representatives of Shell, Total, and Korea Gas Corp. (KOGAS) have met with Iranian and Omani officials to discuss potential cooperation in Iran's project for an overland/offshore pipeline exporting gas to Oman.
The officials were from National Iranian Gas Export Co. and Oman's Ministry of Petroleum, according to news service Shana.
Following a deal negotiated in 2013, Iran plans to send 1.5 bcf/d to Oman across the Persian Gulf via thesubsea pipeline.
This August the Iranian and Omani petroleum ministers of petroleum signed a memorandum of understanding concerning natural gas exports.
Shana also reports that Iranian companies have completed work on theSouth Pars Phase 20 control systems, the first entirely built in-country. Iranian Offshore Engineering and Construction Co. built the 2,600-ton Phase 20 platform in Khorramshahr, which was installed at its offshore location over the weekend.
The Phase 21 platform (phases 20/21 are concurrent) was installed in August and is due to become operational this week. Offshore operations have also been completed on the associated 32.4-in. diameter pipelines.
Elsewhere in the Persian Gulf, extended-reach drilling of the 01-15-A on theAbuzar oil field has been completed 11 days ahead of schedule, according to technical director of Iranian Offshore Oil Co. Manoochehr Davoodi.
The program included horizontal sections of 1,810 m (5,938 ft).
11/14/2016