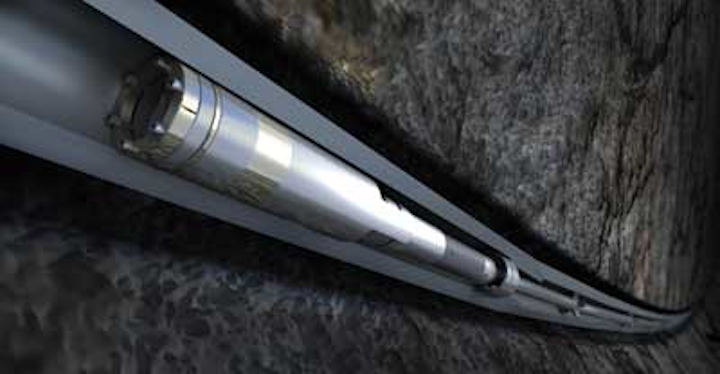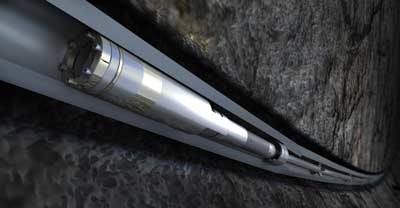 Rendering of the new Scientific Drilling mud-pulse MWD bottomhole assembly.
Scientific Drilling International (SDI) has launched its next-generation mud pulse MWD system. The FALCON MWD offers superior reliability, precision wellbore placement, higher durability, deeper reach, and safer operations, all while allowing for faster drilling, says Scientific Drilling.
Features of the FALCON MWD include bi-directional mud pulse telemetry, positive pulse (three to five bits/second), full accelerometer and drilling dynamic package, rugged thread-mount throughout, the required surface equipment and software upgrades, bottomhole assembly sizes from 3½ in. to 9½ in., and flow rates of 50 to 1,500 gal/min.
Scientific adds that the new system has a high-speed telemetry mode resulting from improvements in both the uphole and downhole systems.
"FALCON MWD is a full-featured mud-pulse MWD system, providing a telemetry mechanism for all other SDI MWD, gyroMWD, LWD rotary steerable, and Smart Motor components," says Ben Hawkinson, Global Product Line manager. "The control module also has the capability to measure basic drilling dynamics as well as mud flow and rotation for the purposes of drilling optimization and power management."
The FALCON MWD leverages SDI's True Utilization Factor (TUF), a proprietary preventative maintenance process combining key environmental measurements collected while drilling. With a detailed understanding of component durability derived from thousands of hours of destructive system testing, TUF provides a proactive edge in delivering customer confidence and superior reliability, concludes Scientific Drilling.
More Offshore Issue Articles
Offshore Articles Archives
View Oil and Gas Articles on PennEnergy.com