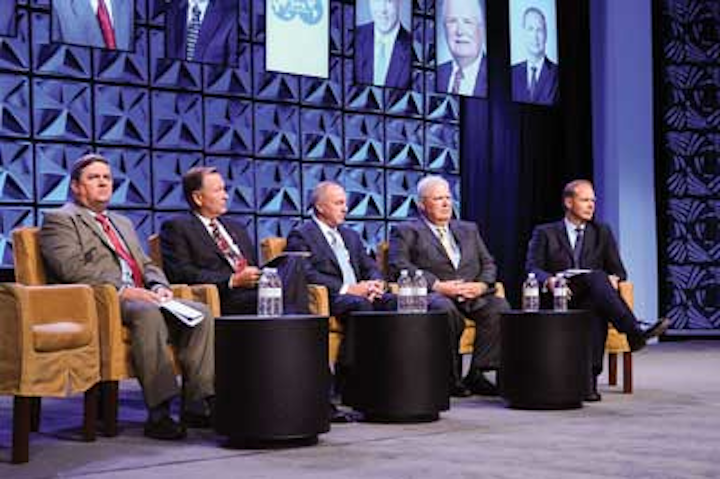 Keys to future production discussed at SPE ATCE in New Orleans
Russell McCulley
Senior Technical Editor
While shale gas and unconventional resources technology dominated technical sessions at the 2013 Society of Petroleum Engineers Annual Technical Conference and Exhibition (ATCE) last month, SPE chose to kick off the event with a panel discussion on deepwater challenges, featuring a mix of officials from government, operators, and service providers. Each offered a different perspective on familiar themes of the safety issues, technical hurdles, and personnel demands involved in deepwater exploration and production.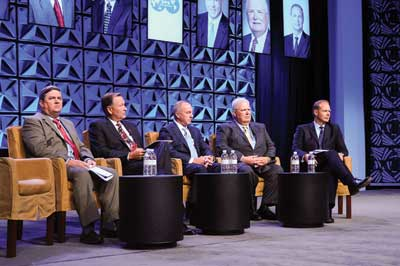 ATCE's opening deepwater panel session included Lars Herbst, BSEE; John Hollowell, Shell; John Gremp, FMC Technologies; Moe Plaisance, Diamond Offshore Drilling; and Richard Ward, Baker Hughes. (Courtesy Barchfeld Photography)
Worldwide deepwater exploration and production will form an increasingly important share of the energy mix in the years ahead, but accessing reserves in challenging environments will require that technology keep pace with growing oil and gas demand, the speakers agreed. Perhaps given that the 2013 event took place in New Orleans, much of the discussion focused on the Gulf of Mexico and exploration in its frontier ultra-deepwater trends, such as Shell's Lower Tertiary Stones prospect in 9,500-ft (2,896-m) water depths, which received a final investment decision this year. Shell is also evaluating its ultra-deepwater Appomattox and Vito prospects, said John Hollowell, executive VP, deepwater, for Shell Upstream Americas.
"The Gulf of Mexico has remained as one of the most important areas of growth and returns for Shell," Hollowell said, while noting that frontier plays will require technological advances in high-pressure/high-temperature equipment and enhanced recovery.
"Wells and subsea systems will be more complex…and more abundant as we go forward," he said. "Enhanced recovery methods, like artificial lift and improved oil recovery technologies, will be needed from first production."
FMC Technologies Chairman and CEO John Gremp explained that his company is developing subsea equipment built to handle reservoir pressures up to 20,000 psi and temperatures up to 400°F (204°C). Deepwater recovery rates, currently about half the rate of onshore recovery, will also have to be increased to meet the estimated 27 MMb/d of additional production needed by the end of this decade, of which 10 MMb/d is expected to come from deepwater.
Noting that "we're faced with a very difficult reservoir and operating environment," Richard Ward, president, completions and production at Baker Hughes, said the industry's goal is to obtain Lower Tertiary recovery rates of more than 20%, compared to the estimated 10% that the fields would yield with natural flow. The industry is putting considerable money behind this and other mid- and deepwater Gulf of Mexico efforts, with annual spending expected to climb to $20 billion by the end of the decade.
Ward also addressed what many see as a looming shortage of qualified workers and the aging of the current workforce.
"As an industry, we need to recruit and train sufficient engineers to not only address the retirement gap, but also to meet future activity levels across all frontiers: deepwater, unconventionals, and brownfields," he said.
Activity in the region has rebounded after taking a plunge in 2010, when the federal drilling moratorium sidelined a number of deepwater drilling programs, said Lars Herbst, Gulf of Mexico regional director at the Bureau of Safety and Environmental Enforcement (BSEE).
"You can see a very robust program of drilling activity in the Gulf of Mexico," Herbst said. "We are expecting 17 deepwater drilling rigs to enter the Gulf under long-term contracts (between now and 1Q 2015)."
Ten deepwater Gulf of Mexico projects have been sanctioned and are in development, while another eight are under appraisal, Herbst said.
"For drilling, there's plenty of opportunity."
This year's conference drew more than 12,000 attendees – the largest turnout in 14 years – along with 552 exhibiting companies representing 17 nations.
Brazil – which is expected to provide an increasingly substantial share of deepwater production over the next several years – was well represented in New Orleans, with several Petrobras officials featured in a special session on the nation's presalt fields. The panel discussion followed a lunch address by Petrobras chief exploration and production officer José Formigli, who also served as the 2013 ATCE general chairman.
Matthias Bichsel, projects and technology director for Shell, will serve as general chairman for the ATCE 2014 conference, which will be held Oct. 27-29 in Amsterdam.
SPE ATCE sees release of new products, services
Halliburton rolls out ICE Core downhole fluid analysis technology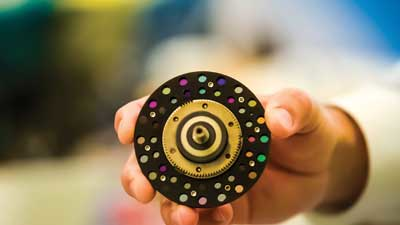 The Halliburton ICE Core ICS20 will take up to 20 ICE Core measurements downhole using a rotating wheel of selected sensors. Light is altered as it passes through a reservoir fluid downhole; Halliburton's ICE Core fluid analysis service uses this optical change to identify chemical components in the fluid. (Courtesy Halliburton)
Halliburton has introduced a downhole fluid analysis service that the company said can identify the presence and proportions of specific fluid components using a light source and specially coated sensors.
The Integrated Computational Element service, known as ICE Core, is used for downhole fluid analysis, including applications in deepwater, exploration, sample validation, fluid analysis between samples, where flow assurance is an issue, when mapping water floods, when determining reservoir connectivity, when determining compositional grading of reservoir fluids, and to see if fluids are changing, Halliburton said.
The technology works via light shining through downhole fluids and then through ICE Core sensors. Each sensor is programmed to recognize the chemical nature, or "optical fingerprint," of a specific fluid component, such as methane, ethane, propane, aromatics, saturates, or water. Measuring the intensity of light passing through any one sensor indicates the presence and proportion of a particular chemical component within the overall fluid.
Wade Samec, senior product champion in Halliburton's formation testing and sampling business line, said that while optical testing has been conducted in laboratories "for decades," the capacity to receive fluid analysis results in real time could greatly reduce the time spent waiting for lab results, especially for operators in remote locations. The company has conducted "over a dozen" field tests offshore, he said.
In addition to the six sensors now available, Halliburton researchers are working on ICE Core technology capable of recognizing fluid components such as carbon dioxide, asphaltene, resins, synthetic-based mud filtrate, and hydrogen sulfide. The system is part of Halliburton's proven Reservoir Description Tool, or RDT tester.
Schlumberger releases MicroScope HD imaging-while-drilling
Schlumberger has released its MicroScope HD high-definition imaging-while-drilling service. MicroScope HD provides logging-while-drilling (LWD) imaging for reservoir description to enable detailed fracture characterization and completion optimization in conductive drilling fluids for all well types, including horizontal and highly deviated wells.
The MicroScope HD service enables detailed formation structural modeling to identify fracture orientation that contributes to production, Schlumberger said. An understanding of how formations are deposited is further enhanced through sedimentology analysis.
For fracture characterization, MicroScope HD delivers dimensions of fractures, which provides geologists a better understanding of the fracture network. MicroScope HD was field tested in reservoirs in the Middle East, Europe, and Africa, as well as unconventional reservoirs in North America.
Expro rolls out HawkEye prototype, new packer, downhole test tool
Oilfield services company Expro featured new equipment at this year's SPE ATCE exhibition, including a prototype HawkEye V downhole video camera, the BigCat Packer, and ExACT (Expro Annulus-Operated Circulating and Test) tool.
The HawkEye V camera can withstand temperatures as high as 300°F (149°C) and provides bi-direction side view rotation/scan, with enhanced quality pictures and software, the company said.
The DST BigCat packer is a single-trip retrievable alternative to seal-bore packers in high-pressure/high-temperature wells. And ExACT combines downhole shut-in and circulating functions to 15,000 psi (103 MPa) and 450°F (232°C) temperatures.
Archer shows off new GoM storm plug
Archer unveiled STORMLOCK, an ISO 14310 V0-rated gas-tight storm plug for the Gulf of Mexico. The technology includes 10,000 psi rated ball valve qualified in accordance with ISO 28281.
"STORMLOCK…is engineered to support up to 300 metric tons [330 tons] of pipe and its enhanced seal technology provides a safe, gas-tight solution for short or long suspension periods, harsh conditions and, of course, storms," said Rolf Egil Håland, president of Archer's well integrity products and Oil Tool Division.
The system does not require weight below to set so it can be applied in shallow, deep, and horizontal sections as well as in non-storm use.
CARBO introduces new proppant technology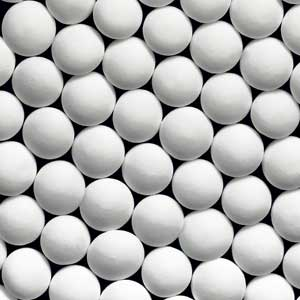 CARBO's new KRYPTOSPHERE proppant. (Courtesy CARBO)
CARBO Ceramics has introduced KRYPTOSPHERE, which the company described as an ultra-conductive, ultra-high strength proppant technology engineered to maximize and sustain hydrocarbon flow at high closure stresses for the life of the well.
Developed in response to a request from a major operator in the Gulf of Mexico, CARBO said that KRYPTOSPHERE can deliver more than twice the baseline conductivity of bauxite-based, high-strength proppants at 20,000 psi closure stresses.
CARBO said the new product's precision-engineered microstructure provides a stronger, more spherical, and more uniform proppant that creates more space in the fracture and a more uniform flow path.
The proppant is "well-suited for the production enhancement demands of deepwater lower-tertiary, high-stress wells and other wells with these stringent conditions," said CARBO president and CEO Gary Kolstad.
Tendeka launches wireless intelligent completion technology
Tendeka launched its SigNet Wireless Intelligent Completion technology at ATCE in New Orleans.The technology introduces an interval control valve and has downhole power generation capability to extend battery life, said Tendeka.
"Today's intelligent completions must be linked back to the surface and to date this is generally achieved via multiple hydraulic lines, electric control line, or a combination of the two," said Ken Miller, Tendeka VP for North and South America. "Wireless solutions open up new applications, providing solutions for multi-lateral wells, existing wellbores, and open-hole sections."
SigNet Wireless Intelligent Completion Technology, which can be retrofitted to existing well architecture, provides a cable free combination of measurement, inflow control and downhole power generation "which truly enables direct in-lateral flow control for the first time," Miller said.