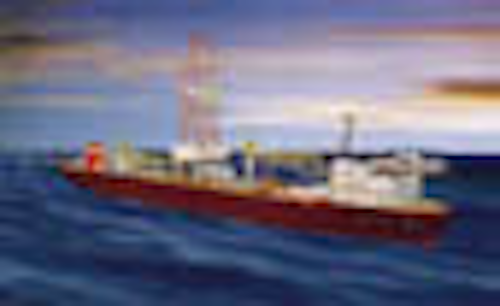 Gusto expands on Pelican design for 10,000 ft depths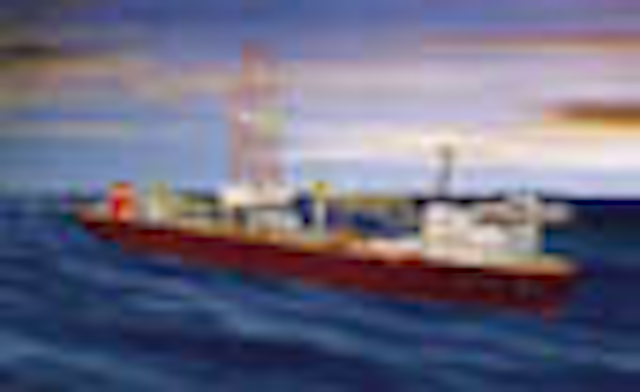 Artists inpression of the Gusto 10000 drillship
Bountiful harvests from deepwater drilling campaigns are whetting contractors' appetites for new concept drillships. Transocean, Reading & Bates, and Statoil have commissioned newbuilds from yards in Spain and Korea, three of which offer dual drilling capability.
Now two more contracts are in the offing, based on a design evolved over the last 25 years by Rotterdam-based IHC Gusto Engineering. Gusto launched its dynamically positioned Pelican concept in 1972, working on a total of 10 units until the downturn that hit the drilling sector in 1986.
The timing for the next-phase Pelican, 1985, proved to be unfortunate. The unit was designed to work in 7,500-ft water depths, had DNV approval, and was successfully tank model tested. The unit's motion behavior in medium and long periodic wave seas bore up favorably against standard drilling semisubmersibles of that period. But, new drillships were simply not on the menu.
Now that the market has revived so spectacularly, Gusto has also revived and revamped the concept for 10,000 ft operations currently prevalent. An alternate version has also been devised to handle extended production and storage. Gusto is an old hand at this market too, having designed numerous FPSOs, either newbuilds or tanker conversions.
The new concept drillship, the Gusto 10000, with increased freeboard, can maintain station with minimal downtime in sea conditions of 6-meter significant wave height, compared to 4-meter maximum for most existing drillships. The vessel's increased depth augments safety in high seas model tests have confirmed its stability and motion behavior, which is comparable to that of existing semisubmersibles.
Layout of the vessel reflects current thinking on safety, with a clear separation between drilling areas, production areas, accommodation and the engine room. Gusto has also allowed for increased safety for BOP handling at high cellar deck level above the water face.
To limit the effect of pitch, the drilling derrick .is located at the vessel's minimum vertical motion point. A dual Ramrig installation can be slotted in, but other state of the art drilling packages can also be integrated to achieve optimum operational layout and minimum pollution levels.
Gusto's Wilhelm Schoonmade estimates 25% lower power consumption for the Gusto 10000, compared with tanker-based drillships - typically 8MW in a 10-year storm - due largely to its more efficient hull form and improved station keeping.
An extension to this concept is also being offered, known as the Gusto P-10000. This version of the drillship can also handle extended well tests and early production, as well as providing 125,000-bbl storage capacity. Storage tanks and process facilities are situated at the vessel's aft, again at a safe distance from drilling and production areas.
Construction capex for these two concepts is said to be lower than for larger FPSO-type units. A Korean yard quoted $165 million for the Gusto 10000 and $190m for the P 10000, both excluding drilling equipment. This is less costly than Transocean's Discoverer Enterprise, which is a larger drillship. The Gusto 10000 could also be realized via a partial conversion, based on the use of an existing double wall midbody section of 120 meters.
Gusto is confident that a newbuilding order will result soon from two recent design contracts for American and European drilling contractors, both of which expect to secure long-term drilling contracts.
---
750-ton cylinder lift concept chosen for Shell semi conversion
Stena has selected Hydralift's new HydraRig for its deepwater drilling semi Stena Tay. The unit is due for delivery in July 1998. The NKr300 million order represents by far the most valuable yet won by the Kristiansand-based company, which supplies drilling equipment, cranes and heave compensation systems.
HydraRig embodies the new cylinder lift rig concept developed over some time by Hydralift. The unit is capable of lifting 750 tons on a whole stroke. Incorporating three rams instead of the customary two, the rig can maintain operations at reduced capacity, even when one ram is out of action for maintenance or breakdown reasons. The concept has been very positively received by the market, Hydralift claims.
The Stena Tay is being converted from the former Safe Gothia flotel at the Keppel FELS yard in Singapore. The Tay has been awarded a long-term contract - five years, plus a five-year option - by Shell. If this option is exercised, the full value of the contract could be $650 million, equivalent to an average dayrate of $178,000.
Conversion is now under way with the removal of the four existing thrusters. One of the main changes will be the elongation of the pontoons and the addition of another column. Dynamic positioning capability will also be installed.
Shell has contracted the rig for its deepwater requirements. Deepwater provinces it is currently active in include Angola, Congo, Cote d'Ivoire, Nigeria, the Philippines, and the North-West Atlantic. It is also negotiating for deepwater acreage off Brazil. Stena Tay will be capable of drilling in water depths up to 2,300 meters, with a drilling range of up to 9,200 meters total depth. It should be delivered toward the end of 1998, and ready for operation in 1999.
---
Copyright 1997 Oil & Gas Journal. All Rights Reserved.