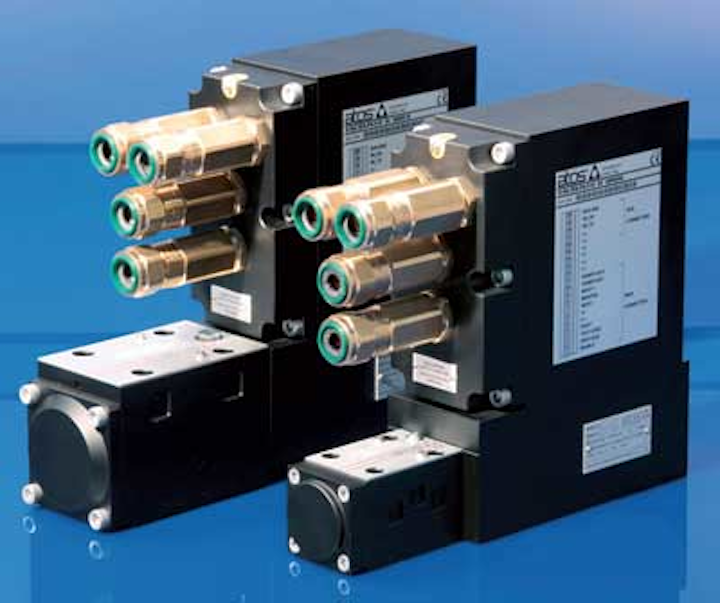 Electrohydraulics is the most widely used control technology in top drives; skidding and chain jack hydraulic systems for offshore drilling platforms, and hydraulic stabbing arms for drillstring mating.
According to Atos, based in Sesto Calende, northern Italy, these applications require increasingly advanced automation, high levels of reliability, and capability to deliver operational cost reductions. Additionally, there is a need for a high level of safety in any classified hazardous areas in compliance with international regulations.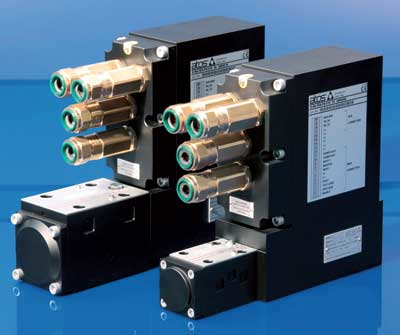 Closed loop directional controls for top drive drilling and automated drillstring connections.
Atos' entire range of electrohydraulics components is available ex-proof, and certified to ATEX Directive 94/9/CE, Group II, for surface applications including ISO 6020-2 cylinders and fixed vane and variable displacement piston pumps.
Ex-proof valves, the company says, ensure optimum force/stroke performance with only an eight or 12 W power supply, and are available in on/off and proportional configurations for directional, pressure, and flow control applications. They are certified to ATEX, UL, IECEx or ROSTECHNADZOR norms, and to SIL 3 Safety Integrated Level according to IEC 61508.
Low-temperature versions are designed to withstand ambient temperatures down to -40°C (-40°F), close to the limit for hydraulic applications.
Atos' Scoda division designs and manufactures customized hydraulic power units. These are equipped to withstand aggressive offshore environments through use of insulated cabinets, zero leakage connections, and special painting treatments adapted for offshore requirements.
Power units and systems are supplied with a technical handbook, including all documents an operator needs to speed commissioning procedures.
One typical application for electrohydraulics is the top drive drilling operation in the derrick, incorporating stabbing arms that automatically mate the drillstring. Here the automation is performed by Atos ' new servoproportional valves equipped with ex-proof onboard electronics.
Integration of digital electronics to the ex-proof valves facilitates management of standalone closed loop controls and remote communication with the central control unit for command signals and diagnostic only, through CAN-Bus or PROFIBUS interfaces.