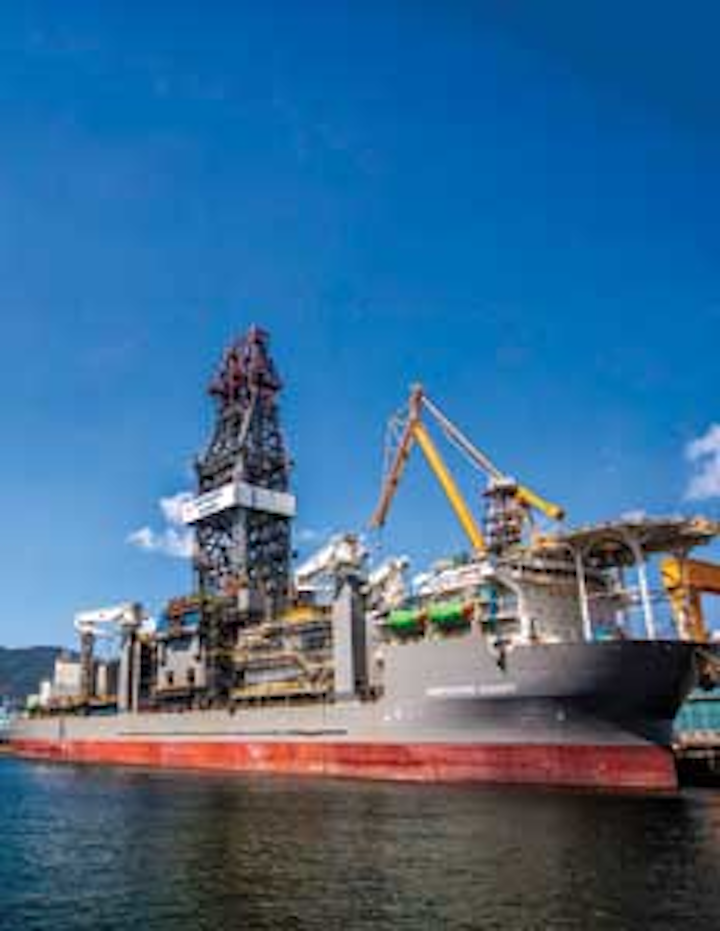 Russell McCulley
Senior Technical Editor
Despite a number of new discoveries around the world, rising development costs, some notable project delays, and questions about equipment delivery are shaping up to make 2014 a somewhat more cautious year for the offshore energy industry. Among drillers, utilization and day rates remain healthy. But a growing sense that operators are looking to cut costs, coupled with increasing bifurcation between higher and lower specification rigs point to some potential weakness in the months ahead.
A December 2013 report from International Strategy & Investment Group (ISI) noted a "stronger than expected" jackup market in that year, but warned of "the opportunity for more negatives than positives (in 2014) with further downside risk fordeepwater and ultra-deepwater day rates and utilization as well as a potential peak in jackup day rates."
This year, a number of newbuild deepwater drilling rigs will enter "a market exhibiting somewhat inconsistent demand," which could mean more idle time between jobs and "a greater chance of aggressive pricing tactics," ISI said. The investment research firm noted that the much-discussed bifurcation between higher spec and lower spec ultra-deepwater rigs - often referred to as 5th and 6th generation units - was beginning to materialize, with the potential for weaker demand for lower spec rigs. While leading day rates remain high, at around $550,000, that trend could stall or reverse in 2014 "if rig availability continues to increase and the downside case for deepwater and low spec (ultra-deepwater) rates unfolds," the report said.
Drilling contractors have responded to the evolving market by upgrading and standardizing fleets, and in some cases, reducing inventories of lower spec units, as with Transocean's 2012 selloff of shallow-water rigs to startup Shelf Drilling, and Noble Corp.'s plans to spin off 44 lower-spec drilling rigs into a separate company by the end of this year.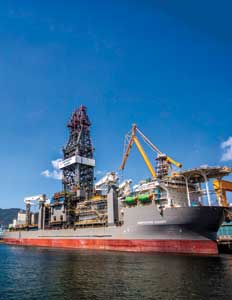 Deepwater Asgard">
Deepwater Asgard, pictured at the Daewoo Shipbuilding and Marine Engineering yard in Okpo, Korea, is one of seven newbuild Transocean ultra-deepwater drillships under construction. (Photo courtesy Transocean)
•••
The names on the accompanying list of theTop Ten drilling contractors by number of rigs are the same as last year's, and largely in the same order, with the exception of China Oilfield Services Ltd. (COSL), which jumped from the ninth to the sixth spot as a result of new orders and purchases of both existing rigs and rigs under construction, says Tom Kellock, an offshore rig consultant with IHS who prepared the chart. The number of rigs under construction continued to grow, up by four over last year for a total of 70, driven by a number of new high spec jackup orders.
"The most dramatic surprise for us in 2013 was the significant rate of orders for jackups," said Brad Handler, managing director of oilfield services research at Jefferies & Co. There were 81 jackups ordered in 2013, "far surpassing any other year in recent history," he says. "There was a dramatic increase in orders for Chinese yards, and a lot of speculative interest driving that in and around China and Southeast Asia."
While some have warned of a bifurcation in thejackup market similar to that occurring in the floater sector, Handler is largely positive on the prospects for the existing fleet.
"It does seem that it will hasten the retirement of some of the older rigs," he said with regard to the influx of high spec newbuilds in coming months. "But I think it will be case specific. There are plenty of cases out there of the older rig that's very well suited for the work it is doing: very shallow water, it's not drilling deep-in other words, it's not very complicated work. I think those rigs will continue to work, whether it's Saudi or India or another spot. But yes, that many more newbuild rigs coming in will drive the retirement of rigs that are maybe not quite as well suited, not quite as fit for purpose."
Jackup demand in spot markets around the world could help sustain day rates throughout 2014 and into 2015, he adds.
Day rates and utilization have held steady in thedeepwater and ultra-deepwater markets. But the rate of contracting has slowed in recent months, leading to some concern about the prospects for lower-tier floaters in particular.
"Even newbuilds, which in many cases seem to have gone through the rounds of negotiations to get them placed and working, but there seems to have been less signing on the dotted line than we would have expected," Handler said. "So it's creating some concerns about the ultra-deepwater market that had not existed a year ago, or even six months ago."
Still, he is reluctant to declare a significant split in the floater market. "In deepwater, we're expecting a bit more of a spread across different capabilities," he says. "Bifurcation is not quite the right word; I think it's just more nuanced. We may see the highest assets keep their current rates, but more of a spread across capabilities, which is a sign that there is more choice.
"We would expect to see some weakening among 3rd gen, 4th gen, maybe 5th gen rigs."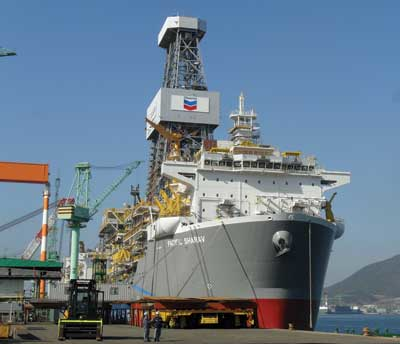 Pacific Drilling will take delivery of the ultra-deepwater drillshipPacific Sharav, pictured, and the Pacific Meltem from Samsung Heavy Industries in 2014. Another newbuild, Pacific Zonda, is scheduled for delivery 1Q 2015. (Photo courtesy Pacific Drilling)
•••
In conference calls with analysts last November, Transocean officials emphasized that the company is banking on the soundness of the long-term market while the industry undergoes some the risk of some softening of utilization rates and day rates. The biggest drilling contractor that month announced contracts with Keppel FELS for the construction of five Super B 400 Bigfoot class jackups, with delivery starting in 1Q 2016. Each contract carries an option for an additional jackup.
Transocean also announced a five-year contract with Chevron for an as-yet unnamed ultra-deepwater drillship to be built by Daewoo Shipbuilding and Marine Engineering (DSME) in South Korea, where the company has six other ultra-deepwater drillships under construction. Construction of the Chevron-contracted rig is scheduled to begin in 4Q 2014 with delivery slated for 2Q 2016. The new vessel will feature dual-activity drilling technology, two 15,000 psi blowout preventers, and a hook load capacity of 2.5 million pounds. The new drillships will be outfitted to operate in 12,000-ft (3,658-m) water depths. Two of the seven ultra-deepwater drillships are scheduled for delivery this year:Deepwater Asgard, which has been contracted to an unidentified operator for work in Indonesia, and Deepwater Invictus, which BHP Billiton plans to put to work in the US Gulf of Mexico in the third quarter.
"Our continued investment in high-spec floaters and jackups reflects our belief in the long-term fundamentals of our business, as our customers continue to focus on reserve replacement to provide the hydrocarbon energy the world needs," said Transocean CEO Steven Newman. "While the ultra-deepwater market is experiencing some near-term uncertainty, and this is having an adverse impact on the demand for lower specification assets, we believe the situation is temporary, and that the market will fully absorb the uncontracted newbuilds entering the fleet and the existing rigs rolling off contract."
Noble Corp. announced contracts for two ultra-deepwater drillships scheduled for delivery this year:Noble Sam Croftand Noble Tom Madden, which are under construction at Hyundai Heavy Industries (HHI) in South Korea. The vessels will work for Plains Exploration & Production in the US Gulf of Mexico under three-year agreements. Last year, Noble took delivery of the Noble Don Taylor, under contract to Shell in the Gulf of Mexico, and Noble Bob Douglas, which at press time was drilling two wells for Anadarko off New Zealand en route to the Gulf of Mexico. All four drillships are of the Gusto P10000 design.
The company has launched also a newbuild program of high spec jackups, with three scheduled for delivery this year and a fourth to be deployed in 2016 for Statoil in the North Sea. The harsh environment Cat J rig, capable of operation in 150-m (492-ft) water depths, will work at the Mariner project east of the Shetland Isles.
Just before the close of 2013, Ensco took delivery ofENSCO 121, the second in its ENSCO 120 series of four harsh environment jackup rigs. Built by the Keppel FELS yard in Singapore, the rig has been contracted to Wintershall for work in the Danish and Dutch sector of the North Sea. The first jackup in the series, ENSCO 120, went to work for Nexen in the North Sea in December; ENSCO 122 is scheduled to begin a two-year contract with Dutch explorer NAM in 4Q 2014. The fourth rig in the series, ENSCO 123, is scheduled for a 2Q 2016 delivery.
The new jackups are enhanced versions of the KFELS Super A design, capable of operating in 400-ft (122-m) water depths and drilling up to 40,000 ft (12,192 m). The rigs feature high-capacity cantilever envelopes and a 2.5 million-lb quad derrick.
The company has an additional jackup under construction,ENSCO 110, based on the Keppel FELS B Class Bigfoot design and scheduled for an early 2015 delivery.
In September, Ensco took delivery of the ultra-deepwater drillshipDS-7, which is contracted to Total in Angola for three years. The company will receive the DS-8, an enhanced version of the Samsung GF12000 design, this year, and another two vessels in the series by the end of 3Q 2015.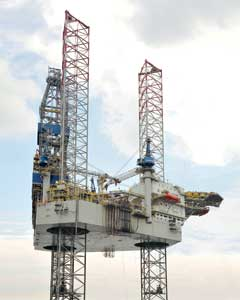 Noble Mick O'Brien">
Noble Mick O'Brien, delivered last August and working in the UAE, is the first in a series of six JU3000N high spec jackups to be delivered to Noble Corp. by the end of 2014. (Photo courtesy Noble Corp.)
•••
Seadrill Ltd. has perhaps the most ambitious newbuild program among the major drilling contractors, with nine drillships, two harsh environment semisubmersibles, and 11 high-spec jackups under construction. In 3Q 2013 alone, the company ordered four ultra-deepwater drillships and two jackups, and secured a majority stake in Sevan Drilling and management of its four cylindrical floating drilling units, one of which is under construction.
Seadrill CEO Per Wullf, speaking to analysts in November, said signals that some operators were reigning in capital budgets represent a "momentary pause" rather than long-term pressure on the drilling sector.
"We need to remember that from the time of contracting a newbuild unit to delivery is typically from 2.5 to three years," he said. "We invest capital with this time frame in mind, and the current slowdown in upstream spending does not change our long- term growth plan. Long-term fundamentals are still intact."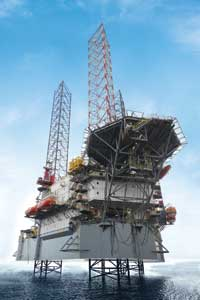 ENSCO 120">
ENSCO 120, the first of four newbuild harsh- environment KFELS Super A jackups, went to work for Nexen in the North Sea in December. (Photo courtesy Ensco)
Houston-based Diamond Offshore Drilling last year placed an order with HHI for a Moss CS60E harsh-environment semisub, bringing the company's fleet to a total of 45 units, including four ultra-deepwater drillships and two additional semisubmersibles under construction. The new semi, capable of drilling in 10,000-ft (3,048-m) water depths, is to be delivered in late 2015 and will start work for BP off the southern coast of Australia.
Diamond expects to receive three of the newbuild drillships this year:Ocean BlackHornet and Ocean BlackHawk, which will work in the US Gulf of Mexico for Anadarko, and Ocean BlackRhino. The fourth drillship, Ocean BlackLion, is scheduled for a 2015 delivery. The semisub Ocean Onyx, built at the Keppel AmFELS yard in Texas from the hull of an existing cold-stacked unit, was scheduled to enter service for Apache Corp. in the US Gulf of Mexico this month. Ocean Apex, under construction at Jurong shipyard, is also expected to enter service in 2014.
In November, CEO Lawrence Dickerson said shipyard delays due to "equipment delivery challenges" had pushed back the delivery dates of some units.
Equipment bottlenecks also slightly delayed Rowan Companies' entry into the floater market, with the first of four newbuild ultra-deepwater drillships,Rowan Renaissance, expected to enter service for Repsol offshore West Africa in mid-April, rather than late March. Two more drillships are scheduled for delivery in 2014: Rowan Resolute, under contract to Anadarko, and Rowan Reliance, which will go to work for Anadarko next January. The fourth vessel, Rowan Relentless, is to be delivered in March 2015. All four drillships are of the GustoMSC 10000 design, capable of drilling in 12,000-ft depths. The company operates a fleet of 30 jackups.
The latest addition to the Pacific Drilling fleet, the ultra-deepwater drillshipPacific Khamsin, entered service offshore Nigeria for Chevron in mid-December. This year, the company expects to take delivery of the Pacific Sharav, also under contract to Chevron for work in the Gulf of Mexico, and the Pacific Meltem later in the year. A fourth newbuild, Pacific Zonda, is under construction at Samsung Heavy Industries and is scheduled for delivery in 1Q 2015.
At just eight units, Pacific does not make the list of top drillers by number of rigs. But the fleet of ultra-deepwater drillships is young, and uniformly high spec. CEO Chris Beckett addressed the bifurcation in the deepwater market recently, noting a growing customer preference and "robust" tendering activity for high-capability rigs. "We believe this trend will persist throughout 2014 and beyond," he said.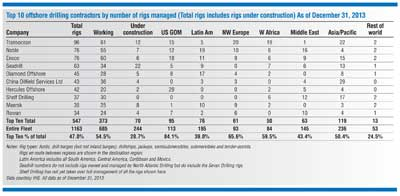 Click to Enlarge