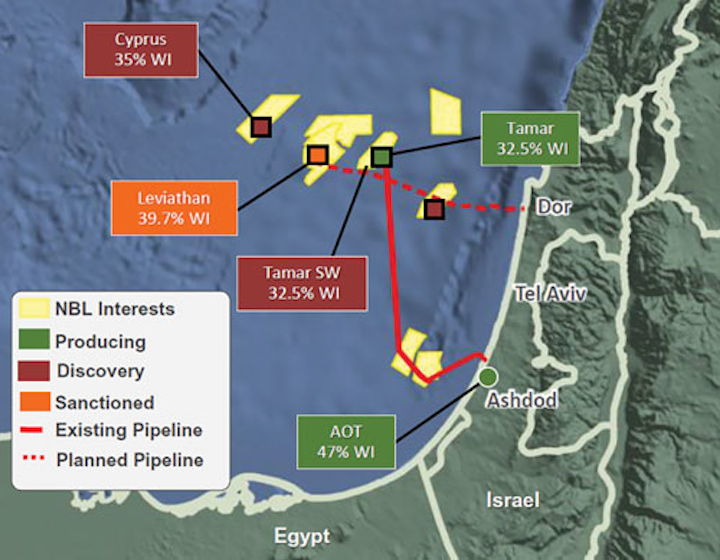 Jeremy Beckman
Editor, Europe
During 2014-16, the Middle East was the only part of the world to weather the oil price shock, according to Bassam Fattouh, Director of the Oxford Institute for Energy Studies. Fattouh, speaking at IP Week in London in February, pointed out that capex for projects across the region declined only nominally during this period and did not translate into a fall in activity, with increased numbers of drilling rigs in fact in operation.
Most of the NOCs, led by Saudi Aramco, have continued to increase spending year on year, he added, apart from Iraq where the rig count has been impacted by US shale. Kuwait plans to spend $12 billion on oil and gas field activity over the next five years; Abu Dhabi will raise its production to 3.5 MMb/d in 2018, with offshore development contributing to most of that growth. In Saudi Arabia, Aramco is laying the foundations for long-term sustainable oil production of 12.5 MMb/d, while continuing to develop its gas sector via incremental projects on very large associated and non-associated gas fields.
This year, Aramco has contracted McDermott International, one of its longest-serving offshore fabricators, to build and install nine new platforms for Safaniya, the world's largest offshore oil field, 125 mi (201 km) north of Dhahran, and another platform for the Zuluf field. One of Aramco's priorities is to step up Saudi involvement in its offshore projects - with this in mind, McDermott has committed to establishing a new fabrication yard at Ras Al Khair. Another example of growing local content is the STAR yard in Dammam port, a joint venture between Saipem and Saudi Enterprises, which late last year completed work on the Marham TP-9 deck, the largest offshore tie-in platform constructed to date in Saudi Arabia.
RasGas, the joint venture between Qatar Petroleum (QP) and ExxonMobil, will likely start up the $10-billion offshore/onshore Barzan Gas project this year, boosting Qatar's gas production capacity by up to 2 bcf/d.
The offshore facilities on the North Field include three wellhead platforms, a living quarter platform and 186 mi (300 km) of subsea pipelines, with a new associated gas processing plant at Ras Laffan Industrial City. However, QP has decided to shake up its long-standing arrangements with various major operators, with RasGas and Qatargas to be combined to form a new company, retaining the name Qatargas, which will operate all of Qatar's LNG ventures.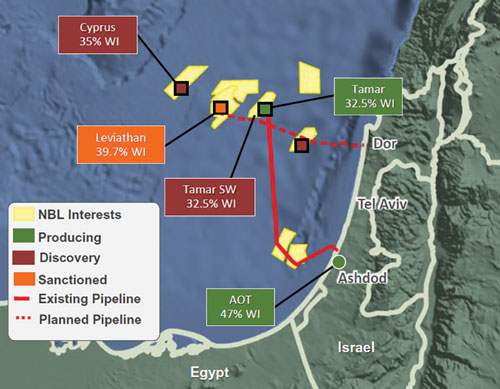 Leviathan field location offshore Israel. (Courtesy Noble Energy)
The companies involved are ConocoPhillips, ExxonMobil, Mitsui, and Shell. And in July, the new North Oil Company will take over operatorship and development of the giant Al-Shaheen offshore oil field from previous incumbent Maersk Oil. This will be a partnership owned 70% by QP and 30% by Total.
Similar moves are under way in the Emirates, where ADNOC has decided to merge Abu Dhabi's two main offshore operating companies ADMA-OPCO and Zakum Development Co. (ZADCO) - both joint ventures with IOCs - claiming synergistic benefits. ADMA-OPCO produces around 650,000 b/d of oil from the Lower Zakum, Nasr, Umm Lulu, and Umm Shaif fields in the Persian Gulf, while ZADCO is in the process of increasing production from the Upper Zakum field from 550,000 b/d to 750,000 b/d.
As of early last month, Total was the sole IOC to sign a heads of agreement for an Iranian offshore development project under Iran's new contract model. The agreement is the first step toward a 20-year contract covering Phase 11 of the South Pars gas field in the Persian Gulf, which Total and the National Iranian Oil Co. plan to develop in two stages. The first, with an estimated price tag of $2 billion, involves drilling 30 wells, connected to two wellhead platforms linked by two subsea pipelines to an existing onshore treatment center. During the second stage offshore compression facilities will be added, depending on reservoir conditions.
In the eastern Mediterranean Sea off Egypt, Eni aims to start production at the end of this year from the giant deepwater Zohr field, 93 mi (150 km) offshore in the Shorouk license. Initial-phase investments are thought to be around $4 billion, with OneSubsea responsible for the subsea production system. Recently Eni brought onboard BP and Rosneft as partners to share the cost burden.
Noble Energy and its partners have sanctioned the $3.75-billion first phase of the deepwater Leviathan gas project offshore Israel. Development includes four subsea wells, each capable of flowing more than 300 MMcf/d, sending their production through two 73-mi (117-km) flowlines to a fixed platform with full processing capabilities, 3.7 mi (6 km) offshore. First gas is targeted by end-2019. Greek E&P company Energean also has Israeli government approval to develop 2.5 tcf from the deepwater Karish and Tanin fields, which it acquired from the Noble-led partnership, via the eastern Mediterranean's first FPSO. To the north, Lebanon's government has reopened the country's first offshore licensing round, with first awards due to be confirmed later this year.
Finally, in the Caspian Sea, BP says construction is nearing completion of the Shah Deniz 2 offshore facilities in the Azeri sector.