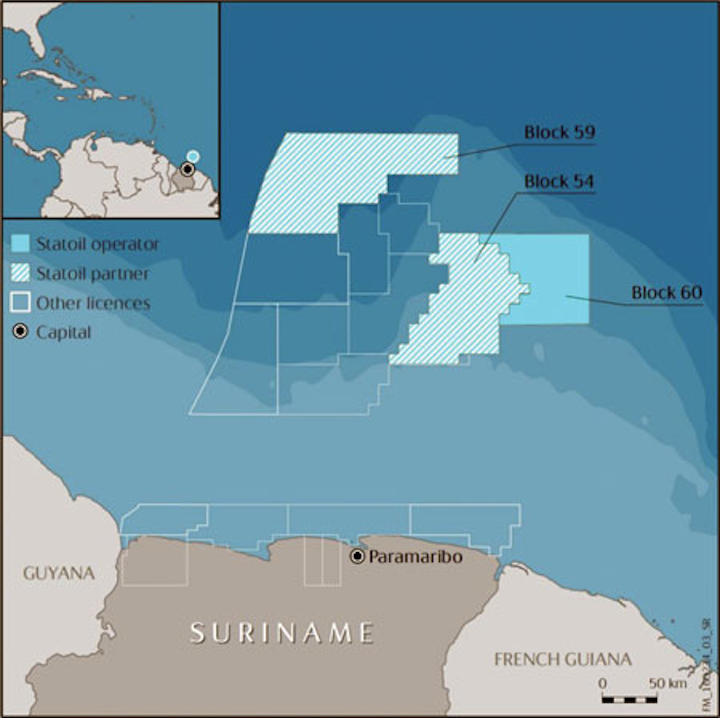 | | | |
| --- | --- | --- |
| | | Jeremy Beckman London |
Construction should start soon of the concrete gravity base structure and drilling facilities for the West White Rose wellhead platform offshore Newfoundland. Operator Husky Oil is aiming for first oil in 2022, with production ramping up progressively as more wells come online to around 75,000 b/d in 2025. Later this year the company plans a new development well for the South White Rose field.
•••
Talos Energy's Zama-1 exploration well offshore Mexico delivered oil down to a depth of 3,380 m (11,089 ft), according to partner Premier Oil, with no hydrocarbons in the underlying Zama Deep target. The well has been suspended as a future producer, and the partners will assess their next steps - Premier estimates oil in place at more than 1 Bbbl.
Petronas has secured operatorship of shallow water block 6 in Mexico's Salinas basin, in a 50-50 partnership with Colombia's Ecopetrol. The block extends across 559 sq km (216 sq mi) and water depths of 30-80 m (98-262 ft).
•••
ION Geophysical has started acquiring Panama's first offshore seismic survey in three decades. The 2D PanamaSPAN program, covering up to 10,000 line km (6,214 mi) will provide the basis for bidders to evaluate the potential of this unexplored area ahead of the country's first licensing round.
South America
ExxonMobil has confirmed a giant discovery on the Payara prospect in the Stabroek block off Guyana, following results of the first appraisal well. Payara-2, drilled in 2,135 m (7,000 ft) of water, 20 km (12 mi) northwest of the Liza Phase 1 development, encountered 18 m (59 ft) of high-quality, oil-bearing sandstone. The operator now estimates recoverable resources from wells drilled to date across the block at 2.25-2.75 Bboe.
In neighboring Surinamese waters, ExxonMobil has secured operatorship of a production-sharing contract for block 59 in the Guyana basin, 305 km (190 mi) offshore and in water depths of 2,000-3,000 m (6,562-11,811 ft). Statoil, one of the partners, was also named operator of block 60 in shallower water, 250 km (155 mi) offshore. This concession is adjacent to block 54, where operator Tullow Oil is due to spud the first exploration well soon on the Araku prospect.
•••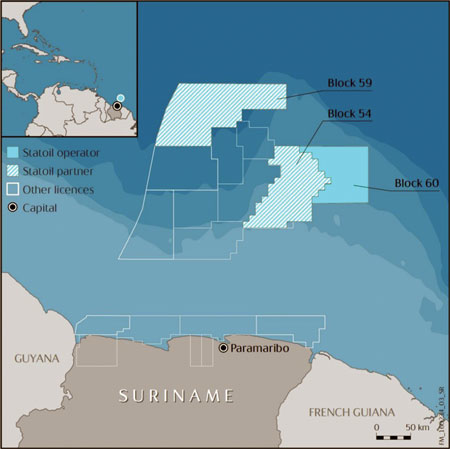 Newly awarded blocks offshore Suriname. (Map courtesy Statoil)">
Newly awarded blocks offshore Suriname. (Map courtesy Statoil)
The Seadrill drillshipWest Saturn will drill one exploration well and conduct a drillstem test for Statoil in the BM-S-8 license in the Santos basin off Brazil, potentially starting in December. The well will target the untested Guanxuma prospect, with the DST designed to assist development planning for the presalt Carcará oil discovery. Seadrill will equip the vessel with a managed pressure drilling system for the campaign.
•••
Seabed Geosolutions, a joint venture between CGG and Fugro, is acquiring a 2,180-sq km (842-sq mi) 3D ocean bottom node survey for Petrobras in the deepwater Santos basin. CGG will process the resultant dataset at its subsurface imaging center in Rio de Janeiro. This is the largest node survey of its kind undertaken anywhere, CGG claimed.
West Africa
Cairn Energy and its partners have concluded this year's deepwater drilling campaign offshore Senegal. The drillshipStena DrillMAX drilled the fifth and final well on the SNE North structure, 15 km (9.3 mi) north of the SNE discovery in the Sangoma Deep Offshore block in 900 m (2,952 ft) of water. The well intersected a 24-m (79-ft) gross hydrocarbon column with lighter oil than in the previous SNE wells. Results indicate broader exploration potential on the block - the partners are now planning for the next phase of exploratory drilling on the Sangomar, Sangomar Deep, and Rufisque PSCs.
•••
BW Offshore has won approval from partner Panoro Energy for its development program for the Dussafu oilfields offshore Gabon. The development calls for two horizontal wells into the Dentale and Gamba reservoirs at the Tortue field, and an appraisal well side track on Tortue's northwest flank. Both producers will be tied back to a leased FPSO through subsea trees and flowlines. First oil should follow during the second half of 2018.
Mediterranean Sea
Greece's Energy Ministry has reportedly issued two tenders for offshore oil and gas exploration off the country's west and south coasts. Earlier this year Athens-based Hellenic Petroleum expressed interest in a block in the Ionian Sea offshore western Greece.
•••
Perenco has acquired OMV's 50% interests in the Ashtart oil field in the Gulf of Gabes offshore Tunisia and in operating company SEREPT - state-owned ETAP is the other partner. Last year OMV's net production from the field averaged 3,000 boe/d.
•••
Petrobel has adjusted the offshore construction program for the deepwater Zohr gas field development in the Egyptian sector. Under a newly awarded $900-million contract, Saipem will install a 30-in. gas export line and an 8-in. service pipeline, and conduct EPCI works related to four wells and installation of umbilicals in up to 1,700 m (5,577 ft) of water, using five of its flagship vessels. The program should be completed by the end of next year.
Middle East
ADNOC is holding talks with existing partners and others interested parties concerning the future of ADMA-OPCO's concessions offshore the UAE, which are due to expire next March. ADNOC plans to split these holdings, covering the offshore Lower Zakum, Umm Shaif, Nasr, Umm Lulu and Satah Al Razboot fields, into two or more concessions with new terms, designed to enhance long-term production. A new integrated offshore company will take on operatorship of these fields and the existing Upper Zakum concession currently operated by ZADCO, with the consolidation due to be completed before year-end.
•••
Saudi Aramco has awarded Saipem an EPCI contract under a long-term agreement. This covers supply and installation of 19 jackets for continued development of the Berri, Hasbah, Marjan, Safaniya, and Zuluf fields offshore Saudi Arabia.
•••
Japanese engineering group Toyo has agreed to work with National Iranian Oil Co. and Petropars on studies to rehabilitate facilities and upgrade gas production at the Salman field complex in the Persian Gulf. Salman, 142 km (88 mi) south of Lavan Island, started producing in 1968, and underwent redevelopment by PetroIran Co. in 1976. At peak in the 1970s, output reached 195,000 b/d, but production has steadily declined. If the studies are successful, Toyo could provide finance for further engineering and procurement.
East Africa
Anadarko has finalized agreements with Mozambique's government allowing it to proceed with designing, building, and operating marine facilities for its proposed LNG project offshore and onshore of the country. The company plans to develop its giant deepwater Golfinho and Atum fields with production sent to a 12 MM tons/yr (13.22 MM t/y), two-train LNG plant.
Australasia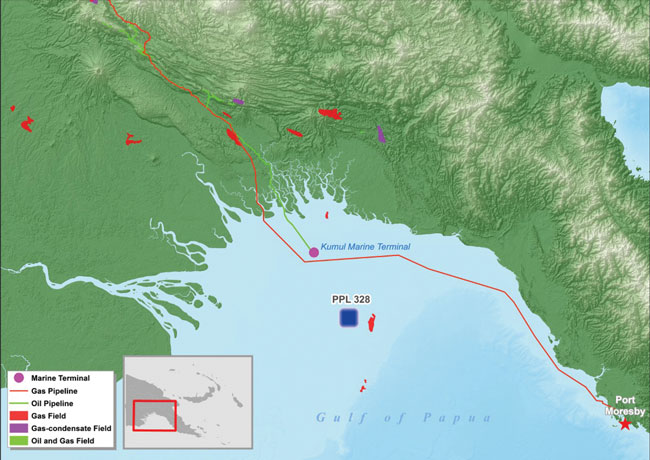 Location of the Pasca field in the Gulf of Papua. (Map courtesy Twinza Oil)
Australian independent Twinza Oil has awarded Baker Hughes a full-stream agreement to support Pasca, Papua New Guinea's first fully offshore oil and gas development. During Phase 1, the contractor will provide Twinza with drilling services, wellheads and pressure control equipment for the fourth and final appraisal well, which may be under way. Assuming a positive investment decision for the project next year, Baker Hughes looks set to provide an integrated gas processing solution from the wells through to point of export. The Pasca field license is in 93 m (305 ft) of water in the PPL 328 lease in the Gulf of Papua.
•••
Shell'sPrelude FLNG vessel has reached Australian waters and will be stationed 475 km (295 mi) northeast of Broome in Western Australia. During the ensuing hookup and commissioning phase 260 local Australian staff will be working onboard the 488-m (1,600-ft) long vessel. Shell expects first cash flow from the project during 2018.
INPEX's FPSOIchthys Venturer should have arrived at the Ichthys gas/condensate field location off Western Australia following a one-month tow from Okpo, South Korea. The 336-m (1,102-ft) long, 59-m (193-ft) wide vessel will store separated condensate produced by the central processing facility Ichthys Explorer, 3.5 km (2.2 mi) away, before offloading it to tankers. Both facilities are undergoing hookup.
•••
Manufacturing has started in the UK and Brazil of the control umbilical and 65-km (40-mi) subsea linepipe for Cooper Energy's tieback of the Sole field in the Gippsland basin to the Orbost Gas Plant in southeast Australia. The company is developing the field with two-near horizontal subsea production wells, to be drilled by the Diamond Offshore semisubmersibleOcean Monarch next March. Another rig was on site recently to perform horizontal directional drilling associated with the shoreline crossing of the offshore gas line and associated control systems.
Indian Sub-Continent
ONGC has discovered hydrocarbons at three new locations offshore western and eastern India. One well encountered gas and condensate within three formations in the SWMH ML lease in the Mumbai Offshore basin. The other wells on two blocks in the KG basin flowed respectively gas and gas/oil, with the latter well (G-29-AL) boosting prospects of a Pliocene-level development.
•••
Wood Mackenzie expects Bangladesh's annual LNG needs to surpass 8 MMt by the early 2020s. The Moheshkali floating storage and regasification unit (FSRU), providing LNG supplied by Qatar's RasGas, should start operating by the end of next year. PetroBangla is considering building a further (subsea) gasline from Moheskali Island to the mainland gas valve in Chittagong. Summit Power and Reliance Power are reportedly also prepared to invest in further FSRUs in Bangladesh.
Asia/Pacific
Woodside Energy has achieved its third gas discovery offshore Myanmar with the Pyi Thit-1 well on block 6 in the southern Rakhine basin. The well delivered a 65-m (213-ft) gross gas column: a subsequent drillstem test indicated strong reservoir pressure support. Woodside and its partners will use the results to assess a potential area-wide development.
•••
Hess has started production from the North Malay Basin full-field development in the Gulf of Thailand, in partnership with Petronas. This covers nine fields in block PM 302 with combined recoverable resources of over 1.5 tcf of gas and over 20 MMbbl of condensate. Facilities include one central processing and four wellhead platforms with 14 shallow production wells, and a floating storage and offloading unit. The location is 300 km (186 mi) offshore the Tregganu Gas Terminal in 55 m (180 ft) water depth.
•••
Rosneft plans to resume drilling next year in the Nam Con Son basin offshore southern Vietnam, with two production wells in block 06.1 on prospective areas of the Phong Lan Dai and Lan Do fields in water depths of up to 190 m (623 ft), 370 km (230 mi) offshore; and an exploration well on adjacent block 05-3/11.
Petronas' Vietnamese subsidiary was due to relinquish blocks 01 and 02 in the offshore Cuu Long basin this month, following the expiry of the 26-year production-sharing contract. The company continues upstream production operations at two blocks in the Song Hong basin in the north of the country.
•••
The Husky-CNOOC Madura joint venture has started production from the BD field gas condensate development in the Madura Strait offshore Indonesia. Main facilities, in 55 m (180 ft) water depth, comprise an unmanned wellhead platform with four production wells - two were onstream at start-up - and an FPSO. Processed gas is tied into the existing East Java subsea pipeline. Work continues on the MDA-MBH and MDK fields, where further shallow-water platforms should start operating in 2019-20. At peak, all three developments should deliver 250 MMcf/d of gas and 6,000 b/d of liquids.