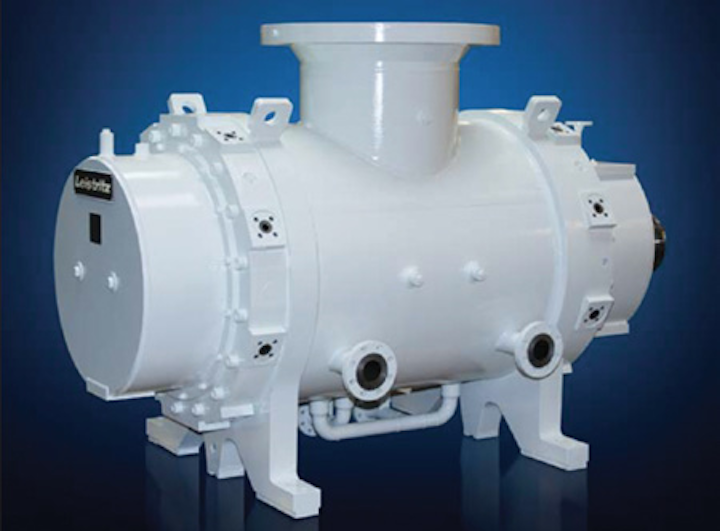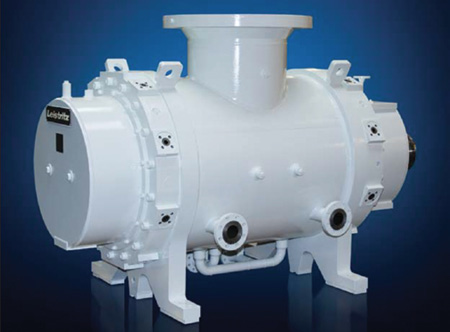 Leistritz says that its multi-phase pumps are built for offshore and subsea applications.
Conventional methods for producing oil and gas can be successfully replaced by a simpler, more economic technology known as multi-phase pumping. Multi-phase pumping does not require separation of oil, gas, or water, so production from the field can be gathered and transported to a central processing area without requiring separate flowlines, separators, heater-treaters, tanks, flares, stock pumps, and compressors.
Multi-phase pumps can handle low inlet pressures, which makes them suited for lowering the flowing backpressure of the well. With many wells, particularly those on artificial lift, substantial gains and accelerated production can be achieved with even a modest drop in back pressure – often enough to justify the investment within a few months.
The advantages of this technology, says Germany-based Leistritz, include a reduction in the size and scope of the platform facility, most notably by moving the well flow to central processing, eliminating facilities. Other advantages include production acceleration, debottlenecking, and increased ultimate recovery.
Leistritz says that its multi-phase pumps are built for use offshore, onshore, or in subsea installations and are available in both a high-pressure and a low-pressure design. They are ideal for a broad range of oil viscosity and emulsions, and work very well with high GOR. The pumps are made to cope with slug flow with no impact on operations; and high gas void fraction as well as wet gas are handled with recirculation of liquids. The compression heat is removed with the liquid and no process coolers are required.

TPS Technitube says that it can supply more than 2 million ft of premium tubing from 1.315-in. to 5½-in. OD pipe.
High-quality OCTG pipe meets the needs of demanding environmental requirements
Today's oil and gas industry is facing a number of challenges at the same time: financial budgets are still tight, operators need to react quickly and flexibly, and the drilling environments are more demanding than ever.
TPS Technitube Röhrenwerke GmbH, Germany's leading producer of high-quality OCTG, says it offers offers solutions to all of these challenges.
With the philosophy of keeping a well-assorted stock as a manufacturer, the company says it helps to greatly reduce the costs for the clients while also ensuring a high degree flexibility in supply.
With more than 40 years of experience, TPS Technitube Röhrenwerke GmbH says it is ready partner with oil and gas companies to help them advance their projects worldwide.
To face demanding environments, TPS Technitube says it keeps sour service grades like T-95 and C-95SS in stock. Their TPS-Multiseal-TS-6 connection is the preferred connection for work- and teststrings. To prove its high performance, it has been successfully tested according to ISO 13679 CAL IV.
The company says it can supply more than 2 million ft of premium tubing from 1.315-in. to 5½-in. OD pipe, and has more than 3,000 pieces of accessories and fittings on hand, including pup joints, X-overs, and flow couplings.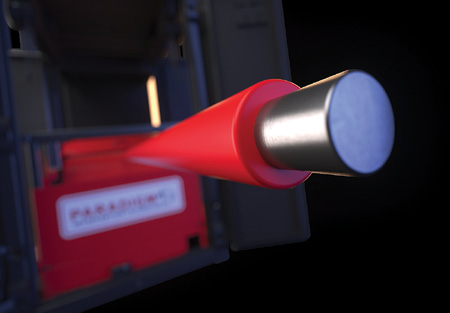 The Slick-E-Line technology combines the operational effectiveness of traditional slickline services with cased hole logging in a single system. (Photo courtesy Paradigm Group)
Advanced well intervention, flow assurance technologies offer enhanced options
Paradigm Group was established in 2009 in Groot-Ammers, the Netherlands, to develop and introduce new technologies targeted for well intervention solutions.
The initial focus of the company was on thermoplastic composites for the purpose of developing high-strength, lightweight cables for well logging and intervention services. From a strong IP position for data transmission through a thermoplastic coated slickline, this capability has led to the innovative Slick-E-Line product, a technology that combines the operational effectiveness of traditional slickline services with cased hole logging in a single, safer and more cost-efficient platform. Slick-E-Line is now fully commercial in key markets around the world.
Since then, the group has expanded with a portfolio now including drilling and flow assurance capabilities, with group companies operating from the Netherlands, Scotland, Houston, Mexico, and Dubai.
Paradigm's latest drilling technology, the Traction Drill Collar, provides forward downhole traction during horizontal drilling operations. This traction provides added weight on bit while dramatically reducing vibration and stick-slip.
The latest Paradigm flow technology, called Flexi-Coil, is said to be the world's first miniature flexible coiled tubing system for pipeline remediation. Flexi-Coil allows crews to unblock and remediate pipelines with a reach up to up 15 km from a platform, replacing what have traditionally been high-cost vessel remediations. Along with Slick-E-Line, Paradigm Intervention Technologies provides DTS/DAS with fiberoptics-based slickline products.