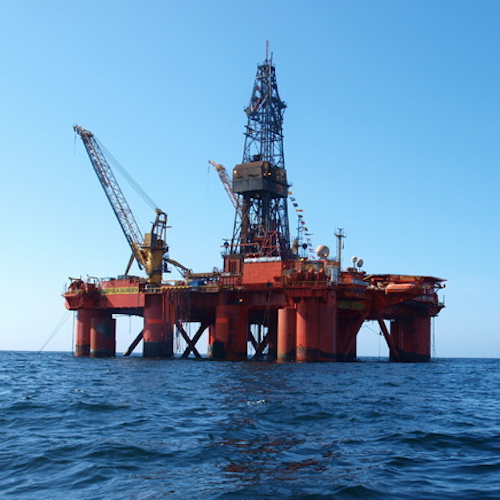 (Courtesy Odfjell Drilling)
Offshore staff
OSLO, Norway – Odfjell's Drilling's semisubmersible Deepsea Bergen is completing an appraisal well on OMV Norge's Iris gas-condensate discovery in the Norwegian Sea.
Well 6506/11-11 S was drilled in 382 m (1,253 ft) of water on production license 644, 20 km (12.4 mi) west of the Equinor-operated Åsgard field and 240 km (149 mi) north of Kristiansund.
Last year's discovery well proved hydrocarbons in the Garn formation in Mid-Jurassic reservoir rocks.
The latest well was designed partly to delineate a possible extension to the southwest. According to the Norwegian Petroleum Directorate, it encountered a 70-m (229-ft) gas column in the Garn formation, including 50 m (164 ft) of sandstone with variable reservoir quality.
Early analysis indicates 4-12 MMcmoe recoverable. The licensees will consider a subsea tie-in to existing installations in the area.
This was the first exploration well on PL644, which was awarded in Norway's APA 2011 round. The previous discovery well (6506/11-10) came on PL644 B, issued in APA 2015.
The Deepsea Bergen will next drill exploration well 25/8-19 S in North Sea license PL820 S for MOL Norge.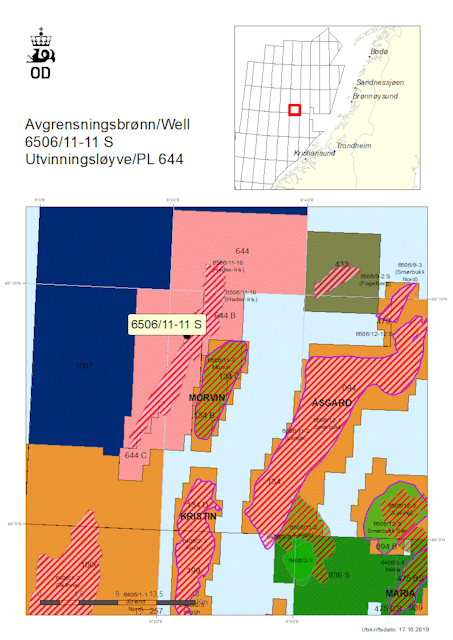 Well 6506/11-11 S was drilled in 382 m (1,253 ft) of water on production license 644 in the Norwegian Sea.(Courtesy Norwegian Petroleum Directorate)

Norway's Petroleum Safety Authority (PSA), which was auditing how OMV, Odfjell, and associated well service contractors were managing planning, risk assessment and drilling performance activities for the latest Iris well, has identified various non-conformities in the program.
These were connected to:
Follow-up and use of the management system (OMV)

Deficient identification of safety-critical spare parts (Odfjell)

Deficiencies in the process for selecting a technical solution (OMV).
In addition, the PSA identified three improvement points:
Overview of training and exercises relating to personnel charged with tasks that protect barrier functions (Odfjell)

Deficient follow-up after acceptance of facility (OMV)

Quality of rig action plan and use of risk matrixes (OMV).
Both companies must report by Nov. 15 on how they intend to address these issues.
10/24/2019