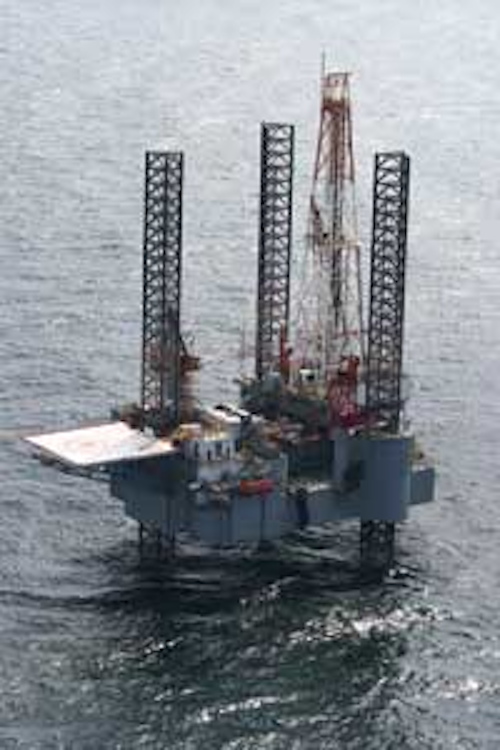 Deepwater rig fleet is on its way to reaching pre-spill levels
Jerry Greenberg
Special Correspondent
It has been about two years since the Macondo blowout, a tragedy that forever changed the way the industry operates in the Gulf of Mexico. The deepwater drilling segment was essentially shut down for nearly a year. Shallow water drilling activity wasn't unscathed, either, as a result of new safety and equipment guidelines. Leasing activity was halted, and it was more than a year and a half until the next lease sale was held in December 2011. Major development projects were stopped in their tracks as operators couldn't obtain drilling permits to continue their development drilling programs. This impacted the number of pipelines that were permitted and installed.
Major service companies changed strategies, either moving more to onshore operations or into international areas when possible. Equipment manufacturers, repair, and maintenance companies were left with little work. Rig catering companies were out of work. The tourism industry was down along the Gulf Coast from Louisiana to Florida. The supply vessel industry didn't see much of a future, either. That is, until BP began hiring thousands of vessels to assist in the cleanup effort, paying extraordinarily high dayrates for all kinds of boats, from platform supply vessels to crew boats, oil skimmers, and fishing vessels.
The deepwater drilling moratorium was officially lifted on Oct. 12, 2010, and many in the industry thought deepwater drilling and production activity would quickly return to pre-Macondo levels, when 33 or so deepwater rigs were operating. However, it was another few months until the Bureau of Ocean Energy Management, Regulation and Enforcement (BOEMRE) began granting drilling permits.
Part of the reason for the delay was the enhanced information requirements in plans of exploration (POE) and application for permit to drill (APD). Early on in the new process, BOEMRE returned drilling applications to operators several times for additional information. This process sometimes lasted months, and only when BOEMRE had all the required information would it even begin the review/approval process.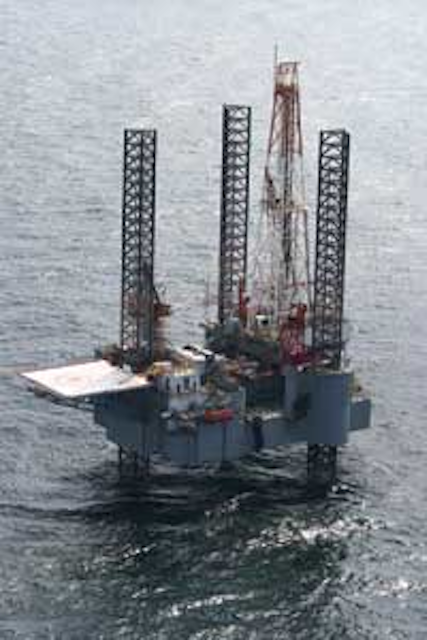 TheHercules 300, a 300-ft water depth mat-supported cantilever rig, is working for Arena Offshore.
A major obstacle to getting drilling permits approved was the requirement for a well containment response system. The goal was to get project developers to provide rapid containment capabilities in the event of an underwater well control event. Drilling permits were not going to be granted without this requirement. As a result, industry had to wait until a containment system was developed and approved by BOEMRE. Two such systems were developed, one by the Marine Well Containment Co. (MWCC), a non-profit company formed by a partnership initially including ExxonMobil, Chevron, ConocoPhillips, and Shell, with BP joining later. A second containment system was developed by Helix Systems. Following the availability of these containment systems, BOEMRE began granting several deepwater drilling permits, the first in late February 2011.
In 2012, BOEMRE was reorganized into the Bureau of Safety and Environmental Enforcement (BSEE) and Bureau of Ocean Energy Management (BOEM). To address the drilling permit issues, among other things, BSEE's proposed fiscal year 2013 includes a budget increase to "support BSEE's efforts to ensure that drilling permit applications are judiciously and efficiently processed."
Learning the nuances
Shell was one of the operators that was able to submit applications with few requests for additional information from the regulators early in the EP (exploration plan) and APD (application for permit to drill) process. The company quickly learned what information was needed to successfully submit applications, and as a result developed the first two post-moratorium deepwater exploration plans (with site-specific environmental assessments), and the first APD issued under such plans.
"We put a strong focus on developing a process that we could standardize and understand exactly what BSEE and BOEM wanted in the applications," said Johnna Van Keuren, Shell's Vice President, HS&E, Exploration and Commercial, Upstream Americas. "After reviewing the regulations and having numerous discussions with the regulators to get clarity on the expectations of the permit requirements, we were able to submit applications that provided the anticipated information without multiple cycles. We made that (standardization) the baseline."
For the deepwater rigs under contract to Shell in the Gulf at the end of the deepwater moratorium, it took on average about 200 days from EP submission to APD approval. "Before the moratorium, that process took about 50 days for Shell," Van Keuren said.
Since August of last year, Shell has received the necessary APD approvals to bring all five of its contracted floater rigs back to the GoM for work. Bringing the final rig back to productive activity was a major milestone for Shell. But over the last several months, Van Keuren noted that APDs required to keep its contracted rig fleet working are typically receiving approval within one week prior to drilling operations. "This just-in-time permitting limits flexibility since it prevents operators from building a backlog of drilling permits," Van Keuren said. "Such a backlog would enable operators the flexibility to respond to well results by changing the order of activities and reduce the potential for rig idle time."
Increasing the time between permit approval and utilization of that permit is a key focus area for Shell in 2012, Van Keuren explained. She added that steps to deliver this include "continuous improvement in the quality of our regulatory submissions as well as starting work earlier than we did prior to the moratorium."
Deepwater drilling increases
The deepwater rig fleet is on its way to reaching pre-Macondo drilling levels, perhaps by the end of 2012 but certainly sometime during 2013. Deepwater drilling activity increased steadily, if slowly, from the time the deepwater containment systems were available for the industry. When the deepwater drilling moratorium was officially lifted, six semisubmersibles and one drillship were working. At the end of February 2011, when the first POEs and APDs were beginning to be approved, seven semis and three drillships were working. Six months later, at the end of July, 12 semis and six drillships were working; and by February 2012, drilling contractors had 15 semis and nine drillships working.
Those figures were expected to continue increasing during the year as nine deepwater rigs, including eight newbuild semis and drillships, are expected to begin operating in the Gulf of Mexico during 2012 and 2013. In fact, during the first quarter 2012, five rigs already were en route to the Gulf, including theNoble Globetrotter I, Pacific Santa Ana, West Capricorn, Ensco 8505, and Stena Forth. Additional rigs scheduled to journey to the Gulf are Dragon Quest, Atwood Condor, Ensco 8506, and Noble Globetrotter II.
With these nine rigs plus the 15 semis and nine drillships working at the beginning of February this year, the deepwater fleet could see as many as 33 deepwater units working by early to mid-2013. Additionally, there still are a few deepwater rigs that could return to the Gulf from international areas, as well as a few rigs still in the Gulf that are currently without contracts.
As the industry returns to normal, individual drilling contractors are seeing rigs move from the idle column to the working column. Noble Drilling, for example, was able to return all five of its active deepwater rigs in the Gulf to their full operating dayrates during 2011. Roger Hunt, the company's Senior Vice President, Marketing and Contracts, noted in a recent conference call that "activity levels are expected to build as the permitting process continues to move closer to normalcy. We are witnessing long- and short-term needs for dynamically positioned and conventionally moored units."
Shifting shelf activity
While the jackup market wasn't hit nearly as hard as the deepwater rig fleet, shallow water drilling contractors still experienced a decrease in activity following the Macondo blowout. For the most part, the number of jackups working ranged between 30 and 35 except for a few months during the summer of 2010, when the number of working jackups fell to the mid-to-high 20s. On Feb. 1, 2012, 35 jackups were working out of a total fleet of 73 units. However, 28 of those rigs were cold-stacked and not marketed for contract, leaving an effective jackup fleet of 45 rigs. Still, Macondo stopped a shallow-water market that was experiencing a significant increase in activity, from 14 rigs contracted in July and August 2009 to a peak of 45 contracted in April 2010, according to Hercules CEO John Rynd.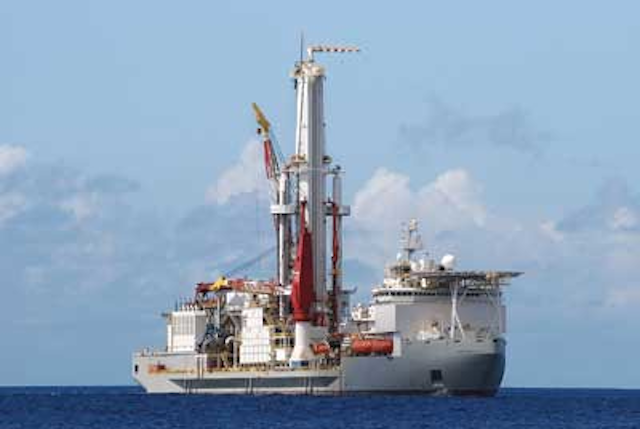 The NobleBully I, delivered from the shipyard earlier this year, is contracted to Shell Offshore under a five-year contract that runs through March 2017.
"That growth was the result of our customers' portfolio shift from dry gas to liquids and oil wells," Rynd explained. "We saw this begin in late 2009 and early 2010, driven by oil prices over $100 per barrel."
In 2006-2010, liquids accounted for about 30% of shelf production, Rynd noted. "Now, over 35% of the Gulf production on the shelf is liquids. Louisiana Light crude was trading above Brent, so it is a nice premium above West Texas Intermediate while trading on parity and outstripping Brent."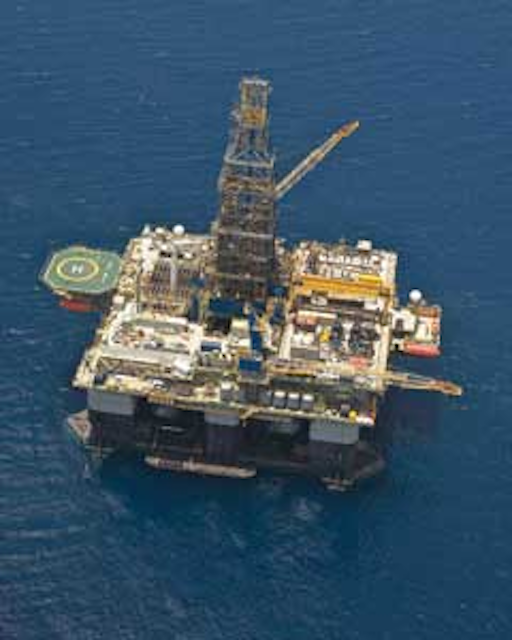 The NobleJim Day worked for Shell Offshore in the first quarter 2012. The rig will drill one well for Deep Gulf Energy in summer 2012 and then begin a three-year contract with Shell.
Rynd also notes that permitting for wells has increased. "We went from a de facto shallow water drilling moratorium where permits were being issued at a very slow pace," he said, "but we've corrected that and drilling permits are beginning to increase."
In 2010, post Macondo, he said, an average of about 13 shallow-water drilling permits per month were issued. This improved to an average of 16 shallow-water drilling permits per month issued during 2011. Through February 2012, the industry has seen almost 40 permits already issued. "So far into the first couple of months in 2012, we are outpacing average permitting levels experienced in 2011, and are on pace to see a similar level of permitting just prior to the imposition of new regulations post-Macondo," Rynd said.
Gulf OCS lease sales return
Not only was the granting of drilling permits halted as a result of Macondo, but Gulf OCS leases sales were canceled until the first sale after Macondo held in December 2011, a year and a half after the blowout. Operators appeared to be champing at the bit for new leases. Western Gulf Lease Sale 218, the firstOffshore U.S. sale since the Macondo blowout, attracted what is probably the highest single bid in any Western Gulf sale. This particular bid also nearly matched a single high bid in a recent Central Gulf Lease Sale, which typically attracts significantly higher bids. ConocoPhillips offered up $103 million for Keathley Canyon block 95, which represented about two-thirds of the operator's total high bids of $157.8 million for 75 tracts, and about 30% of all high bids of $337.7 million submitted during the sale.
Keathley Canyon block 95 attracted a total of seven bids (ConocoPhillips, BP, Hess, Maersk, Shell, Chevron, and Ecopetrol) ranging from $11.5 million to $103 million. Chevron submitted the second highest bid of $84 million while Maersk offered the lowest bid of $11.5 million. BP submitted a bid of nearly $79 million for the block. The block is about 20 mi (32 km) from BP's Tiber discovery in Keathley Canyon block 102 (announced in 2009), which was estimated then to contain more than 3 Bbbl of oil from the Lower Tertiary formation, one of the Gulf's most productive deepwater trends. Partners in that block when the discovery was made were BP, Petrobras, and ConocoPhillips. The Tiber discovery was drilled by Transocean'sDeepwater Horizon semisubmersible.
The next proposed OCS lease sale schedule covering the five years from 2012-2017 includes a total of 15 sales, 12 of which are in the Gulf of Mexico. These include five each in the Western and Central Gulf, and two proposed sales in the Eastern Gulf that are not currently under Congressional moratorium.
US/Mexico agreement
Operators also could soon have additional opportunities to drill in the Gulf's ultra deepwaters that were off limits for many years. On Feb. 20, the U.S. and Mexico signed an agreement regarding the exploration and development of oil and natural gas resources along the ultra deepwater maritime boundary of the two countries. The Transboundary Agreement removes uncertainties regarding development of about 1.5 million acres on the U.S. OCS that is estimated to hold as much as 172 MM bbl of oil and 304 bcf of natural gas.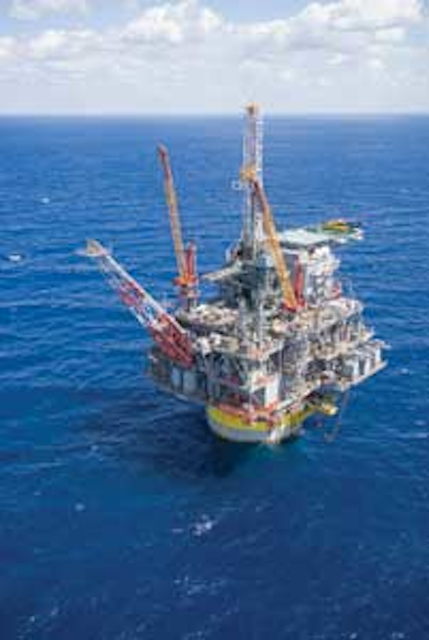 One well at Shell's Perdido platform received a drilling permit late last year.
The agreement establishes a framework for U.S.Offshore oil and gas operators and Mexico's national oil company, Pemex, to jointly develop the transboundary's reservoirs. It opens up resources in the so-called Western Gap that were off limits to both countries under a previous treaty that imposed a moratorium along the boundary through 2014. Under the new agreement, U.S. oil and gas companies and Pemex can voluntarily agree to jointly develop the reservoirs. In the event that agreements can't be reached between the companies, the Transboundary Agreement establishes a process through which U.S. companies and Pemex can individually develop the resources on each side of the maritime border while protecting each nation's interests and resources.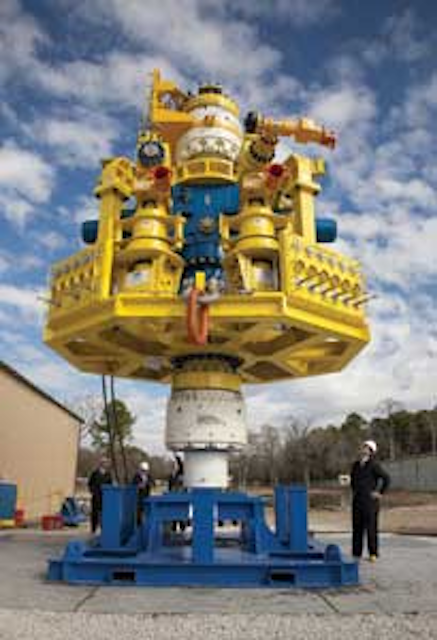 The Marine Well Containment Company's (MWCC) interim containment system includes a subsea capping stack with the ability to shut in oil flow or flow the oil to surface vessels. The system provides containment capabilities in the event of a well control incident in the deepwater Gulf of Mexico. An expanded containment system is being developed and will be available to the Gulf of MexicoOffshore industry this year.
The U.S. and Mexico originally signed the treaty in 1978 and Mexico ratified the treaty a year later. The U.S. Senate signed the treaty but didn't ratify the agreement until 19 years later. The original agreement drew a line through much of the western and central Gulf where claims of the two countries might have overlapped. The original maritime boundary left an opening, dubbed the Western Gap, where the 200 mile claims of neither country reached.
Deepwater developments
From 2012 to 2014, nearly two dozen deepwater and ultra deepwater development projects are scheduled to come onstream. They include, tentatively, 14 projects during 2012, three during 2013 and six in 2014. They range in water depths from about 2,700 ft to more than 9,000 ft (2,743 m). Among the production projects is Petrobras America's Cascade and Chinook fields being produced from the Gulf's first floating production, storage, and offloading (FPSO) vessel. Production began Feb. 25 with the Cascade field in about 8,100 ft (2,469 m) of water. The Chinook field is in about 8,800 ft (2,682 m) of water. TheBW Pioneer FPSO has the capacity to process 80,000 b/d of oil and 500,000 cf/d. The fields will produce from the Lower Tertiary trend. This development originally was scheduled to come onstream in early 2010; however, the deepwater drilling moratorium delayed the drilling of additional development wells. A problem with the riser system resulted in additional delays.
Other projects scheduled to come online during 2012 include Galapagos, comprised of the Isabela (BP), Santa Cruz, and Santiago fields (Noble Energy) in about 6,500 ft of water. Anadarko is scheduling three field start ups this year: its Caesar field, West Tonga and Cheyenne East (in 9,100 ft of water). Among the 2013 starts is Knotty Head (Nexen operator). During 2014, Anadarko plans to begin production from its Lucius field while HESS is anticipating its Tubular Bells field to come onstream; and Chevron scheduled its St. Malo and Jack fields for production start up in this year as well.
MoreOffshore Issue Articles
Offshore Articles Archives
View Oil and Gas Articles on PennEnergy.com