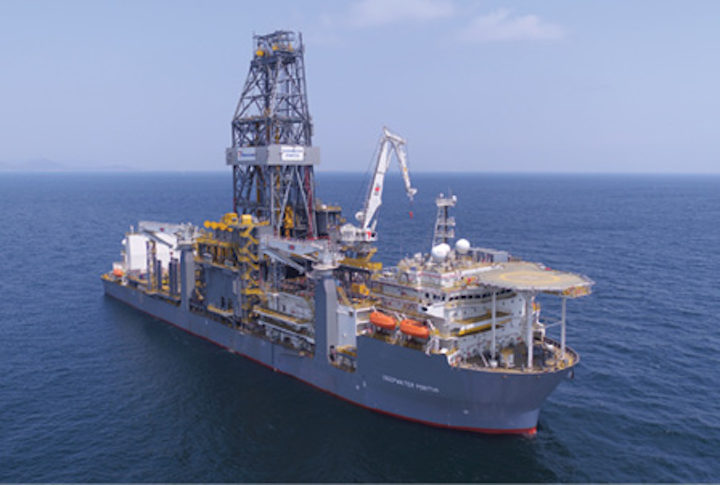 | | | |
| --- | --- | --- |
| | | Bruce Beaubouef • Houston |
US Secretary of the Interior Ryan Zinke has announced that the department is proposing the largest oil and gas lease sale ever held in the US – 76,967,935 acres in federal waters of the Gulf of Mexico, offshore Texas, Louisiana, Mississippi, Alabama, and Florida.
The proposed region-wide lease sale, offering an area about the size of New Mexico, is scheduled for March 2018 and includes all available unleased areas on the Gulf's outer continental shelf. This would surpass last year's region-wide lease sale by about one million acres.
Proposed Lease Sale 250, which will be livestreamed from New Orleans, will be the second offshore sale under the National Outer Continental Shelf Oil and Gas Leasing Program for 2017-2022. It includes 14,375 unleased blocks, located from 3 to 230 mi (5 to 320 km) offshore, in the Gulf's Western, Central and Eastern planning areas in water depths ranging from 9 to more than 11,115 ft (3 to 3,400 m).
"In today's low-price energy environment, providing the offshore industry access to the maximum amount of opportunities possible is part of our strategy to spur local and regional economic dynamism and job creation and a pillar of President Trump's plan to make the United States energy dominant," Secretary Zinke said. "And the economic terms proposed for this sale include a range of incentives to encourage diligent development and ensure a fair return to taxpayers."
BSEE Director offers thoughts at Deepwater Operations Conference
Bureau of Safety and Environmental Enforcement (BSEE) Director Scott Angelle discussed the importance of deepwater Gulf of Mexico E&P at the recent Deepwater Operations Conference & Exhibition in Galveston, Texas.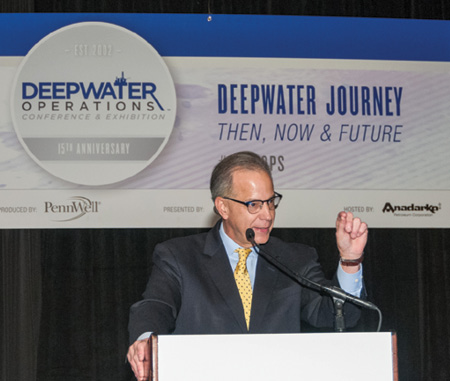 BSEE Director Scott Angelle offered his thoughts on the state of deepwater Gulf of Mexico E&P at the Deepwater Operations Conference & Exhibition in Galveston, Texas. (Courtesy BSEE)
"The offshore oil and gas industry has demonstrated that when faced with challenges in deepwater whether market-based or technology, it continues to innovate and accelerate," Angelle said during his keynote presentation.
David Paganie, conference director, PennWell, and chief editor of Offshore, said: "Director Angelle's remarks at Deepwater Operations were an encouraging reminder that offshore oil and gas has advocates in Washington that seek to galvanize the industry in this challenging market."
The director also recently spent time in Houston discussing current and future deepwater Gulf of Mexico activity in meetings with oil and gas operators and drilling contractors.
"In working toward President Trump's and Secretary Zinke's goal of energy dominance, industry will need to continue to meet the challenges of deepwater development," Angelle said. "BSEE must work to ensure that the outer continental shelf is attractive for investment and that all operations are conducted safely and are environmentally sustainable."
According to BSEE, in 2016, 82% of the US Gulf of Mexico oil production came from wells in water depths greater than 1,000 ft (304.8 m). In 1999, deepwater oil production accounted for 50% of total Gulf of Mexico production.
Ecopetrol, Repsol acquire four blocks
Colombia's state-run oil company Ecopetrol has acquired four new blocks in the Gulf of Mexico for oil exploration.
Ecopetrol will develop the blocks in partnership with Spanish energy company Repsol, which will have a 50% stake through its subsidiary Repsol E&P USA. The Repsol subsidiary will be the operator of the four blocks.
The blocks marked as Garden Banks 77, 78, 121 and 122 were secured during Lease Sale 249, a competitive process that was held by the Bureau of Ocean Energy Management in August.
Through the award, the partners will hold the right to carry out exploration in the blocks for five years at a water depth of nearly 240 m (787 ft).
According to Ecopetrol, the blocks that it has been awarded with are located in areas where the so-called "Blacktail" prospects are located. These prospects are located close to production platforms which would facilitate early production, owing to the potential of connecting with available facilities in the area, should there be a discovery.
Ecopetrol stated that the new blocks are part of its exploratory strategy to boost its reserves and hydrocarbon production, which lists offshore areas as one of its priority areas.
Further, the company said that the addition of the "Blacktail" prospect to the portfolio supports its initiative of concentrating on prospects in proximity to areas with existing infrastructure.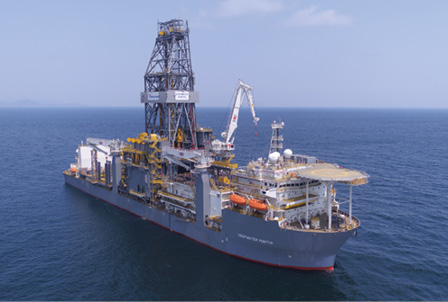 Transocean reports that its newbuild ultra-deepwater drillshipDeepwater Pontus recently began its 10-year contract with Shell in the US Gulf of Mexico. (Courtesy Transocean Ltd.)
Operators sign up for Mexico's round 2.4
Twenty-five companies have asked the National Hydrocarbons Commission of Mexico (CNH) to sign up for the 4th invitation of the 2nd Round Bidding process and the PEMEX farm-out for the Maximino-Nobilis deepwater block. The bid day will be Jan. 31, 2018.
Round 2.4 includes 30 deepwater blocks for exploration in the Perdido area, Salinas basin, Mexican mountain chains (Cordilleras Mexicanas) and the Yucatan platform, covering 70,844 sq km collectively (three times the area for Round 1.4), with prospective resources of approximately 4.228 Bboe, twice as much as the eight blocks awarded in Round 1.4).
Most of the blocks have an area of 2,000 sq km, while some cover 3,000 sq km and one block has an area of 4,400 sq km.
The companies that have signed up include:
• BHP Billiton Petróleo Operaciones de México, S. de R.L. de C.V.
• BP Exploration Mexico, S.A. de C.V.
• Capricorn Energy Mexico, S. de R.L. de C.V.
• Citla Energy E&P, S.A.P.I. de C.V.
• Chevron Energía de México, S. de R.L. de C.V.
• Deutche Erdoel México, S. de R.L. de C.V.
• ECP Hidrocarburos México, S.A. de C.V.
• ExxonMobil Exploración y Producción México, S. de R.L. de C.V.
• Galem Energy, S.A.P.I de C.V.
• Galp Energia E&P, B.V.
• Hess México Oil and Gas, S. de R.L. de C.V.
• Inpex Corporation
• Mitsui & Co. LTD.
• Murphy Sur, S. de R.L. de C.V.
• ONGC Videsh Limited
• Ophir Mexico Limited
• PC Carigali México Operations, S.A. de C.V.
• Petróleos Mexicanos (PEMEX)
• PTT Exploration and Production Public Company Limited
• QATAR Petroleum Internacional Limited
• Repsol Exploración México, S.A. de C.V.
• Shell Exploración y Extracción de México, S.A. de C.V.
• Sierra Nevada E&P, S. de R.L. de C.V.
• Statoil E&P México, S.A. de C.V.
• Total E&P México, S.A. de C.V.