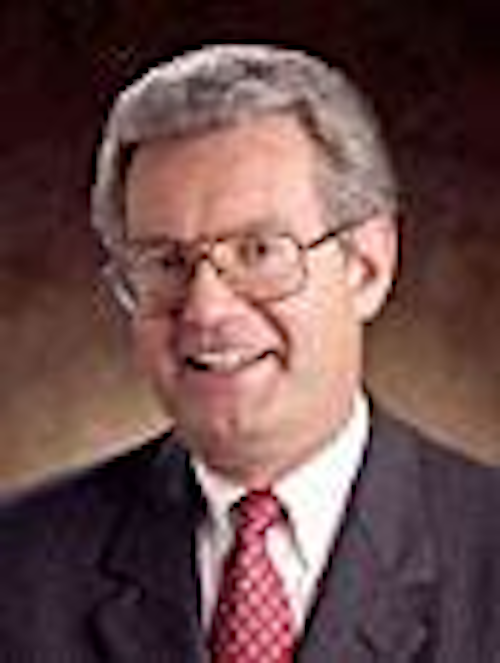 People
Superior named Rickey Boudreaux corporate human resources director. Three human resource managers were also announced: Marine Manager Dwayne Boudreaux, Well Intervention Manager Donna Cummins, and Wireline Manager Mike Teakell.
Albert E. Ferrara Jr. has joined NS Group Inc. as vice president of corporate develop-ment.
Michael McShane has replaced Curtis W. Huff as president, CEO, and board of directors member of Grant Prideco Inc. The company's new management team for its Marine Products and Services Division includes Curtis D. Burton as presi-dent, Earl Broussard as vice president and general manager of XL Systems, Larry Rogers as vice president and general manager of Rotator, Ben van Bilderbeek as CEO of Plexus Ocean Systems and chairman of Plexus Deepwater Techno-logies, Ian Milne as president of Plexus Ocean Systems, and Craig Hendrie as president of Plexus Deepwater Technology.
Kjell E. Jacobsen was appointed CEO for Smedvig ASA.
BJ Services Co. appointed Doug Bell Asia Pacific area manager.
Transocean Inc. promoted Gregory L. Cauthen to senior vice president, CFO, and treasurer.
Panaco Inc. has entered an agreement with A. Theodore Stautberg Jr. to serve as the company's president and CEO.
Cooper Cameron Corp. has named Jack B. Moore as president of its Cameron division.
Sonsub Inc. announced Giorgio Martelli as COO, David Sheetz as regional manager of Sonsub Asia Pacific, Robert Keithbeen as senior vice president of operations and commercial, Greg McCavanagh as senior vice president of engineering, assets, and procurement, Marco Sclocchi as vice president business development, commercial, and contracts, and Frank Sayle as vice president of operations.
Carsten Krogsgaard Thomsen will join Dansk Olie og Naturgas as its CFO.
MainTech Maintenance Inc. appointed John B. Harkins Jr. as vice president for sales and marketing.
TNK International appointed James A. Harmon and Adrian Lajous to its advisory council.
John Wilson is the new chairman of the Emergency Response and Rescue Vessel Association in Calne, UK.
Simone Willats joined Aberdeen offshore training consultants SFL as administration manager.
Gas detection equipment maker Crowcon Detection Instruments named Allan Stamper managing director.
Jeremy Gorick was appointed Joint Managing Director at coatings manufacturer Flexcrete.
Mark Kidder joined A2D Technologies, a well-log data, software, and data management service company, as senior product manager for a new log storage and retrieval product.
Intelligent Controls Inc. announced that James M. Baio has joined the company as vice president of engineering.
Contracts
Kværner Oilfield Products was awarded a contract to install topside and subsea production controls equipment to support the Mariner Energy and Pioneer Natural Resources Falcon project in Gulf of Mexico East Breaks block 579.
Radarsat International signed a five-year, multi-satellite oil spill and oil seep monitoring contract with the Marine Northeast Region of Pemex E&P.
Global Maritime and Fugro have launched a major industry-funded project to investigate problems associated with jackup drilling rig installations at sites where other rigs have operated.
Conoco and Aker Kværner have established a new company, DeepWater Composites AS, to manufacture and sell composite products for deepwater exploration and field development segments of the oil and gas industry. Conoco and Aker Kværner will each hold 50% interest in Deepwater Composites AS.
Westland GeoProjects Ltd. and Bolt Tech-nology Corp. have established a technical alliance, using WGP's engineering and project management services to design and outfit seismic vessels where Bolt is the prime contractor.
EnerSea Transport LLC and Hyundai Heavy Industries Co. Ltd. created a maritime alliance to design and obtain approval-in-principle certification for EnerSea's Votrans compressed natural gas marine transport vessels.
BP Canada Energy Co. and Schlumberger Information Solutions have entered into a five-year E&P information management agreement. The agreement provides for outsourcing to Schlumberger all E&P information management for BP's Canadian gas business unit.
Paradigm Geophysical and Spectrum-Geopex Egypt Ltd. have announced a strategic alliance to provide a range of reservoir characterization and evaluation services with pre-stack depth-imaging services from offices in Cairo, Egypt.
Mergers & Acquisitions
Petronas Carigali Overseas Sdn Bhd acquired outstanding capital stock of Kerr-McGee Indonesia for $170 million. The sale includes Kerr-McGee's 30% non-operating interest in the Jabung block off Indonesia.
Universal Weather and Aviation Inc. has acquired Global Fusion Ed Roy Ltd. commercial weather service.
Energy Resource Technology Inc. acquired a package of offshore properties from Williams E&P for $5.5 million and assumed the pro-rata share of abandonment obligation for acquired interests.
Bollinger Shipyards Inc. has signed a contract to acquire the assets and operations of Halter Marine from Friede Goldman Halter Inc.
Paradigm Geophysical Ltd. shareholders approved a proposed merger in which Paradigm Geotechnology B.V. will acquire 100% of the outstanding Paradigm Geophysical shares.
McDermott's Babcock & Wilcox investment Co. completed the sale of Hudson Products Corp. to Hudson Parent Corp. for $40 million.
Companies
Transocean Inc. plans to separate its GoM shallow and inland water business segment as a publicly traded company.
Ramco Energy will acquire an interest from Duke Energy Services Ireland Ltd. in the Seven Heads gas lease undertaking off the south coast of Ireland.
BG Group completed a pre-emption process for interests in the North Caspian Sea production sharing agreement.
BJ Tubular Services opened a new base in Macaé, Brazil.
Vaalco Energy Inc. has successfully completed the first of three wells planned for the Etame development project offshore Gabon, West Africa.
Devon Enery Corp. reported results of its first drilling program based on 4C-3D seismic technology in the GoM.
Bardex Corp. delivered a 16-line semi-taut mooring system to install on the Shell-BP Na Kika floating production system to be permanently spread-moored in Mississippi Canyon block 474 in the GoM.
Schlumberger has launched three new fully licensed and operational satellite Teleport facilities in Houston, Macaé, Brazil, and Singapore.
BJ Process and Pipeline Services has devel-oped Update, an underwater pipeline data acquisition and transmission equipment system to change critical pipeline hydrotesting of newly laid subsea pipelines.
Halliburton and Landmark Graphics Corp. have consolidated their consulting resources to establish the Asset Performance Consulting group.
Delmar Systems Inc. was awarded a patent for its installation method and apparatus for suction anchor and mooring deployment and connection.
Global Industries Ltd. completed the under-water wet welded structural repairs for BP at Eugene Island block 273B.
Emerson Process Management's valve automation division received approval of the European community's pressure equipment directive. The company also received a contract to supply 42 gas/hydraulic valve actuator packages for the Shurtan Booster Compressor Station project in Uzbekistan.