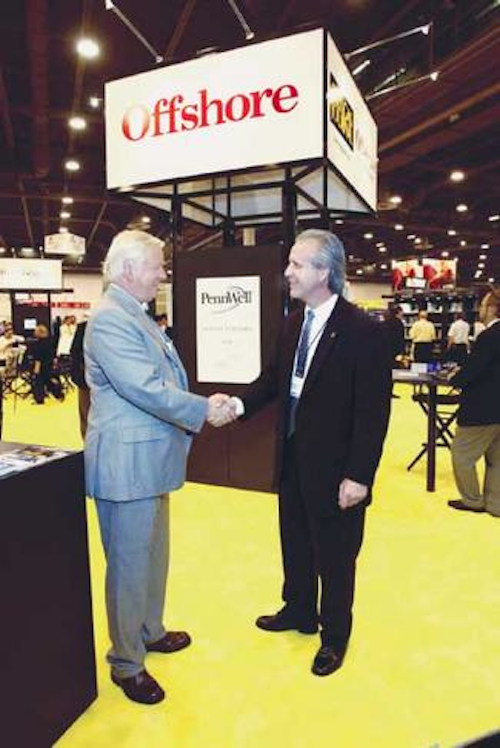 Jaime Kammerzell Associate Editor
People
PennWell awarded the following presenters at the seventh annual Offshore West Africa Conference and Exhibition, held in Windhoek, Namibia, recently.Gbenga Ajenifuja,Esso Exploration and Production Nigeria Ltd., won the young author award for Erha System Integration Test – Case Study. Thierry Romanet,Metravib RDS, won the technical content award for Temperature, Fatigue Monitoring of the Girassol Riser Towers and Export Lines. Agnes Jikelo,Petroleum Agency SA, won the presentation award for Petroleum Prospectivity of the Deepwater Southern Part of the Orange Basin, South Africa, and Dele Olaoye,ChevronTexaco, won the same award for Working Your HSE MS Talks Where the Rubber Hits the Road.
Petroleum Place Energy Advisors has appointedChristopher J. Simonas vice president transaction services.
Chris Barton (right), PennWell Co. group vice president and publisher of Offshore magazine, and Kjell Ursin-Smith, managing director, Offshore Northern Seas Confer- ence, finalize the agreement for Offshore to serve as the official publication of the 2004 Offshore Northern Seas (ONS) Conference and Exhibition in Stavanger, Norway. With international circulation of more than 36,000 readers, Offshore is recognized as the worldwide leader for covering the key issues, trends, and technology relative to offshore oil and gas E&P operations.
Moscow BP and Alfa-Access-Renova Group has formed its board of directors. The members of the board areMikhail Fridman,chairman, Alfa Group; Rodney Chase,advisor to group chief executive, BP; Len Blavatnik,chairman, Access Industries; Patrick Chapman,group vice president and treasurer, BP; Brian Gilvary,group vice president, downstream, BP; Tony Hayward,chief executive, upstream, BP; Andy Inglis,group vice president, upstream, BP; Alex Knaster,chief executive officer, Alfa Bank; Viktor Vekselberg,chairman of Renova and chairman of the management board of TNK; and a member to be appointed by Alfa-Access-Renova.
Petro-Canada has announced thatNorman F. McIntyrehas decided to retire as president, effective in 1Q 2004. McIntyre has been with Petro-Canada since 1982.
Anadarko Petroleum Corp. has announced that, effective immediately,Robert J. Allison Jr., chairman of the board of directors of Anadarko, has been named to the additional position of president and CEO. Allison succeeds outgoing President and CEO John N. Seitz,who resigned. Seitz also resigned as a director of Anadarko.
Global Industries Ltd. has electedLuis Téllezto the board of directors of the company. Téllez is executive vice president and CEO of DESC SA de CV, a diversified industrial conglomerate and one of Mexico's largest corporations.
Veritas DGC Inc. has electedLoren K. Carrollto the company's board of directors. Carroll is president and CEO of M-I LLC, supplier of drilling and completion fluids and drilling waste management products and services.
Ensco International Inc. has announced thatJon C. Colehas joined the company effective April 1, as vice president of business development and marketing.
ExxonMobil Corp. has announced the retirement of ExxonMobil Production Co. PresidentTerry Koonceand the nomination of Stuart McGill,currently president of ExxonMobil Gas and Power Marketing Co., to succeed Koonce.
Forest Oil Corp. has namedMichael N. Kennedymanager, investor relations. Kennedy, formerly a senior financial analyst with Forest, assumed primary responsibility for implementation of Forest's investor relations program beginning April 1.
Cabot Oil and Gas Corp. has appointedLes Watsonto vice president of Cabot Petroleum Canada, the company's newly established Canadian subsidiary. Watson will oversee exploration, production, and operation activities in Canada.
Keppel Corp. Ltd. has announced the retirement ofSim Kee Boonfrom the senior advisor position. Boon will retire at the end of June.
Quest Offshore has appointedLeslie Cookas senior market research associate at Quest Offshore Resources Inc.
Transocean Inc. has announced thatRonald L. Kuehn Jr. submitted his resignation from the company's board of directors. Kuehn was recently named chairman and CEO of El Paso Corp.
El Paso Corp. has namedJames Dunlapas its fourth new director this year. Dunlap spent 30 years at Texaco.
Companies
Technip-Coflexip,Aberdeen, has awarded Fugro-UDI Ltd., Aberdeen, a $9 million contract to provide vessel, survey, and ROV services. The Fugro group has acquired Norwegian metocean services and systems company Oceanor.
Sulzer Pumpshas been awarded an order to supply four seawater injection pumps that will be the largest built. The pumps will be supplied to the Azerbaijan International Operating Co. for installation on their compression and water injection platform for the Azeri development project in the Azerbaijan sector of the Caspian Sea.
ITS Drilling Servicesprovides environmental products and services to the oil and gas drilling industry and has launched its new SupaVac product line. SupaVac is a system for pumping oil-based mud contaminated drill cuttings. Demand for the SupaVac system has led to the award of a number of major contracts in the North Sea and overseas.
Bender Shipbuilding and Repair Co. Inc. of Mobile, Alabama, has awarded Alstom,a marine power, propulsion, and dynamic positioning systems company, a $20 million order to supply equipment for 10 new platform supply vessels, which are being built in the US.
BP Exploration(Caspian Sea) Ltd., on behalf of the Azerbaijan International Operating Co. operated by BP, has awarded KCA Deutag, a subsidiary of Abbot Group plc, an interim arrangement for platform drilling services for the development of the deepwater Azeri, Chirag, and Gunashli fields in the Azerbaijan sector of the Caspian Sea.
KT Hydraulicshas secured a contract with Glasgow hydraulic systems specialist Amclyde Norsonto develop and supply submersible actuators for platforms in BP's new Azeri oil field in the Caspian Sea. KT Hydraulics has already fulfilled the first order to supply 14 submersible ball valves and actuators.
Rigblasthas signed a four-year contract to provide fabric maintenance and specialist services for BP's current and future operations in the Caspian region. The contract includes the Chirag platform and four additional platforms that will come onstream by 2007.
CodaOctopus Ltd. has secured further sales of its F180 inertial attitude and positioning system to some of the world's leading rental companies including Subsea Technologies, Survey Equipment Services, Ashtead Technology, and Seatronics.
Baker Hugheshas formed a venture with Expro International Group PLCto be named QuantX Wellbore Instrumentation,serving the permanent in-well monitoring market. QuantX was formed by combining Expro's existing permanent monitoring business with Baker Hughes' In-Form product line.
Geoservices SAand the Institut Français du Pétrolehave signed a research contract for the development of new materials, new physical and geochemical measurements methods, and the modelling of complex petroleum processes. The new technology is planned to enhance measurement during drilling and production operations and improve the analysis and interpretation of hydrocarbon fluids extracted from the mud while drilling.