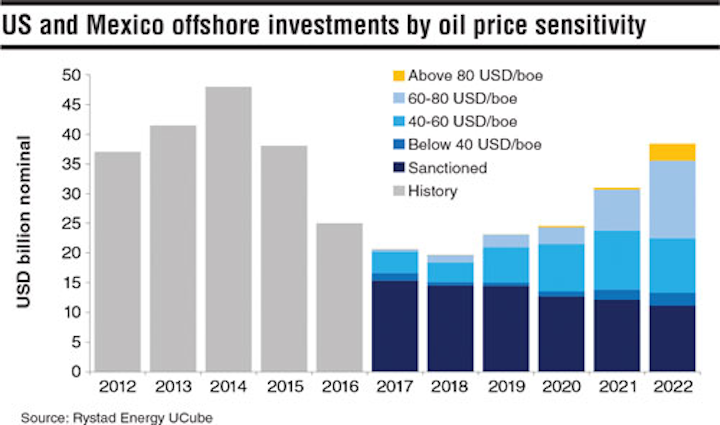 Gulf of Mexico investments halved from the 2014 peak to 2016 following the oil price collapse, as volumes from OPEC and shale and tight oil flooded the market. Now that cost levels in the shale industry have adjusted to the new price regime, operators are accelerating drilling efforts and the dawn of a new boom. The same effect is about to emerge offshore; cost reductions, standardization and simplification measures entail attractive breakeven prices, and there are indications of increased willingness to invest down the line.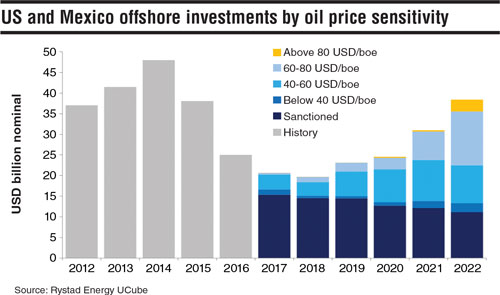 Rystad Energy forecasts production from US shale and tight oil to double from around 5 MMb/d in 2017, to a remarkable 10 MMb/d by 2022. Despite this growth from shale, and despite assuming 2 MMb/d of incremental production from OPEC, the analyst sees room for offshore oil to fill the gap and meet the growing demand.
There are already signs of activity picking up in the Gulf of Mexico. BP and Shell recently took final investment decisions on developing Mad Dog Phase 2 and Kaikias, respectively. Next year it expects Shell to greenlight the Vito project and Anadarko to go ahead with the Shenandoah and Phobos fields.

When analyzing sensitivities, the analyst indicates a modest increase in investments over the next five years at $60/bbl oil prices. When assuming oil prices at $80/bbl or more, a new boom is likely.

- Lars Lysdahl, Senior Project Manager, Rystad Energy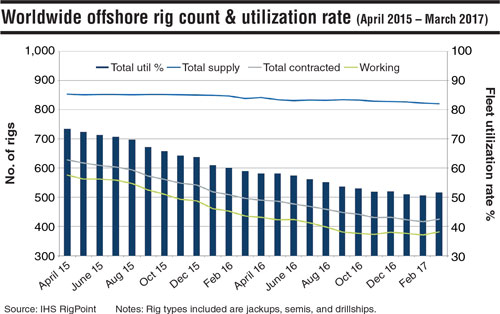 Report finds deepwater emerging as competitor to tight oil plays
A leaner and more cost-competitive deepwater industry is emerging from the downturn, with the most attractive projects now competing with US tight oil plays, according to Wood Mackenzie. This year should see a noticeable pick-up in deepwater project sanctions, with three major projects already fully approved.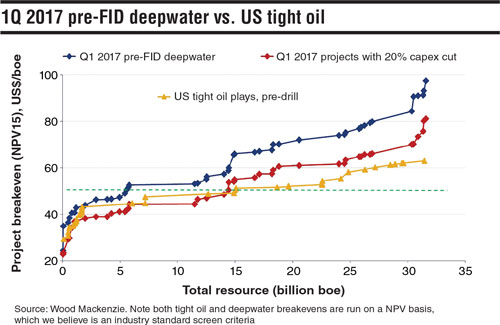 The analyst firm estimates that on average global deepwater project costs have fallen just over 20% since 2014. Assuming a 15% internal rate of return hurdle, 5 Bbbl of pre-sanction deepwater reserves now breakeven at $50/boe or lower.
While the deepwater industry is slowly getting leaner, it is also getting smaller. More than 70% of the 45 pre-FID projects targeting sanction over the next few years are operated by just eight companies - Brazil's Petrobras and the seven majors (ExxonMobil, Chevron, Shell, BP, Total, Eni, and Statoil).