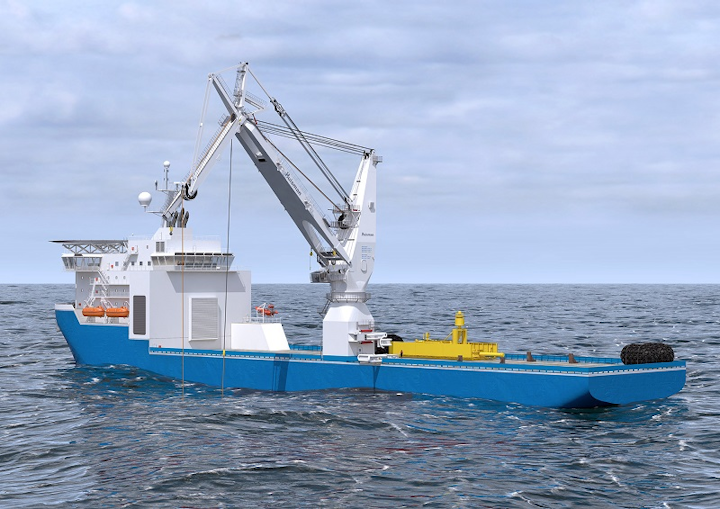 Offshore staff
SCHIEDAM, the Netherlands – Huisman has developed a new system for the application of fiber rope in subsea deployment crane applications.
The system includes a hybrid fiber rope system which combines the advantages of fiber rope with subsea deployment, while the heave compensation is done with traditional steel wire rope systems.
Proper spooling of the sensitive fiber rope is done by Huisman's traction winch and storage winch setup, while active heave compensation is done with a steel wire rope on a direct winch.
The system is available in various capacities. For traditional knuckle boom cranes, a 120-metric ton and 200-metric ton version is available, while the recently introduced Hybrid Boom Crane can be delivered with larger capacities of 400 metric tons and 600 metric tons. This, the company claims, can provide a significant step change in subsea deployment capabilities, as the full load is available at all depths. This way deployment up to 600 metric tons is now possible at depths of 4,000 m (13,123 ft) and more.
Cees van Veluw, Huisman's Product Manager Cranes, said: "… Our extensive R&D program, which has been active for over 10 years, has shown that the fiber rope with the best lifetime performance would require some serious active cooling of the fiber rope on the crane when performing active heave compensation.

"However, the actual thermal behavior of fiber ropes in AHC have proven to be unreliable to predict and hard to measure. On top of that, having the active cooling system of the fiber rope as an essential part of the crane's safety system is not the way we see robust and reliable crane design."
11/22/2017