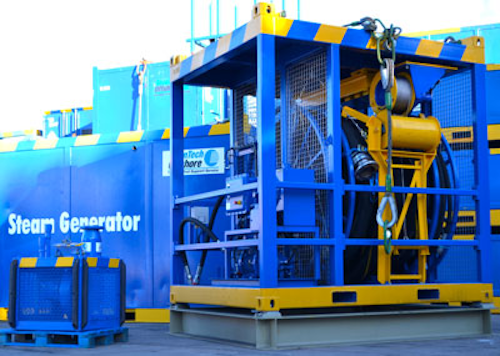 Offshore staff
ABERDEENSHIRE, UK– ScanTech Offshore has launched SafeDeploy, a system for deploying submersible pumps from the deck of a rig, vessel, or platform to the sea for rig cooling applications.
Historically, rigs and operators have used a high-risk method for deploying temporary submersible pumps by using a hang-off frame that sets the submersible pump and delivery hose in place. This time and labor-intensive process takes up to 12 hours to execute and involves personnel operating under a suspended load.
The new system removes the need for rig crew or rig crane assistance, saving time and reducing exposure to multiple personnel and manual handling, according to ScanTech Its typical deployment or retrieval of a submersible pump is about 1 m/min.
To maximize efficiency for rig operators, the solution is designed to retrieve a submersible pump fast and in all weather conditions. It also requires no electrical power.
Following an 18-month development cycle, the system's safety and efficiency has been tested in live trails in Holland and is scheduled to go out for long-term projects in spring 2015.
ScanTech Offshore's project manager Barry Craig said: "Safety and efficiency go hand in hand like any great partnership; without one, it's very hard to achieve the other. At ScanTech Offshore we're committed to creating solutions which challenge existing methodology and create better outcomes for our clients and the industry as a whole. Our culture is to continually improve and innovate to become the highest quality and lowest cost provider of equipment…
"With SafeDeploy, we've been able to further realize just that. Advancements in technology have enabled us to create a new solution to a much recognized industry issue. This step change in safety and lower overall cost for rig and operating companies makes the utilization of this system a no brainer."
10/03/2014