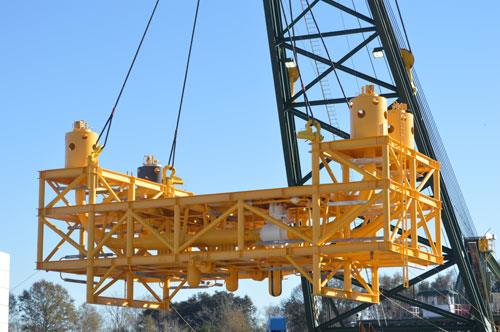 Offshore staff

MORGAN CITY, Louisiana – New Industries Inc. has completed the fabrication, inspection, coating, testing, delivery, and installation of the 173-ton Big Foot Intermediate Manifold. This manifold was installed at Green Canyon 597 in a water depth of approximately 4,200 ft (1,280 m) for Enbridge Offshore Facilities LLC. 

The manifold consists of four 20-in. subsea connector assemblies and three 20-in. subsea valve assemblies, as well as additional small-bore piping. Two of the 20-in. hubs will be used in the near future for connecting the 20-in. pipeline end termination at the Big Foot Export Lateral Pipeline to an existing tie-in on the Amberjack Tahiti Pipeline.

Specific testing activities for the manifold included gauging of all four primary piping assemblies and corresponding hubs, hydrostatic pressure testing, continuity verification between all anodes and the structural assembly, and weight and center-of-gravity measurements.

Bill New, president of New Industries, noted that the Big Foot Intermediate Manifold was the first manifold of this size and complexity that New Industries Inc. has fabricated.

03/18/2014