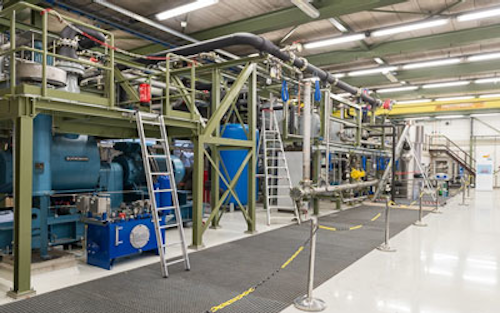 Offshore staff
GRONINGEN, the Netherlands – DNV KEMA has opened a new multi-phase flow laboratory (MPFL) in Groningen, the Netherlands. This is designed to test, validate, and calibrate multi-phase technologies, including separators and flow meters for production of oil and gas, and the measurement and trading of gas.
Production of gases in deepwaters, oil sands, and shale formations can be complex, with wells flowing a fluid mixture comprising oil, natural gas, (salt) water, and sand.
Multi-phase technologies help to determine flows relative to contractual requirements. Improvements should lessen downtime of production plants, DNV says, along with resulting in better integrity and safety of local oil and gas infrastructure and extended field life spans.
The growing need for LNG will lead to higher intercontinental gas trading and transmission volumes. As small deviations of large measured volumes can cause financial risks, accuracy of gas meters becomes critical. The MPFL is designed to validate and calibrate multi-phase flow meters to ensure required quality of measurements.
Facility manager, Ronald ten Cate said: "A number of techniques exist for making these 'multi-phase flow measurements,' but the technology is still immature and equipment needs to be developed further. Customer feedback told us this development was being held back by a lack of suitable facilities for testing new products."
DNV KEMA has upgraded the existing wet gas closed loop facility to a full multi-phase flow test lab, capable of recreating the kind of conditions equipment would face in the field. This includes a range of multi-phase fluid compositions at realistic temperatures, pressures, and flow rates. The facility also should accelerate industry efforts to develop standards for equipment and testing protocols, DNV adds.
3/18/2013